Review: Haymaker Reflects a Nuanced—and Flavorful—South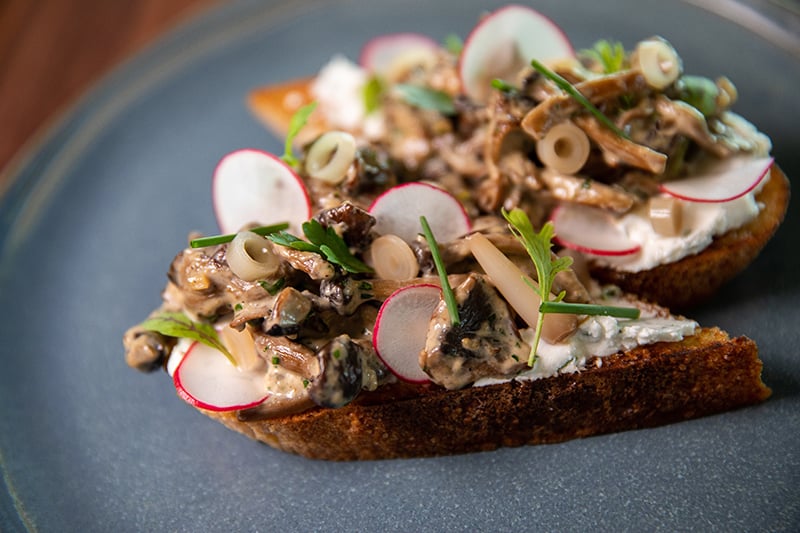 AS I HELD THE DOOR to Haymaker for my dinner companions, we could hear the buzz of a Monday night baseball crowd just down the block at BB&T Ballpark. Our group—three Charlotteans and two New Yorkers, all professional acquaintances beginning work on a new project together—was set to cap off a long day of meetings with a strategically-planned meal.
We hoped dinner at Chef William Dissen's restaurant on the edge of Romare Bearden Park would enlighten our out-of-town guests about Charlotte, to change some perceptions about the type of city this is. Having dined at Haymaker several times since it opened in March, I knew my new friends would be pleasantly surprised.
As a native North Carolinian, I'm proud of my heritage, but am often frustrated by the lack of dimension and nuance outsiders tend to assign us. I love barbecue, but it doesn't crack my top 10 favorite foods; I've never served sweet tea in my home. Haymaker, happily, portrays the type of ingredient-driven cuisine that defines my experience as a North Carolinian: from a farm, rather than a fryer.
After a round of cocktails (I went with the bourbon-based Haymaker Punch, $10), we pondered the menu.
Dissen, who owns a successful fine-dining restaurant in Asheville called The Market Place, built Haymaker's menu around farm-fresh produce and sustainable proteins. There are small plates and entrées listed, and our group chose to order a smattering of things to share. Out came fluffy hush puppies ($6) and a local cheese board ($16) that, to my delight, included house-made pimento cheese, an unfamiliar dish to our guests.
I suggested the Shrimp a la Plancha ($15), which I've had on every visit to Haymaker. The grilled seafood was served atop heirloom grits blended with brown butter and manchego, a Spanish-style cheese with a nutty and slightly grassy flavor. One of my colleagues selected the foraged mushroom toast ($12), and I'm glad she did. Slices of thick, crunchy wheat bread were smeared with tangy goat cheese and scattered with small, earthy mushrooms, radishes, and microgreens. Everyone at our table remarked at their surprise love for the dish.
We also tried the pork belly ($14), and although I found the pork to be merely on par with the pork belly I've found in many other restaurants across the city, I loved the field pea, bacon, and roasted onion mixture that accompanied the meat. Field peas remind me of childhood trips to the farmers' market with my mom, who always grabbed a bag of shelled peas in the summertime.
As we dined, my coworkers and I shared memories like this—the ways food has intersected with our own Charlotte experiences—with our visitors from up North. Their visit began that morning with a tour of the city, and by the time our server at Haymaker was clearing the table more than 12 hours later, I could sense a shift in their perceptions of Charlotte.
We paid the tab and made for the front door. The restaurant's decor is a mix of midcentury modern and plain modern—brass accents and leather seating contrast with exposed concrete—and the dining room, along with its rich blue bar, is especially charming at night. Outside, as we walked parallel to the park, away from the lights of the ballpark and toward the lights of the skyline, one of the New Yorkers looked around and smiled. "I could live here," she said.
I'm not sure I entirely believed her—but field peas, bacon, and pimento cheese make for a hell of a reason to think about it.