Review: John Mulaney at Knight Theater (Plus: The Weekday Roundup)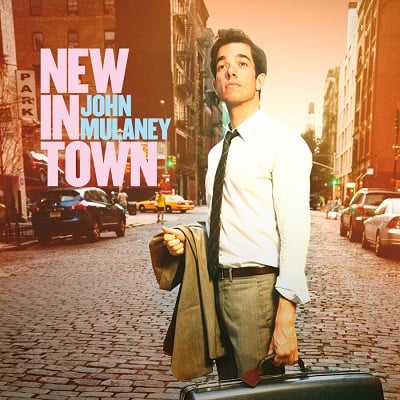 John Mulaney's newest hour, as performed at the Knight Theater Saturday, is full of surprises. The biggest one is how it somehow recaptures the magic of New in Town, the comedy special that defined Mulaney as one of this decade's stand-ups to watch. His Saturday Night Live stint and recently canceled sitcom aside, New in Town is enough reason to check out the comic's current theater tour. Though, he does mention the sitcom with a few winks.
Without giving away his current bits, the subjects covered by Mulaney can be summed up as domestic, from quips on married life and home ownership to convincing his dog that he is the leader of their particular tribe. And Mulaney maintains his knack for conveying the nostalgia and strangeness of childhood (as well as the mannerisms, with his boyish looks and go-to 1920s-newsboy characterizations). When he slips and identifies the year as 2014, he answers a correction from an audience member by identifying her as the one of the great villains of childhood sleepovers: the kid who is quick to tell you when tomorrow becomes today at midnight.
As for Charlotte-specific highlights (aside from a comment on fighting Southern women for rocking chairs at the airport), the moment of the show was a pregnant women trying to exit for a brief bathroom visit. She exits after Mulaney stops her to chat, and then congratulates her on her pregnancy. In a low voice, Mulaney plans a prank upon her return: "I'm going to say, 'Well, you know what they say in Charlotte … ,'" Mulaney says. "And you'll say, 'We want milkshakes!'" Several minutes after she returns, Mulaney gives us the prompt, and and immediately pokes fun at her confusion, as if she somehow missed a long-time city slogan. Mulaney's professionalism was shown in that the moment lacked any cruelty.
Final statement: Mulaney shouldn't be too anxious about his Hollywood woes, as long as he keeps putting together hours like this. And let's hope the Knight Theater maintains its status as a comedy backdrop, for both young comics and the suit-and-tie old guard of the form.
As for this week, check out our picks below:
MONDAY
CEDARS IN THE PINES: THE LEBANESE IN NORTH CAROLINA, 130 YEARS OF HISTORY
This is a first for North Carolina art exhibitions. The display, opening March 7, chronicles the story of Lebanese immigrants who moved to the state in the 1880s. Khayrallah Center for Lebanese Diaspora Studies at N.C. State University is responsible for the exhibit, which includes home movies, audio, vintage photographs, and personal stories.
The Revue blog recently covered some big news at the Levine Museum of the New South. Read more here.
TUESDAY
ILLUSION
Illusion highlights tricks of the eye and tactics used by magicians to inspire confusion and wonder. Warped mirrors, dimension-shattering stops, and technology-driven tricks wow visitors as part of the broader exhibit.
WEDNESDAY
MELISSA HARRIS PERRY: "OPEN LETTERS: GENDER, RACE, AND THE NEW SOUTH"
UNC-Charlotte hosts Perry, the MSNBC host known for her commentary on U.S. politics and news. Perry, also an author and professor at Wake Forest University, comes to Charlotte to speak on issues of race and gender.
THURSDAY
2015 ALIVE AFTER FIVE KICK-OFF
The weekly rooftop show at the Epicentre, with live bands and drink specials, gets the season started Thursday. This week's act at Rooftop 210 is the Sol Fusion Band, an 11-piece Charlotte act.