Review: Lakeside Delight at Hello, Sailor
With proper expectations, it's hard not to have fun at this spot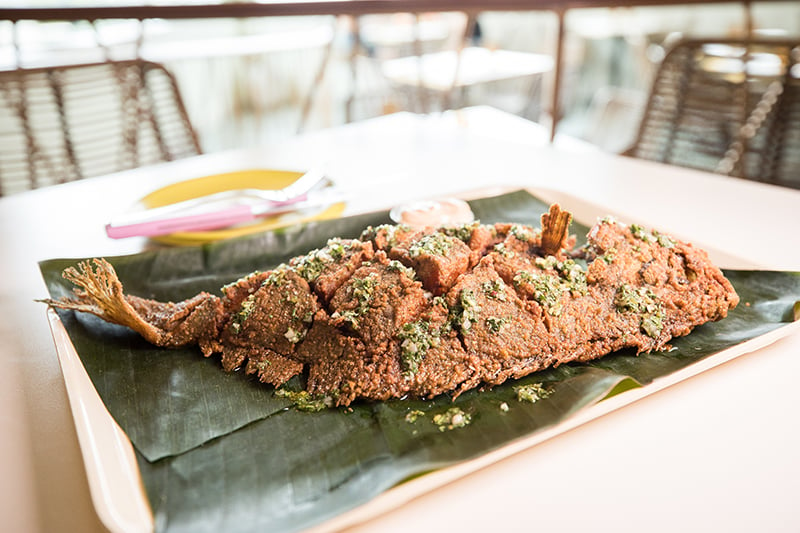 MIDWAY THROUGH our bowl of blue crab claws, and a few sips into an electric red Cherry Lemon Sundrop Negroni slushie, I realized I hadn't stopped smiling since we got here, to the patio of Hello, Sailor on the shore of Lake Norman. I suppose it shouldn't come as a surprise that I would enjoy a meal, but these days, everyone, as the saying goes, is a critic.
Somewhere along the path of this region's restaurant evolution, as kitchens amped up their abilities and diners took to their phones to photograph and critique each plate, we all became awfully serious about our food. So perhaps some expectation-setting is in order.
If you expect Hello, Sailor to evoke The Rusty Rudder—its beloved predecessor on this site in Cornelius—you'll be disappointed. If you expect Hello, Sailor to be a carbon copy of Kindred—its acclaimed sister restaurant in Davidson—you'll be disappointed. Joe and Katy Kindred's second restaurant isn't intended to be either of those things, and yet the amateur critics on apps and websites and social media platforms seem to get bent out of shape when Hello, Sailor fails to provide either experience.
What I found, on a clouded and humid Saturday afternoon in May, however, is just damn good fun.
Sophomore venues can befuddle restaurateurs whose freshman effort is such a smash, much in the way a second novel can confound writers whose debut is a best-seller. Greatness is hard enough to achieve once; repetitive excellence is elusive. With Hello, Sailor, the Kindreds deliver.
They sought to create a Carolina-fish-camp-meets-midcentury-Palm-Springs vibe, and a casual sense of sunniness permeates the dining room and menu. My girlfriend Gillian and I strode through the dining room—a bright departure from the Rudder's bar-like feel—to a table on the patio. Our server described the hush puppies ($3.99) as doughnut-like, and she was right. The airy puffs of dough, smeared with a smoky compound butter, were unlike the dense, chalky nubs often haphazardly tossed into a plastic basket at many waterfront restaurants.
We followed those with the Florida blue crab claws ($13.49), which were stood up on their ends on a bed of tobiko wasabi mayo, pincers pointed to the sky and drizzled with a bright green coriander sauce and chili oil. The crab was sweet, my slushie ($8) was brain-freeze cold, and I was half tempted to tell our server to just keep 'em coming.
As diners at Kindred have come to expect, the service at Hello, Sailor is outstanding and genuinely pleasant; despite the increasingly crowded patio, we never felt neglected by the staff.
When our main courses arrived at the table, Gillian and I both commented on the size of our entrées. The No. 1 Platter ($23.99) was piled with pieces of fried flounder and lightly breaded shrimp that brought back memories of the popcorn shrimp North Carolinians like me ate on childhood trips to Calabash. (But the fries that came with the seafood—cooked crisp in rendered beef fat, rich and salty without greasiness—were a welcome upgrade.)
Her Citrus Crab Louie salad ($17.49), was equally impressive, a mixture of greens, flecks of crab, avocado, orange and grapefruit segments, and more, all elegantly piled into a large, white bowl.
Despite our overstuffed bellies, I wanted a swirl of Hello, Sailor's vanilla and fruit soft serve ice creams ($4). The fruit flavor rotates: This time it was passionfruit, and its pale orange color seemed almost too close of a match to the restaurant's decor. I ate more than I should have, still smiling in between bites.
Midday sunshine had started to push through the hazy gray clouds as we ate, and down on the docks below, families toted towels and coolers to their boats. We had somewhere else to be, but I'd have been content to sit on the patio, umbrella drink in hand and silly smile plastered on my face, until the boaters came back with shoulders and noses that matched the pink sky at sunset.