Review: Lincoln's Haberdashery in South End
It's a lovable corner market, and the model for what could be in South End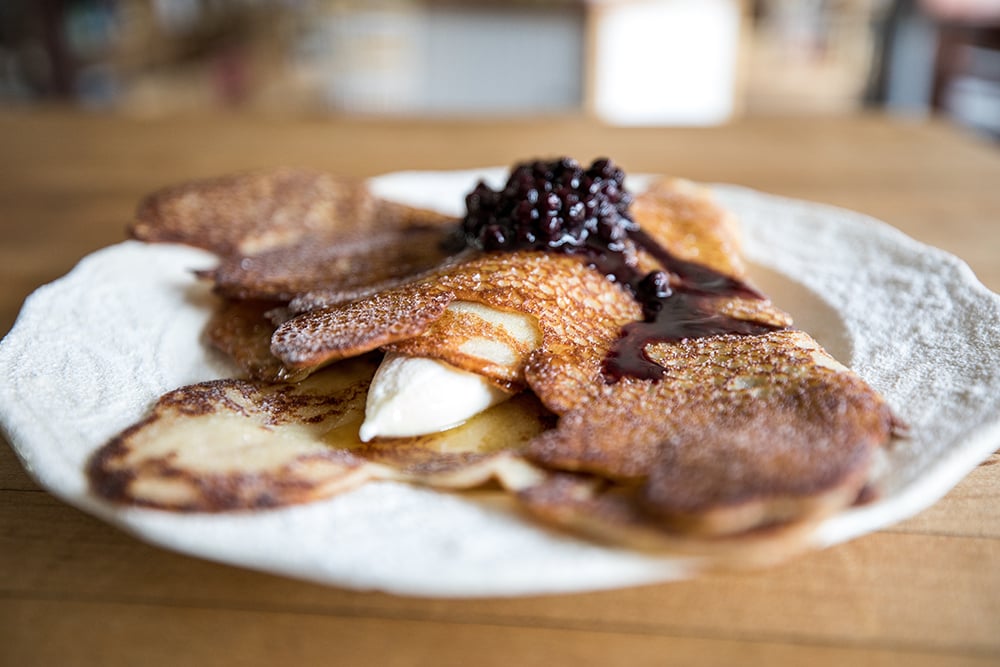 Chef Michael Shortino was tired of traipsing from his South End condo to a crowded supermarket, fighting the traffic and waiting in line, just to buy a bottle of wine and a mediocre baguette.
"Going down South Boulevard to go to Harris Teeter or Publix is probably the worst thing in the world," he says. "To get a loaf of bread or a bottle of wine? That's insane."
I'm commiserating with Shortino, the gregarious and irreverent owner of popular ramen shop Futo Buta, at a four-top table inside his newest concept, Lincoln's Haberdashery. It's December, and the market-slash-deli-slash-corner store will open before the new year in what once was a Lance cracker plant at the corner of South Boulevard and Bland Street.
"We live in a walking neighborhood," Shortino says, "but there is nothing. There is no bodega, no sandwich shop, no place to grab a bottle of wine."
Less than 200 yards separate the entrance of my apartment building from the front door of Lincoln's, so I share Shortino's frustration. But Lincoln's has started to change that—at least on my end of South End. More importantly, I realize after it opens, the restaurant is a model for what could (and should) be.
The 5,500-square-foot space includes wine shelves, beer coolers, a pastry case, and a coffee bar. Its decor is something like country-meets-modern. Rough-hewn reclaimed wood covers some walls, while stark white subway tile lines the one behind the counter. The men's bathroom features cheeky paintings of Bill Murray and Samuel L. Jackson dressed in elaborate military regalia.
The morning menu, which is available from 7 a.m. to 5 p.m., shines in its innovation. No smell of burnt bagels here. Since the kitchen started serving food, I've enjoyed the hearty Mary's Muffin (egg, Benton's bacon, cheese, avocado, tomatoes, and aioli on the best ciabatta roll in the city; $7.50) before a Saturday of errands, bites of the stuffed flapjack (lemon ricotta and a berry compote; $8) on a weekday morning, and the Darning egg (shirred egg, bacon, potatoes, and chives; $10) as a lazy brunch for one.
On all of those occasions, I've seen someone from the neighborhood—close friends, a one-time Bumble date, that guy who lives in my apartment building who never takes off his headphones. They stop in for lattes or mimosa kits (fresh squeezed juice and a bottle of bubbles, prepackaged) from the cold case. Some linger. Some grab and go.
Lincoln's acts as a provision shop for Shortino's neighbors, all of us. There's a well-curated wine selection, quirky host gifts, and baguettes that beg for a smear of tapenade. In the evenings, the kitchen serves sandwiches, all designed by Shortino to be "very simple things to eat with wine." As is the case at Futo Buta, diners can indulge in a rotating array of wild flavors of soft-serve ice cream.
South End is the fastest-growing neighborhood in the city, regularly touted by its boosters as a walkable, transit-oriented oasis for urbanites who stroll down the Rail Trail to grab breakfast and a coffee in the morning, or pick up a loaf of bread and a bottle of wine on the way home from work. Yet there are empty ground-floor retail spaces throughout South End, in the apartment buildings just finished and still under construction.
Shortino, who's lived in cities far larger than Charlotte, isn't deluded enough to expect that one restaurant will create the kind of easily walkable urban neighborhood one would find in, say, San Francisco. But he does understand that gathering spots—with excellent food, craft coffee, and Instagrammable interiors—are important. After that, it's up to the people to actually make the restaurants and markets part of their routines.
"I have an idea in my mind what I want this to be, but it might not be that at all," Shortino says. "Come the end of the day, this is going to be what the people in the neighborhood want it to be."