REVIEW: Low-Cost, High Steaks at The Dunavant in South End
Chef and owner Travis Hearne's steak and fries dinner tastes more expensive than it is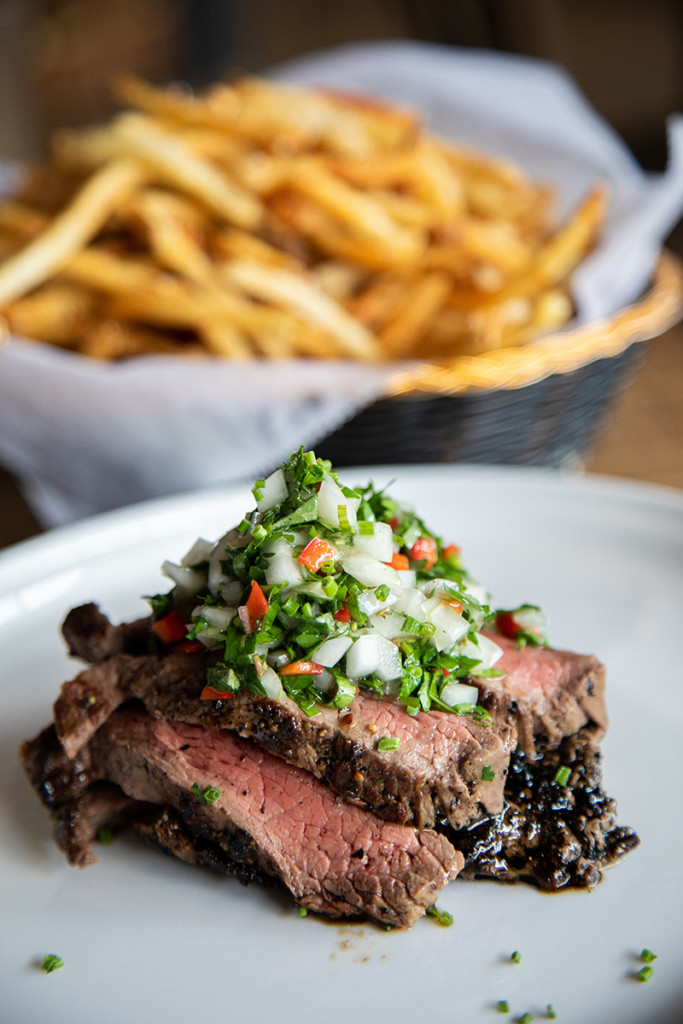 OPEN SINCE FEBRUARY, The Dunavant in South End has drawn attention for its steak and bottomless fries dinner, which costs only $25. Although the restaurant offers other menu options, as well as weekend brunch, I'm really here to investigate the steak.
On this warm Tuesday evening in May, diners sip drinks outside on the patio. Inside, the décor is sparse, with no artwork on the walls, but it still feels inviting, with gold light fixtures as accents. Two groups are there to celebrate birthdays, and a few couples are on dates. Solo diners like myself sit at the circular grand bar, located in the middle of the room.
I order a glass of Petite Syrah and peruse the menu, with daily dinner specials like scallops and chicken in addition to the $25 steak and fries. Most other items on the menu are meant to be shared, and they're broken into two categories: small plates and not-so-small plates.
On the small plates menu are deviled eggs served with bacon and a serrano pepper ($8), and stuffed oysters baked with spinach, applewood bacon, garlic béchamel, and hollandaise sauce ($12). On the not-so-small plates side, the veggies are the standouts. The roasted mushrooms with green onions, garlic, and butter ($12) and creamed spinach with Parmesan ($11) are rich without letting seasoning overpower the plates. Be sure to ask about the vegetable of the day, too.
For $25, the steak and fries meal includes bread, a choice of soup or salad, bottomless truffle fries, and a Black Angus butter-seared sirloin steak with your choice of sauce. Out of three sauces offered that night—café de Paris, their flagship butter sauce; Gorgonzola crema; and a chimichurri sauce—I go with the chimichurri.
The warm rolls arrive first with a side of honey butter. They're a bit firm for my liking but great to sop up the next course: a caramelized leek bisque.
I would punch someone for this soup. It's creamy, not too thick, and both spicy and sweet, topped with pancetta bits and pepper. My biggest regret is not ordering more to go.
The star of the night, the steak and fries, comes with a generous portion of truffle fries, made with white truffle oil and sprinkled with Parmesan cheese and black truffle salt. Mine come out just the way I like—with a bit of crunch, but not overcooked. If you don't get the steak dinner, you can still order the fries off the not-so-small plates menu ($15).
All steaks at The Dunavant are lean culotte cuts of Black Angus top sirloin. I order mine medium rare, and while it comes out more on the medium side, it's juicy and buttery. I'm glad I asked for my chimichurri sauce on the side, so I could get the right amount of spice in each bite.
After dinner, I ask about dessert, but there are only three choices that evening: sorbet, crème brûlée, and ice cream. The prices are good ($5-$6), but for tonight, I pass.
As I finish my wine and use what's left of my fries to sop up the last bit of chimichurri sauce, I listen to the patrons around me talk to each other about their dishes.
Before I head out, I tell the man next to me about the leek bisque.