REVIEW: Spice Asian Kitchen in Fort Mill
Spot brings fresh Asian-fusion to a growing dining scene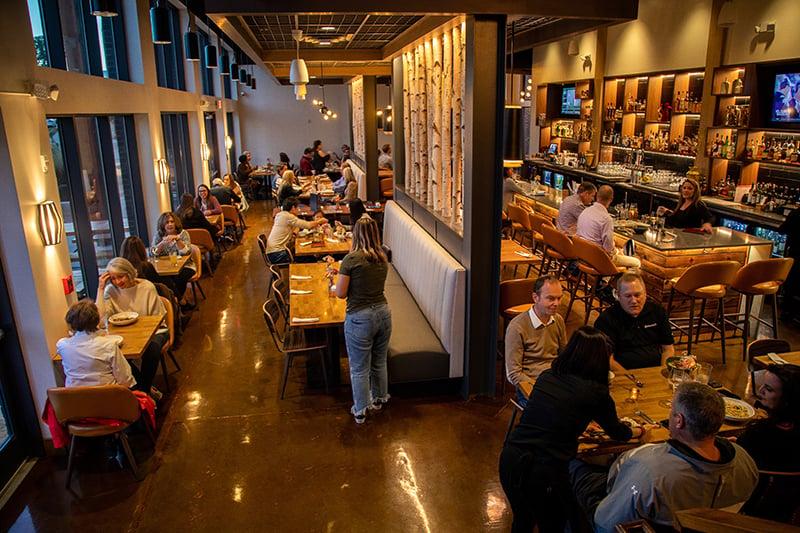 WHEN I THINK ABOUT SLOW-COOKED MEATS, I envision brisket so tender you could pull it apart with a toothpick. I think of the mantra—er, the law—of barbecue: "slow and low." Dishes that take time sweeten the taste, right? Deep dish and fresh pasta can't be replicated with frozen pizza or boxed macaroni.
At Spice Asian Kitchen, an Asian-fusion restaurant in Fort Mill's Kingsley Town Center, that dish is the $175 bossam feast. The Korean pork roast serves six to eight people and requires 24 hours' notice, six of which are spent roasting. Fortunately, for a single portion ($24), it's available without a call ahead.
The dish arrives with a steak knife, but I don't need it: The fork glides right into the flesh. I create a pile of pulled pork, scoop the meat onto a butter lettuce leaf, and top it with white rice, pickled red cabbage (Spice's house slaw), jalapeños, cucumbers, and spicy ssamjang mayo, a Korean condiment.
The first bite of a lettuce wrap is always perilous. Will it stay together, or will the lettuce split and release the contents into a heap on the plate? I brace for disaster, but the wrap remains intact. So I turn my attention to the flavors: The pork is juicy but simple, with a light glaze of ponzu sauce and chives and sesame seeds sprinkled on top—a contrast to the briny mayo and tangy cabbage. Jalapeños add a mild sting that's balanced with sticky white rice. The wrap (and the wrap after that) never collapses under the pressure of fatty pork.
Spice opened in April just over the South Carolina border in the new-construction shopping center made to look like a historic mill town. Kingsley has quickly become a dining destination with other restaurants like Napa at Kingsley (first location in Myers Park), Taco Molino (run by chef Scott Wallen, formerly of Upstream, Wolfgang Puck, and Mimosa Grill), and Corkscrew (which has two other Charlotte-area locations).
On all three of my visits to Spice, the dining room was busy and nearly full—even during lunch. Its ambitious menu lists more than 35 dishes that blend flavors from across Asia—Korea, India, Japan, Thailand, China, Malaysia. Other local restaurants, like Hawkers in South End, have struggled to deliver that much variety, but Spice Asian Kitchen has an advantage: Robert Kongkham.
You may recognize his name. Kongkham and his family are also behind Thai Taste and Hibiscus; the former introduced Charlotte to Thai food in 1988.
Spice, which Kongkham opened with two friends from college, operates on two levels. The ground floor has a few picnic tables outside but inside feels more upscale, with an 18-seat bar and a large dining area divided by birch trunks wedged into a half-wall. Upstairs is more laid-back, with a bar, high-top tables, and views of a pond and a copper-plated, made-to-look-old smokestack.
A few dishes stand out: The shrimp salad cucumber bites ($10)—each presented on a lemon slice—are clean and bright, with slathers of cream cheese in the middle to complement the zest. The seared scallops ($11) come atop piles of sweet, sticky glass noodles. Lightly fried Szechuan dumplings ($8) are served with a runny peppercorn oil that's spicy but not as punishing as other Szechuan dishes. Green curry ($16) is vibrant in both color and flavor: I lean in for a smell, and fragrant lemongrass and basil tickle my nose like a feather.
But it's the pork shoulder bossam that I'd wait 24 hours for, the dish I'd bring a half dozen friends with me to share.