Review: State of the Art at Mint Museum Uptown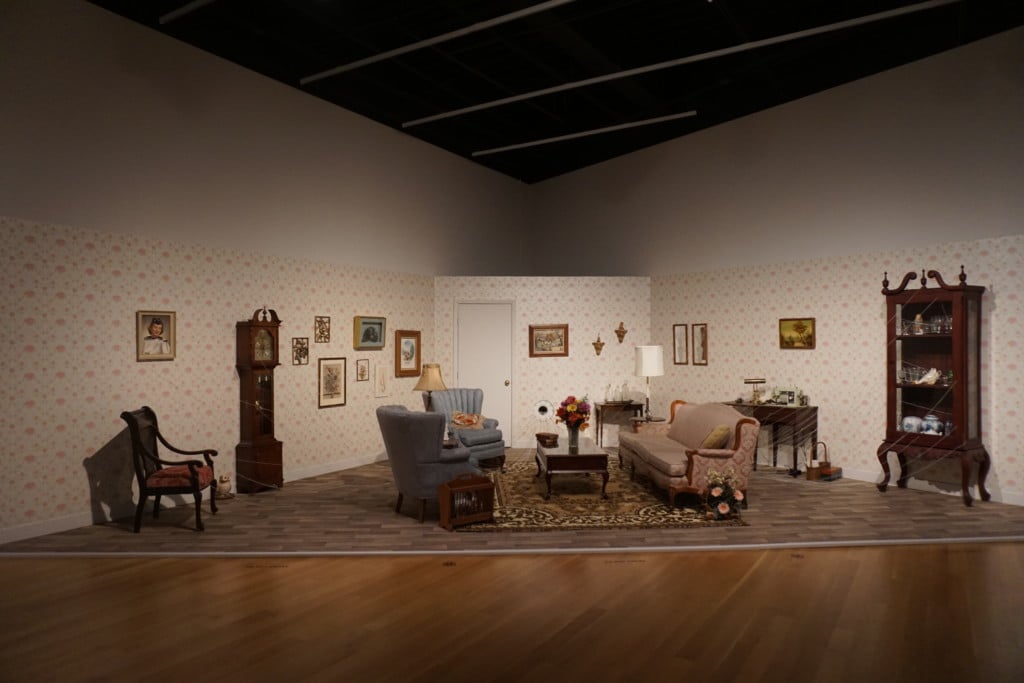 JUST AS BLUMENTHAL PERFORMING ARTS is Charlotte's leading provider of nationally touring theater, Mint Museum Uptown has lately acted as the city's primary venue for traveling, high-profile visual art exhibitions. The previous Women of Abstract Expressionism was a bold touring show that fought the art world's patriarchal view of its movements. (And so did Fired Up: Women in Glass, created in partnership with the Toledo Museum of Art and under the banner of Mint's 80th anniversary "Year of the Woman" efforts.) And now, there's State of the Art: Discovering American Art Now, a product of flagship Arkansas institution Crystal Bridges Museum of American Art.
Back in 2013, Crystal Bridges reps toured the entire country and visited nearly 1,000 studios to create a definitive survey of current American art. That's a lofty endeavor, and the effort was so massive that they ended up splitting the original exhibition into two when it began touring the country. The Mint currently has one of these State of the Art exhibitions (through Sept. 3).
Though the original version of State of the Art carried the work of more than 100 artists, the 42 represented in Charlotte easily pack the sizeable uptown space. The 75 works here range from paintings, drawings, and sculpture to photography, video, and massive installations like "Slow Room." (More on that one below.)
There's no way State of the Art could wholly satisfy a contemporary American art fan looking for all of their favorite movements reflected. Instead, what the exhibition does very well is provide an enormous collection of provocative and accessible work in the mediums mentioned above. This attribute gives State of the Art profound potential in uptown.
For those who like their statements big, Jonathan Schipper's "Slow Room," the central piece of the show, is a lifesized, faux living room installation in which items and furniture are pulled together via strings and crushed. Fun fact: Many of the objects in this rendition were locally sourced, with help from the artist. Ghost of a Dream's collages, made from used lottery tickets, explore the romantic notion of garnering wealth and lost dreams.Nathalie's vibrant , toy-like sculptures are both intricate and full of nostalgia; Monica Aissa Martinez's multilayered paintings take a look at the human body on both a cellular and abstract level. And speaking of accessible, "63 Objects Taken Out of My Son's Mouth" by Lenka Clayton, which is exactly what it sounds like, hits home for any adult with a toddler.
But it's also encouraging to see the Mint Museum add a localized, personal touch to the exhibit. North Carolina's own Bob Trotman is one of the artist included in this version. And his massive sculptures, one being a wood and fiberglass "Trumpeter" that calls out to you when you approach it, are some of the program's most memorable. The Mint has also added additional literature and multimedia experiences that offer more context and engagement to the exhibit, like piece-specific literature, a video display of tagged #StateMint photos on Instagram, and even a cootie catcher scavenger hunt.
Though the museum has declared the next year "The Year of Fashion" (beginning July 1), one would hope they'll continue to help bolster and demystify the broader category of visual art in its pivotal locations. State of the Art is already one way to do just that.
State of the Art: Discovering American Art Now runs through Sept. 3.