Revival
Theatre Charlotte was on the brink. But now, with Ron Law at the helm, in a city that often favors the new and shiny, Charlotte's oldest arts organization is on the rise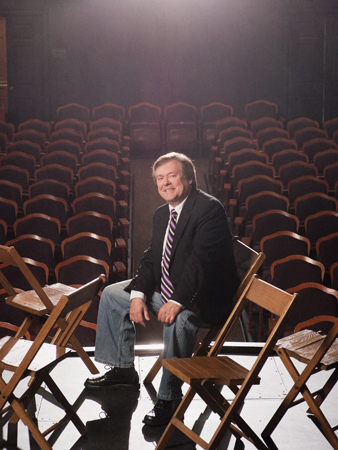 It's hard to imagine a worse first month on the job than what Ron Law endured at Theatre Charlotte. As the new executive director in June 2005, he heard his assistant, Nancy Wilson, say from across the hall, "Oh dear."
"What is it?" he asked.
"We're out of money," said Wilson, who had just started handling the books. In fact, they were ending the season about $63,000 in the red. There was no money for payroll in two weeks, and with no events scheduled until September, no money was coming.
Law expected financial challenges when he took the job. But no money? At all? Those aren't words you want to hear when you're wooing new staff, volunteers, and patrons, and, oh, by the way, you've just had your first child. What do you tell your wife when you get home?
"I panicked," Law says. "I did share with my wife how dire it was, but it took me a couple of days, and she said, 'Well, you had better figure out something.' "
Then things got worse. He learned the theater had been unable to fill nearly half its 221 seats the previous year. The average audience member was older than sixty — a "dreary" sign for the future, Law says. And Arts & Science Council representatives showed up with awful news. Law recalls a grant-making official saying, "I hate this because you've been on the job a week and a half," but out of a pool of twenty-six applicants, Theatre Charlotte was ranked dead last. It could expect the biggest funding cut ASC guidelines allowed.
"I tried not to seem like I was panicked because there was a staff here, but it was very scary," Law says. He found himself perusing Artsearch, a Web site that posts theater jobs. The theater's board president urged him to remain calm and apologized, Law says, "on a daily basis."
But that was five years ago. Law stayed at Theatre Charlotte, and now he even laughs at that first month because, faced with what could have been the theater's darkest hour, he and a revamped board have resuscitated the city's oldest arts organization.
It's difficult to think of Ron Law needing courage to talk to his wife, Chase, about his predicament. Talking, after all, is one thing he does well — fast, enthusiastically, endlessly. In fact, Law admits, one former board president had to work out a signal during meetings to let him know when to hush. A former actor, director, professor, and arts administrator, he teems with knowledge about theater. "Smart" and "Law" are words you often hear in the same sentence.
It's easy to imagine Law, who stands five-foot-seven with a youthful face and quick chuckle, as the young boy who got his first
acting role at age eight in summer stock theater in Pennsylvania. He still recalls the line ("He bit him!") that got his first audience laugh. "It was a big laugh, and I was hooked," Law says. He keeps the script in his office.
So get Law talking about what it means to work at this city's grand dame of culture and he dishes the good news and the bad. The good: when you've been around for eighty-two years, as Theatre Charlotte has, you realize you can survive. During the Great Depression? The theater performed Private Lives. World War II? Cry Havoc. 1970s recession? The Fantasticks. When the 2001 World Trade Center tragedy struck, Theatre Charlotte was in the middle of Damn Yankees. Cast members stepped up for a fundraiser for New York City firefighters.
As other theaters came and went, such as the Mint Museum's Golden Circle, Charlotte Repertory, Pi Productions, Off-Tryon, and BareBones, Theatre Charlotte chugged along. For one thing, it's a community theater, a stage for local, unpaid actors and crew. Community theaters are often the incubators for a city's professional theater talent; they feed the entire theater scene. "Unlike the touring or resident company, the actors, set painters, costume makers, etcetera … are our neighbors — doctor, lawyer, teacher, banker, mechanic," says Robert Bush, ASC senior vice president. "That is the beauty. … Charlotte without Theatre Charlotte? I cannot imagine Charlotte without a community theater."
On the flip side, Law says, when you're eighty-two, you have to prove you've still got it. And "it" can't always be Neil Simon.
The year Ron Law was born (think Truman administration), Theatre Charlotte was the only game in town and had been since it opened in 1927. "It was the place to be," says Ginger Heath, a long-time supporter and actress who landed her first role there in the mid-1950s when she was twelve. "All of the people of wealth … all flocked to Theatre Charlotte." When its white, one-story, cinder-block building was erected in 1941, Little Theatre, as it was once known, looked like a country church. It still looks that way today, sitting on Queens Road, nestled among Eastover's most gracious mansions.
Over the decades, Charlotte added skyscrapers, pro football, and basketball. Fans could watch NASCAR from luxury condominiums. The Blumenthal Performing Arts Center became the go-to venue for symphonies, dance, and touring Broadway shows, and other theaters grew up: Children's Theatre and Actor's Theatre, to name two. The Charlotte area grew from 197,000 in 1950 to 1.5 million in 2005 — nearly 800 percent.
The year Ron Law showed up at Theatre Charlotte, the city had begun work on the Wells Fargo Cultural Campus uptown,
including a shiny new Knight Theater and three art museums.
But over at 501 Queens Road, the roof leaked, the air conditioning was gasping its last breath, the carpet was worn out, and trouble brewed. Some insiders complained the theater had become a "closed shop" that gave roles to the same few actors and the board was too big and too dominated by theater people. Some members didn't question the financials. With no solid payback plan, the board still
carried a $200,000 debt incurred in 2000 to expand dressing rooms and workshop space.
What's more, then executive director Candace Sorensen had served nine years and says she was burned out. She had struggled to improve pay for directors and update the building. She had steadily overseen the production of strong classics, such as Man of La Mancha, Our Town, and Cabaret. But she grew frustrated with board members (and vice versa), the debt, and what felt like an "inability to move forward." Tempers flared. Words flew. She quit. "I can take partial responsibility.
I did not leave him in good shape," Sorensen says of her successor. "But he was told that."
Law says, "I realize no one was trying to hide anything. No one really knew."
On a January rehearsal night, Gayle Taggart walks onstage carrying her costume, a black bra, and girdle. She has just tried them on in the dressing room. "I think these will work," the actor tells the director. She also was imagining what it would be like to play her first role ever — a prostitute in lingerie.
Director Dave Blamy understands how awkward she might feel. "Whenever you're comfortable," he says. "Do it at your own pace." Blamy explains that he wanted to give Taggart a chance to act because he could see during the auditions that she "took direction very well." Besides, this was his first chance, too — at directing.
Taggart has one scene in Neil Simon's Biloxi Blues. Later in that rehearsal (still fully clothed), she sweet-talks a soldier and he climbs astride her. In the play, the stage lights go dark and the audience hears the soldier bellow appreciatively for his own "first time."
Giving newcomers a chance is what community theater is all about, and so Ron Law's road to recovery for Theatre Charlotte has been paved with yes you can.
"Since he's been here I've been more involved," says Vito Abate, who's been an actor, patron, volunteer, and producer since moving to Charlotte in 2002. "It became apparent to the community pretty quickly that he was open to change. He was like a breath of fresh air." Abate approached Law at a Metrolina Theatre Association meeting with ideas. Law told Abate to make an appointment, which he did.
The result was Abate's Just Do It, an ongoing series in which performers can do whatever on a prescribed theme: read a story, sing, act, show a video. The $5 ticket is developing a following. April's theme will be "Sorry Seems to be the Hardest Word."
Of course, Law had another goal beyond community outreach. He needed new income. Faced with empty coffers his first month on the job, he and the board came up with a patch. They signed the papers on a $100,000 line of credit from Bank of America "in the nick of time for payroll," says Law.
In addition to Just Do It and the five main productions, Law took on the 24-Hour Play Project (in which several plays are written, rehearsed, and performed in twenty-four hours) begun by BareBones Theatre Group. He's added a student theater guild and
debuted Teatro Latino, Spanish-language play readings.
Changes ran deep. Law turned over ticket sales to CarolinaTix and swapped the ticket booth position for a development director. He went after families with at least one production a year. This season it was Seussical. With a grant from ASC, the board got a makeover: fewer members, fewer committees, fewer theater insiders, new bylaws, new mission statement. They kept this requirement, though: must have a sense of humor.
Law also got final say on plays, a task previously done by committee. That's how Theatre Charlotte ended up with its riskiest and highest-grossing production to date, The Full Monty, the story of unemployed working-class men who more or less become Chippendale dancers to keep their families solvent.
"I was hesitant," Law confesses, but Blumenthal Performing Arts Center President Tom Gabbard, one of many people Law consults, urged Law to take the risk. It worked. "The Full Monty is not lascivious," Law says. "It's a musical with heart. Good score. Good story. At the end you're pulling for these guys to take off their clothes because they're doing it for a good reason." The house stayed packed, and Monty, directed by Dennis Delamar, won Metrolina Theater Association awards for outstanding musical, best musical actor, direction, choreography, and set design in 2008.
The only calamity was the air conditioning, which went out early in the run, forcing Law to make a curtain speech asking for cash. Repairs took about a week. The air conditioning company discounted its cost in exchange for being thanked on stage each night. But
until repairs were made, the actors danced
in a film of sweat. A few audience members wished they could strip, too.
One thing you notice when you sit in Ron Law's office are pictures of Mickey Mouse, propped on a sill, pinned to a wall, decorating a picture frame. "I don't know why I like Mickey," shrugs Law, who wore that black mouse-ears cap as a child and sang along with the Mousketeers. But there could be a connection. Think of that iconic 1920s black-and-white Mickey, at the steering wheel of a steamboat, bouncing on slender black legs, whistling. Then a nasty black cat shows up.
Law didn't exactly come into the job whistling. But he's wrestled the cat and brought confidence back to the helm. Which is good; they're not out of rough waters yet.
The numbers look better. Law expects 2009-2010 to be the third straight fiscal
year in the black. And volunteers grew from about 100 his first year to more than 500 now. Ticket sales that were 58 percent of season
capacity in 2004-2005 climbed to 87 percent by 2007-08. Buyers are younger now, too.
Average age: fifty-one.
In summer 2008, three years into Law's job, Theatre Charlotte seemed rejuvenated. "There was a fairly dramatic turnaround," says Bush, and the ASC restored operating funds to the pre-slash levels—around $140,000. The theater had just come off a great season in which Oliver had brought in the theater's highest gross to date for a musical, $31,000, and Walking Across Egypt had sold out before it opened. Spirits were high at the eightieth anniversary celebration, and a board member proclaimed, "We've righted the ship." Law was eager to start a campaign to retire the debt.
Then the economy tanked. The day newspapers announced Wachovia had been sold, Law went into action. He pulled the plug on the annual fundraising gala because ticket sales had vanished. He and development director Jackie Timmons replaced it with several smaller money-making events, including a New Year's Eve celebration and Valentine's Day Murder Mystery.
Sure enough, the ASC, which provides about a fourth of the theater's budget, saw its own donations plummet. This time
every grantee was slashed. Theatre Charlotte's share fell to $100,000. Law put Teatro Latino and its Stage 501 series on hiatus.
Once again, this time through no fault of the theater, circumstances were dire. In March, the day Death of a Salesman opened, Law gathered his small staff and announced 6 percent salary cuts. On top of reduced health benefits. On top of eliminating retirement matching.
There was no big scene.
Everybody saw it coming.
Besides, it was a bittersweet time. That same evening, a crowd gathered in the theater's lobby before the show so that Angela Hays, executive director of the North Carolina Theatre Conference, could present Theatre Charlotte with the 2008 Community Theater Award.
"That was a very emotional night because that day we had just cut everyone's salaries and I was looking at advance sales for Salesman of just $6,000, and we were getting this award," says Law. "It was hard to hold back the tears … people had been coming up to hand me checks. One fellow slipped a $1,000 check in my pocket. … It was a moment that I knew we could survive all this."
Over the show's run, Salesman brought in another $13,000, and the next production was the hugely successful The Full Monty.
But this season Law has made more cuts. He chose to direct two plays himself rather than hire a guest director. He's cut back the lawn service and exterminators. Technical director Chris Timmons stretches a tight scenery budget. The building still needs new carpet, updated bathrooms, a new marquee, roof repairs, new rigging above the stage, and a revamped sound/light booth. But Law is optimistic, and so is the board. Buoyed by Law's successes, they're now mulling a capital campaign and dreaming big. Could they expand into property next door? What about naming rights? Most important, they want to retire the $300,000 debt—the debt that
includes that $100,000 needed to make payroll during Law's first month.
"The brightest moment for me will be when that debt is retired. That is the albatross," Law says. Meanwhile, he tries to laugh.
He says he can laugh at the time he came to work to find assistant Wilson sitting at her computer under an umbrella because the roof leaked. He can laugh about the air conditioning failure during Monty. He can laugh about having to pour gas from his lawn-mower can into his car so he could get to work during the recent gas crisis. And he laughs at this shameless ploy: after A Christmas Carol, eight-year-old Noah Carroll, who played Tiny Tim, stood outside the door with a basket for donations, holding his crutch.
But hey. That basket netted about $600. Law laughs.
Or is it a whistle?
E-mail editor@charlottemagazine, or comment online. Miriam Durkin is a Charlotte writer and former arts editor at The Charlotte Observer. She profiled artist and teacher Andy Braitman for the July 2009 issue of this magazine.