Revue Sessions: You Blew It! Performs "You & Me & Me" (1/28/14)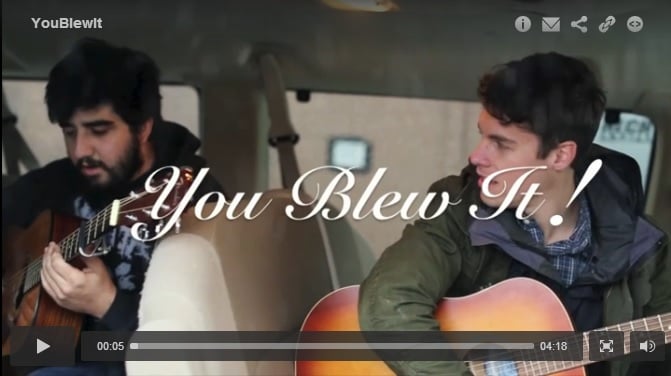 It's Charlotte's first snow of 2014, and we're sitting in a car parked just off Tremont Ave. Man, it's really coming down now.
We're supposed to shoot an acoustic video with Orlando's You Blew It, and to many, it would seem like there are some obstacles. The acoustic guitars are borrowed, so we need to keep them out of the elements. Headliners The Front Bottoms are sound-checking, running through tracks like "I Swear to God the Devil Made Me Do It" and "Skeleton," so we'll have to keep our distance from the venue. And it's snowing; like, really snowing.
But all of that doesn't matter, because we have a fool-proof plan: We'll ask them to play in their van.
Photographer Logan Cyrus was able to capture something special with the first of the Revue Sessions, a series of videos that shows musicians performing stripped-down versions of songs around the city. There's that pre-show buzz. You can hear it bleed into the audio, with occasional chatter from teenagers in a nearby lot and snow-covered cars pulling in to join them. You can see it, too, as the guys introduce a song from their newest LP, and the flakes provide that gorgeous texture between the lens and the band.
So here it is: the first Revue Session. Let us know what you think, and comment on the band or performer you'd like to see in an upcoming video.
(WARNING: Explicit Language.)