Revue Takes a Road Trip
Folk fave Nanci Griffith performed at the Newberry Opera House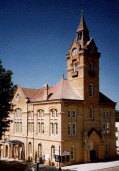 Charlotte's lucky to get great bands — "combos" as my parents, who were teens in a small town in North Carolina in the 1950s, still insist on calling them — and theater. I mean, Madonna will be Vogue-ing in the QC on her upcoming world tour. For about $500 per ticket, but still.
Even as we have access to top-flight talent (Rosanne Cash blew the lid off Spirit Square in December, and Vince Gill will probably do the same at the Knight Theater in June), there are some fine artists who bypass us …
… for Newberry, S.C.
Two friends — both songwriters — and I headed south yesterday to see a folk singer we love who hasn't given Charlotte any love in about fifteen years, as best we can recall. Nanci Griffith played the charming, historic Newberry Opera House last night, and she has the same sweet, Texas twang she had the last time I saw her show and the same outspoken, liberal views. "A blue girl in a red state," reads the window stickers available at her merch table.
Newberry reminded me of Mayberry. The proprietress at the antique shop just across Main Street from the opera house proudly told us that Nanci was a repeat performer and "a repeat customer." A customer in the antique store gave us the lowdown on this small town's historic jewel and said how much performers love singing there. She told us the renovation that restored the once-grand opera house was so authentic that, "One singer even came out on stage and said, 'I half-expect Mrs. Lincoln to be sittin' up in that balcony.'" And it does remind one of Ford's Theatre, only without the dubious cache that goes along with being the theater where a president was shot.
My friends and I agreed that architects in 1881 (the year the opera house was completed) didn't much concern themselves with the patron experience. We had to go up two flights of steps to reach the orchestra level. The interior is painted the same colors I associate with Williamsburg — Colonial blue, pale mustard, maroon. Plantation shutters keep the sunlight out of the concert hall. The dim lighting in the theater is made to look like gas lights.
We were amazed at the acts we've missed this season. Sam Bush, Robert Earl Keen. The Temptations. Maurice Williams. And we discussed how soon we'd return. (And a return trip is definitely in order.) Roberta Flack is playing next Friday night. Loretta Lynn (one of Griffith's inspirations and the subject of her song, "Listen to the Radio") will be there soon. Jim Brickman — the wonderful pianist/showman who did play Charlotte in 2011 — is doing two shows in the same day.
Griffith — a true citizen of the world who tours as much in Europe as she does in the U.S. — thanked everyone for the warm welcome and said that each time she plays Newberry she feels at home. Each time. All the years I've been waiting for her to come back to Charlotte, she's been playing just down the road a spell.
She sang some of her best-loved songs — including the dear "Love at the Five and Dime" — and didn't shy away from delivering a political message. "Why do people care about same-sex marriage? If you don't want to marry someone of the same sex, then don't," she said. The response in this small town was lukewarm at best. She got a much bigger round of applause when she sang "The Flyer" in honor of some U.S. Air Force pilots in the audience and sang that she'd "give anything to have all our flyers home tonight."
The show flew by. So did the two-hour drive home, partly because we were accompanied by Griffith's new CD, Intersection.
The opera house's season is almost over, and they'll soon be announcing the line-up for 2012-13. I'll be making plans for another road trip. Nanci Griffith may bypass Charlotte, but I intend to be in the audience each time she plays Newberry.
Who would you drive two hours to see?