Rhetorical Revolution
In 2010, Charlotte saw an explosion of intellectual gatherings and "un-conferences." Some of the attendees and leaders say they are the city's new leaders. But is it all just elitist hype?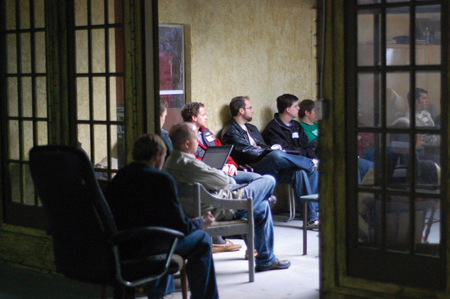 For the past two years, Charlotte has seen an increase in revival meetings.
Unlike their nineteenth-century predecessors, these meetings aren't happening in churches or tents, and there's hardly ever a mention of religion or God. They happen in bars and theaters, and their subject matter is diverse and secular. There is, however, no doubt that the people who attend these meetings are part of a cultural movement. Their mission in Charlotte? Get the city thinking and talking more.
The meetings started as quiet, only semiorganized gatherings. Charlotte's designers, writers, architects, activists, and other creative types would get together for fellowship and conversation—serious conversation. Occasionally, they'd invite someone to speak, and a few even created salon-style groups, like Point8 Forum, a group of local artists (or just artistic people) who hold regular discussions on cerebral, usually arts-related topics.
But the groups soon outgrew their casual nature. Eventually, these folks, brainy Charlotteans in search of kindred souls, went looking for a more structured forum that would encourage more ideas, cultivate more discussion, and maybe even get them noticed by the rest of the city.
In the 1990s came the Charlotte Urban Forum (now Civic by Design), a group of architects and planners looking for ways to make Charlotte an accessible, sustainable city. Then came Pecha Kucha, spearheaded by Point8 Forum and borrowed from an internationally recognized format for short presentations. Next were the tech-oriented BarCamps, a series of day long workshop-conferences that began in Palo Alto, California. More recently came Ignite, a speaker-driven event that originated in Seattle. Lastly, and most controversially, TEDxCharlotte took place this past fall. Each of the events draw different crowds, though there is some overlap.
To their critics, these events, these conferences (though BarCamp describes itself as an "un-conference"), workshops, and social gatherings—as well as the people who drive them—are full of elitist b.s. Self-anointed intellectual elites gather to hear each other talk, exchange idealist sentimentalities, and trade business cards. To their proponents, however, these events are the site of Charlotte's most worthwhile conversations and the drawing boards on which the city's creative leaders are outlining Charlotte's future.
In 2002, Manoj Kesavan, a local architect and one of Point8 Forum's founding fathers, had recently moved to Charlotte from Kansas, where he had been teaching at Kansas State University. He came to work for Odell & Associates, a design firm responsible for, among other things, Bojangles Coliseum. Feeling that the office's culture had become too corporate, the head of the firm asked Kesavan for ways to give the office more creative time, when employees could get reacquainted with their love of architecture.
"It became a regular lunchtime discussion group," recalls Kesavan. "We talked about architecture, but it had to be non–project related." The discussion group started with just six people, but soon Odell's neighbors began to drop in on the group—people from nearby design firms and galleries, or from the nearby McColl Center for Visual Art. Over the years, the group, which came to be called Point8, picked up steam, expanded beyond its original office environment, and even began hosting speakers. In 2008, Kesavan and Point8 organized the first Pecha Kucha—a presentation series in which speakers get twenty slides and twenty seconds per slide to discuss their ideas of choice.
But the Point8 Forum wasn't the only group in the early 2000s attempting to galvanize Charlotte creativity. In 1996, after studying urbanism at the University of Miami for a year and a half, local architect and planner, Tom Low, joined colleagues from around Charlotte to start the Charlotte Urban Forum, a lecture and discussion series focused on urban design.
"Charlotte is a big city with over 90 percent suburbia," says Low. "There weren't a whole lot of livable parts in the sense of being walkable, connected, and sustainable. … It's a developer-driven town. They're making the important design decisions, so we're getting a lot of mediocrity, even though we're not willing to admit it."
"We always have this idea that life is elsewhere and the urge to look
outside for something inspiring and original. Now we're trying to find
what's valuable here, in Charlotte, and bring it forward."
In 2005, after a dormant period, the Urban Forum was renamed Civic by Design, and the group now meets once a month for a lecture or to discuss a new plan for revamping sprawling, problematic sections of the city. The gatherings have drawn up to 250 people, and though usually quiet and academic in tone, are packed with innovative, plans for turning Charlotte into the bustling city of our dreams, including remaking urban voids and creating new gathering places.
In this way, Civic by Design, while less bohemian in atmosphere, isn't unlike the equally grass-roots Pecha Kucha. This past July 16, Pecha Kucha Volume 6 attracted close to 300 attendees and was held in a jam-packed, dimly lit Dharma Lounge. A woman in a skirt suit with a half-painted face read a poem on mortality; one man spoke about visual data, with dazzling, intricate graphs illuminating the screen behind him; another multimedia urban landscape artist talked about the value of originality. The crowd gazed, murmured in agreement, and then erupted into cheers and applause. The place was high on brainpower.
"We have this inferiority complex in Charlotte," Kesavan says. "We always have this idea that life is elsewhere and the urge to look outside for something inspiring and original. Now we're trying to find what's valuable here, in Charlotte, and bring it forward. I think that's the only way to build culture."
Low concurs: "If we don't suggest these ideas, who's going to? We're operating in a new economy, where you have to be your own client. We need to find ways for creatives to strike up conversations with Charlotte leaders, and Pecha Kucha, Civic by Design, and TEDxCharlotte are all trying to achieve that."
And whether they're looking for ways to connect with the business community or just want to chew over locally grown brain food, many Charlotteans can't get enough of these intellectual block parties.
Ignite Charlotte premiered to just over 200 people at the Neighborhood Theatre on August 4, 2010. At Ignite, chosen speakers present twenty slides that auto-advance every fifteen seconds. Some Ignite speakers and attendees overlap with the BarCamp Charlotte workshops—day long, technology-oriented events with presentations and discussions on subjects ranging from Web design to cloud computing. There have been four BarCamp Charlottes, with recent events also attracting about 200 people.
Sam Fagan's company, Blueagle Marketing, was the first sponsor of the first Ignite Charlotte event. "I think part of the reason [for their popularity] is that there's been a climate change in Charlotte," he says. "We've gone from a banking-driven economy to a more start-up-driven, technical one. There's been a switch in what has defined Charlotte over the past couple of years."
Ignite's cofounder (with Fagan), Bridget Sullivan, adds that "there's a shift in how people create opportunities, now … more and more people are coming to events as a way to continually network."
"BarCamp is a way to show the investing community that there are people with good ideas who have start-ups in the works," says Dwayne Waite Jr., one of the organizers of the most recent BarCamp. "They don't have to go to New York or Silicon Valley."
Ignite and BarCamp, which focus on business and technology, have added a new dimension to these grass-roots events. Collectively though, the speakers and organizers at these presentations or workshops describe themselves as the city's new leaders, the ones rearranging and rebuilding the rubble left by the recessionary crumble of Charlotte banks.
Candice Langston grew up in Charlotte and moved back to the city in 2002 after living in London, where she worked in marketing for Sotheby's auction house. A petite blonde with a friendly, purposeful demeanor, Langston started up a chain of cosmetics stores after moving back to Charlotte, and soon started doing occasional freelance marketing work for organizations and events across the city. Her idea to bring TEDx to Charlotte, she says, was spurred by the sense that something was missing.
"I'm a native Charlottean, but [since moving away] have only lived in big cities, like London and Amsterdam, where people go out to dinner and talk about politics and art," she says. "Here, people go out and talk about football or the neighborhood. It's light hearted. It's sort of just what we do, but the trade-off is that the conversation doesn't go any deeper. Interesting ideas don't get shared as freely as it happens in bigger cities."
Langston was the first in Charlotte to receive a TEDx license, in late 2009. TEDx is an international series of city and community events based on, but organized independently from, the renowned TED conferences. TED conferences, begun in Monterey, California, in 1984, bring myriad important speakers (Steve Jobs and J. J. Abrams are in their archives) to speak on topics ranging from public-education reform to foreign policy to performance-art innovations. The popular talks have spread like wildfire over the Internet, and have ballooned TED (which stands for Technology Entertainment Design) into a global brand.
What set TEDxCharlotte, held on September 24 at the Wells Fargo Auditorium in Knight Theater, apart was that the event was invitation only. Attendees were either invited by a steering committee, or they submitted applications, which were reviewed blindly by a panel.
To many, that was strike one against TEDx. And it's a touchy TED topic; even the ruling TED body has a page on its website acknowledging the frequently asked question, "Is TED elitist?" Answer: "Yes (in a good way), but also no."
In Charlotte, the most famous public backlash came in the form of a humorous but hostile Twitter account, @NEDxCharlotte, that declared three days after the event: "Final verdict? #TEDxCLT is what happens when the social elite crown themselves Ayatollahs of culture & ideas – a failed, top-down approach." The tweet captured the sentiments of several bloggers and artists around town.
Further, TEDxCharlotte's content seemed to differ from some of the principles held by Point8 Forum and other
local discussion groups. "We generally don't allow [speakers who are] trying to push their own design or even a nonprofit," Kesavan said of the Pecha Kucha speaker selection process. "We just don't want any infomercial kind of stuff."
Plugs abounded at TEDxCharlotte. Speakers who had undertaken enormous community and international projects shared their experiences. Doc Hendley, who began the Wine to Water movement to bring clean drinking water to developing nations, spoke. Randy Powell, a researcher with the Vortex Based Mathematics Project, a research group that claims it's on the brink of discovering permanent alternative energy, asked for support for his lonely venture. Tim Will, the executive director of Foothills Connect, talked about his organization, which brings broadband to parts of Appalachia in an effort to connect nearby cities (like Charlotte) to local food providers.
These were just three of many, and some of the presentations inspired standing ovations at the event. But it was hard to tell whether each speaker was on stage to share their ideas or to garner support from the audience; often, their inspiring effect was tempered by the sense that the audience was watching a pitch.
Langston, a longtime follower of the TED talks, insists that the presenters on stage were sharing their ideas, not selling them. "We were clear with our presenters that this was not the time for a sales pitch, or to find support for a cause," she says. "But the people on stage have beliefs, and often those are tied to an organization, or a nonprofit, or a school. Molly Barker founded Girls on the Run, for instance, but her presentation barely even mentioned the organization. We encouraged the speakers to place their passion in a context for sharing great ideas."
So if these people really are gathering for more than just intellectual discussion, if they're out to blaze new trails for Charlotte, the question remains as to whether these events are capable of acting as incubators for innovation.
It's tempting to be cynical about their potential. If you're looking for tangible evidence that these events are changing Charlotte, you won't find any. But so far, the networking and idea exchanges at Pecha Kucha, BarCamp, Ignite, and TEDxCharlotte have, in fact, led to the preliminary whispers of collaboration and development.
Bermon Painter, now the senior web presentation architect at Ally Bank, moved to Charlotte three years ago from Utah, and he spoke at Ignite and BarCamp (his talks were both titled "Jack of All Trades, Master of Many"). He and fellow Ignite presenter Andrew Gertig are working on developing and designing an iPhone and iPad app that would connect medical device sales representatives with hospitals and doctors' offices. The two hope to have a prototype ready for a start-up conference in California this February.
And whether or not there was indirect advertising happening on stage at TEDxCharlotte, many of the speakers received new public interest. After word spread about his work, Hendley brought in $3,000 from his most recent Wine to Water fundraiser.
Even Tom Low, whose entrancing TEDxCharlotte presentation "20 Places in 20 Months," which reimagined twenty "problematic" spots in Charlotte, such as Eastland Mall and the intersection of Queens and Queens and Providence and Providence, was one of the day's most far-fetched, was invited to present to Charlotte Center City Partners his idea for redesigning The Square at the intersection of Trade and Tryon streets. The meeting occurred before TEDxCharlotte, but Low says the event gave his idea great exposure, beyond his Civic By Design crowd.
Kesavan, though, holds his purist stance on the events, especially for Pecha Kucha: "We don't really follow up," he shrugs. "I'm sure it has helped people."
Despite these still-embryonic developments, it's unclear whether Charlotte can (or even should) think of TEDxCharlotte, BarCamp, Pecha Kucha, and their associates as a breeding ground for innovation and business building. It's possible they'll remain independent, neutral havens for intellectual fodder. Which might not be all that bad.
If, however, these are in fact Charlotte's new leaders, we'll need to see a lot more than just a good conversation.