Ricotta Gnocchi with Arugula Pesto
Customshop's Trey Wilson serves up the restaurant's famous ricotta gnocchi.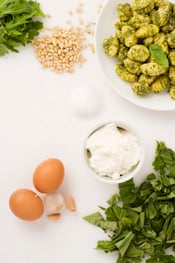 Learning to make ricotta gnocchi tender and airy is an exercise in restraint, Customshop (1601 Elizabeth Ave., 704-333-3396, customshopfood.com) chef-owner Trey Wilson explains. It's about less. Less flour in the recipe. Less effort mixing the dough. Less time cooking the gnocchi. The only part about this dish that—thankfully—doesn't require restraint? The eating. —April White
Serves 8
3 cups ricotta cheese
1 egg, plus 1 egg yolk
1 cup all-purpose flour
½ cup grated Parmesan-reggiano cheese
Dash ground nutmeg
Sea salt, to taste
1 cup arugula pesto
In a food processor, pulse ricotta, egg, and egg yolk until smooth, about 30 seconds. Add flour, Parmesan-reggiano, and nutmeg, and pulse until smooth, about 10 seconds. Form dough into a ball and refrigerate at least 30 minutes. Divide dough into four pieces. (Refrigerate unused dough until it's ready to be rolled out.) On a floured surface, roll one piece of dough into a 1-inch-thick rope. Cut into 1-inch pieces. Lightly press and roll 1-inch pieces on the back of a fork to line the gnocchi. Repeat until all dough is shaped, storing gnocchi on a baking sheet lined with parchment paper.
Bring a large pot of salted water to a boil. Add the gnocchi. When the gnocchi floats to the top, cook 10 additional seconds. Use a slotted spoon to move gnocchi to bowl with pesto. Toss gently and serve.
Arugula Pesto
Yields 1 cup
¼ cup pine nuts
2 cloves garlic
2 teaspoons sea salt
1 cup arugula, stemmed
2 cups basil, stemmed
¼ cup grated Parmesan-reggiano cheese
½ cup extra-virgin olive oil
Toast pine nuts in a 300-degree F oven until aromatic, about 5 minutes. In a food processor, pulse garlic, salt, and toasted pine nuts until minced. Add arugula and basil and pulse until entire mixture is green. While the food processor is running, slowly add olive oil, processing until mixture emulsifies. Add cheese and pulse until fully mixed.
TIPS!
Tip: Gnocchi need only a coating of sauce. Use a little cooking water to help thin the pesto.
Tip: Don't need that many? Gnocchi freezes well. You don't even have to thaw before cooking.
Tip: Salt, salt, salt. The cooking water should taste like the ocean. This is your only chance to season the gnocchi.
Tip: Let the ricotta rest in a cheesecloth-lined colander overnight to release excess water. The result will be even creamier gnocchi.