Riding the Rails: A 2016 Transit Overview
City officials have big plans to expand the light rail and streetcar lines, but little money to do it. Soon, you'll be able to ride the light rail to UNC Charlotte and take a streetcar to Johnson C. Smith University, but beyond that, plans are murky. Here's what you need to know about the future of public transit in Charlotte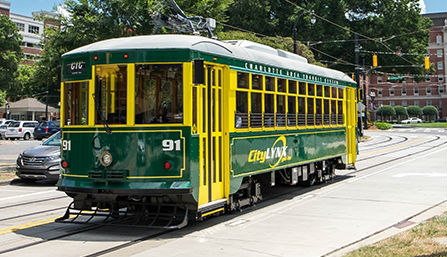 NEARLY A decade ago, Charlotte and Mecklenburg County officials adopted an aspirational plan for 25 miles of commuter rail from uptown to Lake Norman, 21 miles of light rail, 16 miles of streetcar, 14 miles of rapid bus transit, and an expansion of the bus system stretching to all sides of the city by 2030.
What do officials know for sure? It isn't going to happen in the next 14 years. And uncertainty about construction will continue to be an issue. "We are trying to work through how we are going to accomplish our goals," says Charlotte Mayor Pro Tem Vi Lyles, chairman of the City Council's transportation and planning committee. "We have to give people the opportunity to not have a second car or any car. That requires a reliable form of public transportation."
For now, as segments of light rail and streetcar lines are being built, the biggest obstacle is money.
Transportation funding was once heavily subsidized. Cash-strapped federal and state governments now are investing less and requiring local governments to spend more. North Carolina officials have put a cap on transit funding. Locally, the primary source of transit money is a sales tax approved by voters in 1998 that devotes half a cent of the 7.25 percent sales tax to fund transit services. But that revenue was crippled by a dramatic drop in consumer spending during the recession. As a result, officials project a funding gap of at least $2.3 billion in the Charlotte Area Transit System (CATS) budget.
In a city with a suburban-focused heritage and a burgeoning urban personality, many leaders aren't yet comfortable with making the commitment, both fiscally and culturally, that Charlotte will need to build a transit system for a metropolitan area that is one of the fastest-growing in the country.
A transit funding task force has recommended several new revenue options for city officials to consider, including low, fixed-rate federal loans, public-private partnerships, and an increase in the portion of the local sales tax designated for transit spending. Nothing has been decided yet.
Here's a look at what's happening with Charlotte's planned transit system. For the foreseeable future, most commuters will have few options for ditching their cars.
---
STREETCARS
What's Here Now: In July 2015, the city opened the first leg of its CityLynx Gold Line electric streetcar system, following at least six years of controversy over whether it ought to be built. The 1.5-mile section begins at the uptown Charlotte Transportation Center and extends southeast to Novant Health Presbyterian Medical Center. Its six stops include one in the heart of Central Piedmont Community College's uptown campus. The $37 million price tag included a nearly $25 million federal grant and $12 million in city funds.
What's Next: The second phase of the Gold Line will stretch 2.5 miles west of uptown, from the Charlotte Transportation Center along Beatties Ford Road to Johnson C. Smith University. On the east side, it will extend half a mile northeast from its current end point in front of the hospital and travel along Hawthorne Lane to a stop just before the intersection with Sunnyside Avenue in the Elizabeth neighborhood.
Where the Money Comes From: The $150 million cost of Phase 2 will be financed by a $75 million federal grant and $75 million from the city. The city's share will come from unallocated and contingent capital accounts, not property taxes. Approval of the federal grant is expected this spring.
When It Will Happen: Construction is scheduled to start this fall and be finished in time to welcome riders by the end of 2019. When this second section opens, officials will introduce new streetcars and riders will begin to pay fares. Currently, there is no charge to ride the Gold Line.
What About the Rest of the Planned Streetcar Route? The master plan calls for extending the line west, beyond Johnson C. Smith to the Rosa Parks Place Community Transit Center, and east, along Central Avenue to the former Eastland Mall area. But it hasn't been funded yet.
---
CHARLOTTE GATEWAY STATION
What It Is: This proposed uptown station would serve as the city's major transportation hub for Amtrak, local and long-distance buses, streetcars, and any commuter rail line to Lake Norman. It would be a distinctive Grand Central Station-like complex located at West Trade and Graham streets on the site of the current Greyhound bus station.
What's Next: Last fall, the city received a $25 million federal grant to help move the Amtrak station from its location on North Tryon Street, two miles from uptown. However, officials are not sure when the move will occur. They need nearly $30 million more for the first phrase of the project, which includes four new bridges and two sections of new track. A second phase, estimated to cost $20.5 million, would include a temporary station building along with a permanent station platform and canopy. Officials are trying to determine where they will get that money.
Where the Money Comes From: The Gateway Station complex could cost as much as $200 million. Transit administrators say they will seek a public-private partnership to pay for the project.
When It Will Happen: Officials don't know when they will be able to afford to build Gateway Station. If it is built, the existing uptown Charlotte Transportation Center, located on East Trade Street across from the Time Warner Cable Arena, will continue to operate as a hub for local bus service.
---
LIGHT RAIL
The Lynx Blue Line, the first light-rail line in North Carolina, opened in November 2007 and stretches 9.6 miles through south Charlotte, primarily along South Boulevard from I-485 to uptown Charlotte. It now averages 15,000 weekday riders, growing from 2.8 million annual riders in fiscal year 2008 to just over 5 million in fiscal year 2015. Its cost: $462.7 million, which included $199 million in federal funds, $115.7 million from the state, and $147.7 million in local money.
Lynx Blue Line Extension: Happening Now
What It Is: This segment has been under construction since the fall of 2013 and will run for 9.3 miles from 9th Street in uptown Charlotte, through the NoDa and University City areas, and to the UNC Charlotte campus. It will have 11 stations.
What's Next: Completion is expected in 2017.
Where the Money Comes From: The estimated price is $1.1 billion, up from the initial $741 million projected cost. Half of the money will be paid by the federal government; a little less than $300 million, or 26 percent, will come from the state. The city is responsible for 24 percent, which will be paid by the existing half-cent sales tax designated for transit.
Red Line: Not Happening Yet
What It Is: The 2030 transit plan, which was adopted in 2006, proposed that the Red Line would run 25 miles north from uptown Charlotte through Huntersville, Cornelius, and Davidson, extending into Mooresville, in Iredell County. It was supposed to run on rail tracks leased from the Norfolk Southern Corporation.
Why It's Stalled: Norfolk Southern, concerned about the effect on its operations, so far has indicated no interest in sharing the rail line. In its preliminary 2017 budget proposal to the city, CATS requests funding to update the Red Line study, which would also evaluate the need for more park-and-ride lots, express buses, and express ramps to I-77.
Where the Money Comes From: At this point, there are no reliable estimates for the cost of the Red Line.
When It Will Happen: Unknown
Silver Line: Not Happening Yet
What It Is: The Silver Line, as proposed in the 2030 transit plan, would be a rapid bus transit corridor along Independence Boulevard, extending about 13.5 miles from uptown through Matthews to the border with neighboring Union County.
Why It's Stalled: Officials no longer favor the rapid bus transit option and are conducting a study of the metro area's southeastern corridor to determine a rail route that connects uptown Charlotte to the town of Matthews. They're trying to figure out whether the best alternative is light rail, streetcar, or commuter rail. The study is scheduled for completion in June.
When It Will Happen: Unknown