Riley Howell Foundation Fund Honors Student Killed at UNCC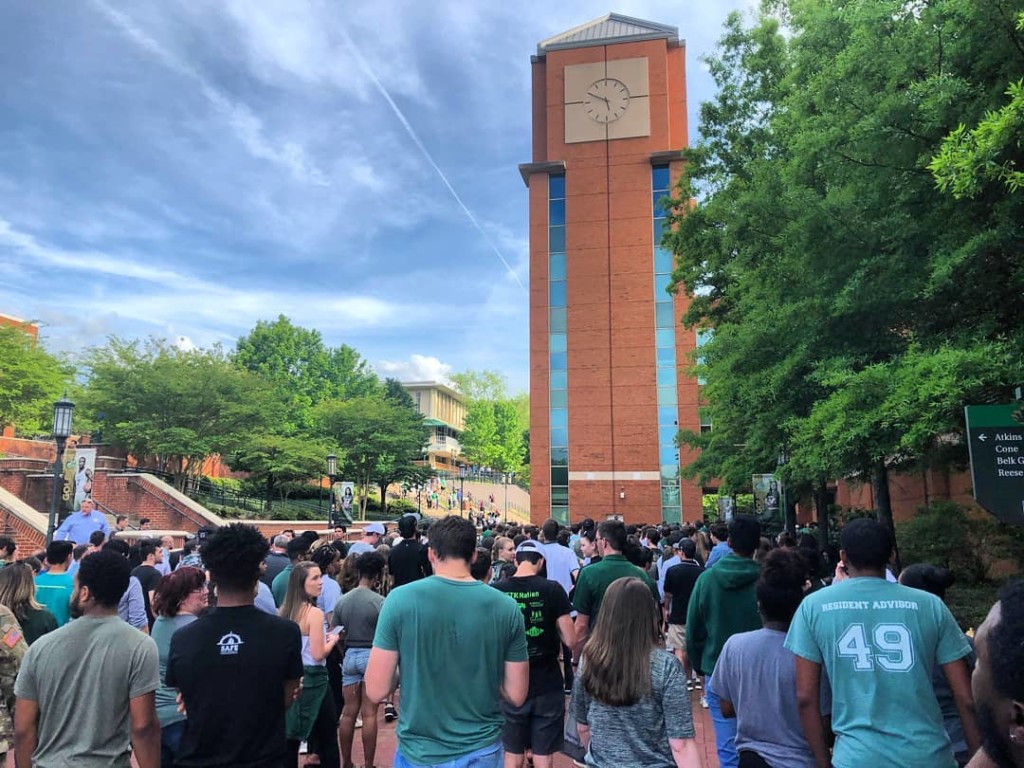 A DAY or two after the April 30 shooting at UNC Charlotte, as Natalie Henry-Howell learned the details of how her 21-year-old son, Riley, tackled the shooter, likely saved multiple lives, and was killed in the process, she turned to friends and family gathered at their home and said: "There has to be something good to come out of this."
Within days, the Riley Howell Foundation Fund was born.
It's still very early in its planning—although it does have a website, rileyhowellfoundation.org, and a donate button. The details have yet to be worked out by the foundation board – which includes Henry-Howell and some of those friends and family—but the foundation intends to support charitable organizations that serve victims of gun violence and their families through grief counseling, funeral expenses, domestic care, long-term health and wellness coverage, and other services.
All the things Kevin Westmoreland has learned the hard way are necessary.
Westmoreland is the father of Howell's longtime girlfriend, Lauren. He has grieved with his daughter and the Howell family since the shooting, which also claimed the life of 19-year-old Ellis Reed Parlier, left four other students injured. He has seen his daughter work through the grief that comes from gun violence, watched her emotions vacillate between hysterical crying, silence, and hesitant laughter.
"There are moments where you have normalcy, but then it all comes back," he tells me. "You see a picture of Riley, or we've got a coat of his hanging here in the house, and you look at that, or look at photographs around the house, and it just catches you off guard, and it all comes back that this is really real and he's gone forever."
Westmoreland and his family have been working with a traumatic grief counselor near their Asheville home, a specialist who understands the unique challenges of working through grief caused by gun violence. "It doesn't magically make it go away," he says. "It just sort of softens it over the weeks as you work through it."
But as family members grieve, the more mundane parts of their lives still need attention, and cost money. Henry-Howell, Westmoreland and the other board members want to contribute to organizations that offer help with everything from counseling to tending to the household—even something as simple as taking care of the family dog and cat, which Westmoreland says his own support network of family and friends helped with
while his family has spent long hours with the Howells at their home in Waynesville.
"I hope there's not enough work in North Carolina or Western North Carolina," Westmoreland says. "I hope there's not enough work for us to do and we have to look at another state where this happens."
So far, with minimal publicity, the foundation board—which also includes Howell's uncle, Scott Pritchard, and family friend Rachel Feichter—has raised about $30,000. That's a step toward the "something good."
"When you feel this pain," Westmoreland says, "you don't want anybody else to ever feel it if they don't have to for one minute longer than they have to."
Tax-deductible donations can be made online at the foundation fund's website, rileyhowellfoundation.org, or through CFWNC's website at https://donatenow.networkforgood.org/1443146. Interested donors can also mail a check to: CFWNC, 4 Vanderbilt Park Drive, Suite 300, Asheville, NC 28803. Include "Riley Howell Foundation Fund" in the memo.