Rival Cheerleading Squads Say, "Bring It On!"
My conversation with Tony-winning librettist Jeff Whitty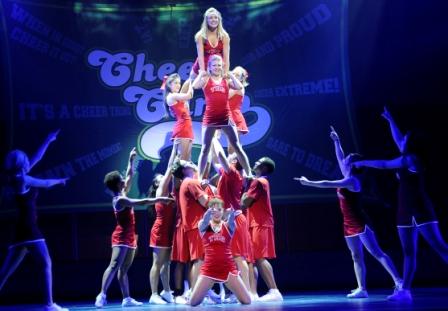 Jeff Whitty won the 2004 Tony for Best Book of a Musical for Avenue Q, which ran on Broadway for six years before moving Off-Broadway, where its run continues. Puppets have never been as foul-mouthed (or closeted) as those who dwell on that street. He went on to write the book for Bring It On: The Musical, whose theme of rival cheerleading squads is based on the Kirsten Dunst comedy. He had A-list collaborators: Tony-winning Lin-Manuel Miranda (In the Heights); Tom Kitt, the Tony- and Pulitzer-winning composer of Next to Normal; and lyricist Amanda Green.
Whitty was raised in Coos Bay, Oregon – the small logging town that was, incidentally, the hometown of the late, famed distance runner Steve Prefontaine, who was himself the subject of two movies – Prefontaine and Without Limits. I recommend both movies. But I digress.
The writer/actor had a cameo in Shortbus, one of the most daring and explicit movies I've ever seen. The 2006 John Cameron Mitchell film was also one of my favorite movies of that year. Again, I'm getting off track.
The cheer-off comes to the Belk Theater April 10-15. Details here. I got to chat with the witty Whitty recently.
Revue: Bring It On seems like a show where the stunts are the star. Do you feel like the dialogue plays a supporting role to the choreography?
Jeff Whitty: I feel like the stunts are the incredible gravy on top of this show. But the story has to be the firm foundation. I want the audience to really engage with the characters and go along for the ride. People will enjoy the choreography; the performers are astonishing. But I didn't want to back off from the story. It's juicy and fun.
Revue: You gave the puppets some really great one-liners in Avenue Q. I remember one hysterical line about the closeted gay puppet's fictional girlfriend from Canada. He forgets if her name is Alberta or if she's from Alberta. Are there any great zingers in this show?
JW: There are a few zingers I suspect people will be quoting. I don't want to give away the surprises, though.
Revue: What's harder — writing for a puppet or writing for a snarky teenager?
JW: Oh, that's a good question. I think the teenagers were actually harder to write for. In Avenue Q, we tried to have the puppets behave and talk like adults. There are very "human" moments in that show. But there's kind of a trap when you're writing for a teenage character. There's an accepted way that people expect teens to talk, and I wanted to give a fresh take to that and with the character Skylar, in particular. There's an accepted belief that cheerleaders say bitchy things to each other. But in Bring It On, there's just one character who's really snarky. It took a long time to write Skylar's dialogue.
Revue: I know there's not a one-to-one comparison, but is Skylar sort of the Kirsten Dunst character from the movie?
JW: No, Skylar is the sidekick to the heroine, Campbell. She's second in command.
Revue: Ah, she's number two, so she has to try harder?
JW: No. Skylar has no doubts as to her beauty and intelligence. She is really an artisan of the snarky put-down. She holds herself in very high regard.
Revue: How do you describe the play to someone who's seen and is a fan of the movie? I know they're different.
JW: The play maintains the flavor of the movie and the series, but we go in our own direction. We didn't want to recreate the movie. Screen-to-stage adaptations can be a little disappointing. People think, "I know how this is going to end because I saw the movie." We wanted to offer what people loved about the movie but with a fresh story.
Revue: Is this musical purely for fun, or are there any lessons?
JW: I wanted it to be entertainment. Period. I really didn't want to go too far down the educational path. Then, it's like "theater as medicine." But there are large themes at play — of self-acceptance and transformation — throughout the show.
Revue: I have to ask this. Are you watching SMASH?
JW: [Laughing] I have not been watching it, but I probably will eventually. When I'm away from work, I want to not think about musical theater. I'll bet dentists don't watch TV shows about dentists, either. I watch Top Chef.
Revue: I read that you're from Coos Bay, so I have to ask if the spirit of Steve Prefontaine permeates everything there.
JW: Oh, yes. There's a big Prefontaine 10K every year that everyone runs in. He is still a major hometown hero. I wanted to put some Coos Bay references in Bring It On, so the beach everyone goes to is Shore Acres. The play happens in a mythical city, but the beach they go to really exists. And my old high school, Marshfield High, is the setting for a competition. That's also the high school Prefontaine went to.
Revue: Anything else Charlotteans should know about the show?
JW: Be ready to be surprised. The show has a lot more texture than people might assume.