Roasted Pears in Brown Sugar Sauce
Home-cooked pears with vanilla ice cream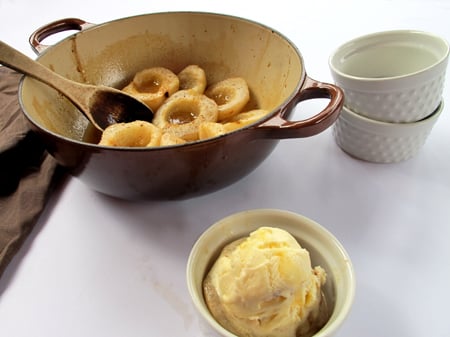 While visiting my grandfather's home last week in South Carolina, he offered me several pounds of pears from his pear tree. He described them as "cooking pears," and explained that they are best when cooked down on the stove with brown sugar. This recipe is a twist on that idea: making a sauce with brown sugar and butter, then pouring the sauce over sliced pears and roasting. Firm Bosc, Anjou, or Bartlett pears work well in this recipe.
Roasted Pears in Brown Sugar Sauce
1/3 cup apple cider
1/3 cup packed brown sugar
3 tablespoons butter
4 firm pears, peeled, halved and cored
A dash of lemon juice
Cinnamon to taste
Preheat the oven to 400 degrees F. Arranged sliced pear halves cut side up in a baking dish and sprinkle with lemon juice to prevent browning.
Whisk apple cider and sugar in a saucepan over medium-high heat until sugar dissolves. Whisk in the butter. Pour the sauce over pears. While baking, occasionally baste with sauce. Bake about 35 minutes until pears are crisp-tender and beginning to brown.
Serve warm with ice cream and remaining sauce.