Rock On!
Our Q&A with a guy who intends to melt your face off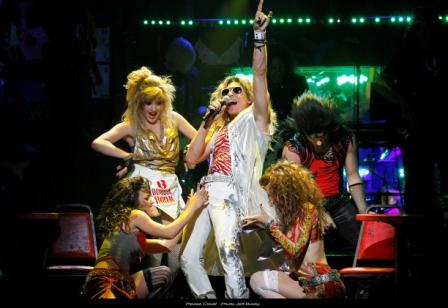 Born in 1988, Dominique (Dom) Scott didn't rock out through the decade of big hair and big music, but he has an innate appreciation for it. Part of that comes from his dad, who was a rock star back in the day. His father's band, Hollow Spirit, toured in Europe throughout the decade. Scott describes their sound as "hair metal meets British invasion."
Dom Scott, who plays "Drew" (a role originated by American Idol's Constantine Maroulis on Broadway) in Rock of Ages, talks as is he lived through the era of parachute pants, guyliner, and leg warmers. "The era was a huge part of American culture," he said. Here's what else he told us about the show, the decade, and his own rock band.
Charlotte Magazine: So, the 1980s: Great decade or giant joke?
Dom Scott: In any era, you can look back and say how silly it looked. The show does just that, and that's part of its charm. We laugh at how big and in your face and larger than life the decade was. Rock of Ages is a tribute to that era.
CM: But, a less-than-serious tribute, correct? It sort of makes fun, but in a good-natured way. Is that true?
DS: Yes, I think that captures it. The show is very self-aware.
CM: Your character was described to me as the young, naive one. Is that right? Tell me more about him.
DS: The main plot line centers around my character, Drew. He's young. He's 23. He's just moved to the big city [L.A. in this case], and he has big eyes and big dreams to become famous — to be a rock star. He loves the attention that he gets when he's on stage. He's got big ambitions, and then he meets a girl who has equally big ambitions, but she wants to be an actress. They fall in love, and in the end, he's got a big decision to make. Does he pursue his dream of being a star, or does he have a family with this girl he loves? Their relationship is what grounds the show. This is a fun, loud show, but, it has a poignant story at the heart of it.
CM: I'm guessing from that description that your character falls for the small town girl living in a lonely world.
DS: That's right. I'm the city boy, born and raised in South Detroit from the Journey song, "Don't Stop Believin'." The whole show is built around that song. It's our big finale, and it's such a well-arranged version of that song. By the end of the number, everybody's standing up and having a great time.
CM: So, obviously that's a fun one to do. What other songs are your favorites from the show?
DS: I get to sing another Steve Perry song, "Oh, Sherrie." I love that one. And, I do "High Enough," which is the hardest, loudest, highest song in the show. It's a lot of fun to try it out every night. And, we do a medley that includes "Heaven," "More than Words," and "To Be with You" that's always a big crowd pleaser.
CM: Are there cultural references that you'll understand only if you were a teen in the 1980s?
DS: Yes, plenty of them. But, even if you don't understand everything, it's still fun. I didn't catch many of the references the first time I saw the show, but it was still just as much fun. The show relies on its raw energy. It's big, silly, and over-the-top. Everyone gets that part.
When you hear that kick drum and that nasty guitar solo, it's pretty bad-ass.
Plus, we have a narrator who breaks the fourth wall a lot. There's some improvisational comedy involved; he'll talk directly to the audience.
CM: So, is there audience participation?
DS: Well, no one gets called on stage or anything. But, there is a huge element of interaction with the audience. We find ways to bring people in. They'll have a comeback sometimes; it's not uncommon to have someone yell something out.
CM: Does that throw you off your game?
DS: No, it just makes the game better. It just makes us be more "in the moment." You're more aware, more present. We've had great audiences for this show, and everyone's having a blast.
CM: How long have you been with the show?
DS: I was cast in April. We started rehearsing at the first of September, and we opened in October in Providence, Rhode Island.
CM: You've got a really interesting background — you're classically trained. You studied music, theater, dance, jazz, opera. Does it surprise you to be in a show about 1980s music?
DS: Of all the roles out there now, this role makes the most sense for me. This character is me. I moved to a big city [New York, in this case] to pursue my dreams. It doesn't get any closer to home. I have my own rock band, so I've been pursuing that. Growing up with a rock star dad, studying theater — everything in my life has led me here.
CM: What can people expect from Rock of Ages?
DS: Be prepared to have an awesome time. Sing along and scream. Be in the moment for those two-and-a-half hours. And, expect to laugh. For those who were part of the 1980s, it's touching and a nice trip down memory lane.
CM: Thanks for your time, Dom.
P.S. As silly and fun as this show is, it is not for the kiddos. Sherrie's dreams don't come true right away, and she finds herself working in a strip club. Scott said there's "great pole dancing" in Rock of Ages, which will certainly appeal to some segment of the audience but may not be suitable for youngsters. Scott describes it as a "PG-13, at the least" show.
And, music is the star of this show. There's a story that ties the songs together, but in the same, loose way ABBA songs were tied together in Mamma Mia! But, if you're looking for a chance to hear "Cum On Feel the Noiz" and "Every Rose Has its Thorn" again, and — really, what child of the '80s isn't? — prepare to be rocked. Learn more.