Rock On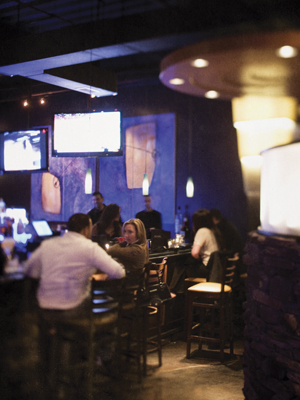 What: On the Roxx
The 411: There are now three locally owned locations of this trendy neighborhood bar — Lake Norman, Ballantyne, and a recently opened South End spot.
Vibe: The catchy name is an accurate description of the bar because if you're going, it's probably for the drinks. A variety of specials ($3.50 wines, $2.50 beers) are offered each day of the week, but martinis are the star of the show here, with more than forty on the list. A fave is the Roxx Infusion, a sweet martini made with fresh strawberries, apples, or grapes that have been soaked in vodka. The narrow room at the newest location is dominated by the long bar, offering plenty of room for sitting or for mingling. The Ballantyne location gets packed on Thursdays ($5 martinis) and Fridays (when popular DJs are brought in).
Who's There: The dance floor, filled with mostly twenty- and thirty-somethings, has just enough room for moving to the DJ's beats. Earlier in the evening patrons often sit bar side, fixated on a game playing on the flat screens overhead.
What Sets It Apart: Despite being a chain, each of these is quickly turning into a favorite neighborhood bar in their respective areas of town.
Where: 14021 Conlan Cir., Ste. B-6, 704-541-0079; 19712 One Norman Blvd., Ste. 100, Cornelius, 704-896-7601; 1520 South Blvd., Ste. 120, 704-919-0282, ontheroxx.com, roxxsouthend.com.