Rock the Kazba
EpiCentre's new bar, Kazba, caters to the VIP crowd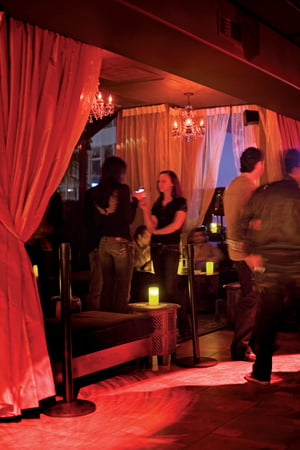 THE 411: The pace of openings at uptown's EpiCentre has slowed now that the massive entertainment complex is about 90 percent leased, but this newest addition has arrived in a top floor venue—and is already drawing crowds.
VIBE: When you're greeted by the well-dressed doorman, you begin to get the idea of this place. Walking inside Kazba is like entering the VIP section of most clubs. Sheer curtains section off multiple seating areas, where ice buckets and glasses sit on tables awaiting your chosen bottle service. Guests can order drinks at one of the bars at the front or back of the room, but most of the ordering is done with attractive servers who walk throughout the space. Mini chandeliers and dozens of candles illuminate the dimmed interior, while a timed device emits sweet smells to complete the ambience. A mostly glass wall, which can be slid open during warm weather, overlooks the patio and fire pit.
WHO'S THERE: The social elite and fashion conscious flock here, arriving in groups or meeting up with friends, which is conducive to the VIP style of seating. Those who come don't mind a hefty bar tab (bottle service is required with VIP seating and starts at $160) and are fans of house music, which the DJ spins often.
WHERE: 210 E. Trade St., third level of EpiCentre, 704-688-0051, kazbacharlotte.com.