Rocking the Vote
North Carolina's growing Latino population takes center stage in the presidential election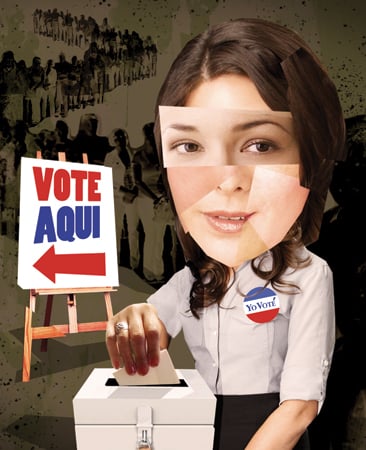 "Buenos días, mucho gusto," Olma Echeverri greets a man and woman walking into Gil Gallery in South End. Her tone is warm but business-like, matching her formal gray suit. "Can you sign?" she asks the guests in Spanish, pointing to a table full of papers labeled "Latinos for Obama."
It's Saturday morning September 1, three days before the Democratic National Convention. Echeverri is chair of the Hispanic American Democrats of North Carolina. The man and woman dutifully scribble their signatures and wander into the gallery. Portraits made of recycled glass line the sunlit walls. In the back, guests mill around a table of food—arepas, deviled eggs, Dunkin' Donuts coffee.
Lucina Ortega stands quietly in a corner. Originally from Mexico, she's lived in Concord for twenty-five years. She works for a plastics company, molding parts for commercial vehicles and trailers. Four years ago Obama won her vote, and she says he will again. "I like his ideas about immigration," Ortega says in Spanish. "He wants equality between men and women, to earn the same pay in their work." Today Ortega brought her nineteen-year-old daughter, who will be able to vote for the first time in November.
Ortega and her family are part of a coveted group of voters whose numbers have exploded in the last four years. By early September, there were 99,800 registered Latino voters in North Carolina—an 82 percent increase since August 2008, according to the North Carolina Board of Elections. In Mecklenburg County, the past four years have seen a similar jump, from 8,600 to 16,000 registered Latino voters.
Not all Latino voters are ready to jump on the Obama bandwagon.
The Obama campaign hopes these new voters will help swing the state in the president's favor. Echeverri and other Obama organizers put on the gallery event, featuring Univision star Raúl de Molina and Dolores Huerta, who co-founded the united Farm Workers of America with César Chávez.
But there's no guarantee these get-out-the-vote efforts will pay off. Although they comprise nearly 9 percent of the state's population, Latinos make up just 1.5 percent of registered voters in North Carolina and 2.5 percent in Mecklenburg County. This is partly because some newly arrived immigrants are not citizens and many are too young to vote, says UNC Charlotte political science professor Greg Weeks. He thinks political party leaders have been slow to recognize Latinos as an important voting bloc and recruit them. "It might be too late for 2012, but it's a golden opportunity for the Democratic Party for the next election and future elections," Weeks says.
Plus, not all Latino voters are ready to jump on the Obama bandwagon. There have been disappointments in the last four years, including persistent unemployment and stepped-up deportations of illegal immigrants.
One woman in the gallery crowd admits that she's here to support the host, Colombia-born artist and activist Edwin Gil, but not the politics. "I'm a Republican," says Teresa Vasquez, shielding her mouth with one hand as if confiding a secret. "This year I am not voting… because I don't like either of them [Romney or Obama]. That's my way of complaining."
Her friend Maritza Ortiz disagrees. The high school Spanish teacher has voted in every presidential election since she was eighteen, and she's now almost fifty. "I feel it's a privilege and an honor to vote," she says. "If we want change to happen, we have to vote."
When Huerta spoke, Ortiz cheered, despite her reservations about the candidate being touted. "I'm not really happy with Obama," she admits. "But I'm still gonna vote for him, because Romney—no way."