RockSalt: Creekside Dining
Restaurant owner hopes to create neighborhood hangout with raw bar, patio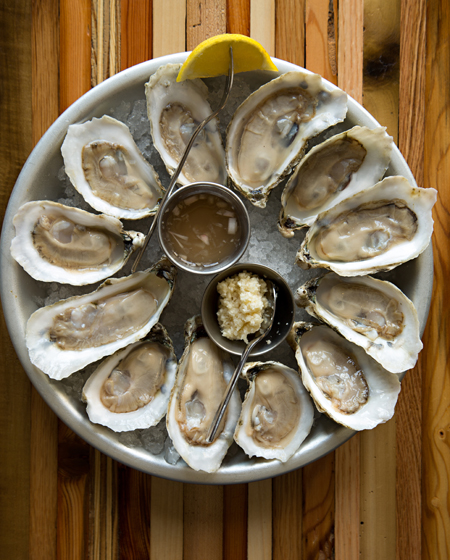 ON THE PATIO of RockSalt, behind Park Road Shopping Center, black planters holding bright flowers separate diners from the parking lot. Along the back end of the patio, down a grassy slope, Little Sugar Creek winds past the restaurant. Families, couples, and friends chat over the sound of tumbling ice as it melts in trays of raw oysters.
Travis Croxton, owner of the restaurant, happened into this space, which used to house a dry cleaner. In fact, he happened into a lot of things.
In 2001, he and his cousin took over their fathers' expiring leases to oyster beds, resurrecting a company that had been in the family since 1899, Rappahannock River Oysters. The young men didn't know much about oystering, but thought they'd found their purpose in the Rappahannock River. So they began researching their new business online.
They soon discovered that the oyster population in the Chesapeake Bay was declining. Bigger businesses wanted to introduce a foreign species to increase supply, but the Croxtons were determined to find a more sustainable way of harvesting native shellfish. They learned aquaculture, a process of farming oysters that involves growing the mollusks in a cage near the bottom of the river, and replenishing the crop in a hatchery. Croxton recalls bigger producers laughing at them for suggesting it, but Rappahannock River Oysters adopted the practice anyway.
At the height of the recession, they went to an auction and bought the nearby Locklies Marina, which had been damaged during a hurricane. They were the only people to even place a bid on the site. Then they decided to build a tasting room, Merroir, there in Topping, Virginia. They told a group of chefs about the restaurant during a meeting in Denver, and Pete Woods happened to be in attendance.
"I'm going to be your first chef and it's going to be my last job," he told the Croxtons. A few months later, the first half of his prediction came true. Woods is still at Merroir, and his crab cake recipe is on every one of the Croxtons' menus.
"That was all chance upon chance," Croxton says.
Merroir was a success. Two more restaurants followed; one in Richmond, and one in Washington, D.C. Then Travis decided to try a concept on his own, and the first RockSalt opened in Charlottesville, Virginia, with a focus on local ingredients and fresh seafood.
The landlords of the Croxtons' oyster bar in Washington happened to manage a property in Charlotte called Park Road Shopping Center. Travis came down to check it out, and was struck by the small, brick building hidden behind the shopping center.
"It just kind of hit me that that's a place I should be," he says. He envisioned an environment similar to Merroir's tasting room along the Rappahannock River.
"Every weekend—and during the summer, every day—people just come down there and hang out, sit at the tables, and eat fresh seafood and small plates from 11 in the morning to 10 o'clock at night," he says. "That's what we're trying to do at RockSalt with a huge patio. It's not overlooking the river, but overlooking Sugar Creek. I call it waterfront dining."
With RockSalt's patio seating 100 people, Croxton hopes Charlotteans will enjoy raw oysters with a bottle of wine, local beer, or prosecco on tap.
Lambs and Clams combines Rappahannock River Oysters' Olde Salt clams with Border Springs Farms lamb sausage and
chimichurri.
Jay Pierce, the executive chef, shares Croxton's passion. The RockSalt menu reflects Pierce's desire to let the ingredients shine.
"I think as chefs, professionally, we get so caught up in our voice and our food and our style, so we try to bend Mother Nature to our will," Pierce says. "We manipulate the ingredients to tell our story, and I think that the older I get, the more I prefer to tell the story of the ingredient."
The oysters—which Pierce calls the inspiration for the menu—are served without cocktail sauce. Horseradish and mignonette are on the side, but he hopes you won't use them, at least at first. The menu has three raw, on-the-half-shell oysters: Olde Salt, Rappahannock, and Stingray oysters. Each has a distinct flavor, from buttery to briny. Rappahannock River Oysters also supplies the restaurant's clams. Mussels and shrimp come from other vendors.
The stars of the raw bar (priced at $2.25 per oyster) come arranged on a bed of ice with a lemon wedge and the accompaniments. In a town without a large seafood culture, finding people to work the raw bar was difficult. Croxton hired the son of a two-time oyster shucking champion from Florida and plans to have him practicing his craft on the patio as diners order from the raw bar.
With a mix of that patio and warm weather, RockSalt this summer will have the chance to become the neighborhood hangout Croxton had in mind when he first saw the small dry cleaner along the creek: families with children and a dog sprawled underneath their feet, a couple enjoying the sun, oyster shells cracking along with the sound of their laughter.
Kristen Wile is senior editor of this magazine. Reach her at kristen.wile@charlottemagazine.com or on Twitter @kristenwile.
RockSalt
512 Brandywine Rd., Ste. 500
704-503-9945
Entrées $21-$28; fish at market price
BR, L, D, FSB, P, R