RockSalt Hires New Executive Chef
Shane Graybeal comes from Chicago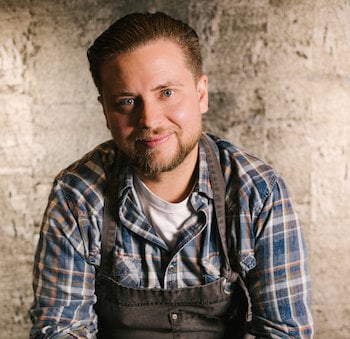 Shane Graybeal will take over as executive chef at RockSalt after moving here from Chicago, but he doesn't want to be seen as an outsider. A North Carolina native, Graybeal views his move to Charlotte as more of a homecoming.
"I think the goal's always been to boomerang—for me to go out and see what all's out there and come back close to home," he says.
The 12-year boomerang path from his hometown of Warrensville, in Ashe County, led him to the Richmond, Virginia, area, followed by jobs in Washington and Chicago. His brother (and 9-year-old nephew) live here, and Graybeal always told himself that when his parents retired, he'd look to move closer to home. So when he learned of the opening at RockSalt left by former executive chef Jim Diecchio's departure, the timing seemed right to come back home to North Carolina.
Graybeal's first day at RockSalt is October 12, though you might see him there sooner, as he's already in town and settling in to a Charlotte that's much different from the one he remembers in his childhood. The city in his memories was a place for Christmas shopping, chain restaurants, and Discovery Place, not the one he's found more than a decade later with the growing food scene that drew him back here. His girlfriend Kelly, a pastry chef who worked most recently for chef Rick Bayless, hopes to find a job here as well.
RockSalt guests will first notice Graybeal's influence on the restaurant's specials; he plans on slowly changing the rest of the menu. He's thrilled to get back into cooking and eating seafood; Chicago, he says, wasn't known for its fresh fish.
"It was a little heartbreaking, people were like, 'Ah, we don't eat seafood here.' 'Well, I don't blame you. It smells terrible,'" he recalls. His long-term vision of the menu at RockSalt creates a more clear identity for the restaurant and does away with its daily fish menu, where guests select the fish, the preparation, and the sides, in favor of more composed plates. He also wants to create dishes with what he calls "craveability," something that guests will leave and think about until they come back again. The menu will remain seasonal, but will take on influences from Appalachian cooking.
"Growing up, we ate country ham, red eye gravy, and fresh biscuits, just taken for granted," he says. "As I started getting away from it, I started missing it more. And I started getting back into it and it's like, man, what the hell am I doing? I need to be close to home."
The chef comes most recently from Sable Kitchen & Bar, a Kimpton restaurant known for its craft cocktails. He also worked at Bin 36, which has some Charlotte ties: The restaurant once employed Vivace's executive chef, John Caputo, and both Joe and Katy Kindred.
"Right now, I feel like Charlotte's got enough of the money here, the culture's growing, it's already diverse," Graybeal says. "I think that in five years the food scene is going to explode and we'll see what happens at that point. I think the end goal isn't to go bigger. I want to go almost deeper, deeper into the culture and deeper into the traditions here."