Rodney Barber's Street Stage
You may not know him, but you've probably heard his voice. Follow Charlotte's favorite street performer as he reels in his audience, one passerby at a time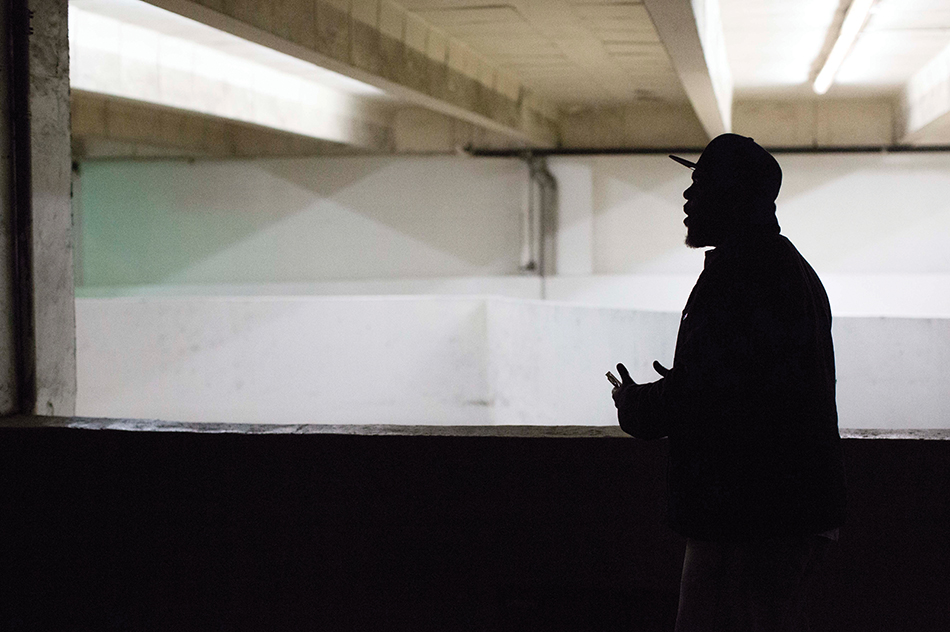 Rodney Barber walks from the Starbucks across from Bank of America headquarters into an alley between a parking garage and the Courtyard by Marriott. This is his backstage area.
He stops at a recycling bin full of cardboard boxes that have been unfolded and flattened. He digs around until he finds one he likes. He carries it over to the ledge of the parking garage. He puts a cup of hot water on the ledge and dips a tea bag into it.
He starts to warm up his voice. "I will find a way to worship the Lord," he sings. He sways, sometimes right, sometimes left. He taps his foot, stretches to his tiptoes, leans back to his heels, and pops his fingers. The words come out strong, true, and crooked—he sings out of the right side of his mouth.
As a place to sing, the alley is both stifling and perfect. Stifling because the sounds include an air conditioner and a ventilation system and who knows what other grumbling things that keep a hotel running. The low rumble of 1,000 voices chattering turns into the alley, a mix of white noise out of which nothing distinguishable emerges. But that's also what makes this place perfect. Barber's voice sprouts like a rose in a garbage dump.
It's 5:45 p.m. on Friday, an in-between time when workers have gone home and the evening crowd hasn't arrived. Three people walk past the mouth of the alley. They pay no attention to the singing man in the faded jeans, blue-striped dress shirt, and black jacket. A man and woman dressed for a night out park in the garage behind Barber. They watch him as they leave the garage and again as they pass by the alley. The woman smiles as Barber keeps singing.
"People look like, 'What is this guy doing?' " Barber says as he gets ready to head to his stage for the night.
Carrying the cardboard and his tea, he walks out of the alley, turns right onto 4th Street and then left onto College Street. His stage awaits. He sings as he goes, still warming up but on the way to performing. His life is in the same place. At 28, he feels like he has been preparing for his moment and wants to be ready when it arrives—when the right person hears him, when he gets that record deal, when almost becomes now, when the walk to the stage ends and the spotlight shines.
Barber's dreams are as big as his voice. He wants to write books and screenplays and songs. He wants to start businesses and go on mission trips. He wants to make millions. He wants to buy property in Belize and move there.
All of that is far removed from Barber's earlier years, which he describes as marked by drug dealing and violence. He says he was shot twice in the chest, spent time homeless, was married and divorced, all before finding his footing singing on the streets of uptown Charlotte.
At one point in his life, doctors told him he'd never sing again. That was after he'd been shot nine years ago in South Carolina. He sees that as a pivotal moment. He likens his life since then to an athlete overcoming an injury and hopes others are inspired by the example he sets.
He thrives on the street, but he doesn't want to be a person of the street. He's done that already, back when he was dealing drugs, and he says he left that life behind because he grew tired of looking over his shoulder. He has his own place, is engaged, and is expecting his second child. He can see his future unfolding, a future in which he sings and writes and entertains and leaves smiles and happiness in his wake.
"At the end of the day you need to smile. Your smile is going to light up somebody else's day," he says. "Who wants to see a frowning person? I have to smile even when I'm just walking. … I don't want people to walk around here with frowns."
As he says this, he's sitting in Dean & DeLuca, and it reminds him of something. He calls out to one of the baristas and says something to her that sounds like gibberish. It's Albanian for "you are a very beautiful person." She taught it to him. "I never spoke Albanian a day in my life. I had a frown on my face. She spoke it to me. I was like, 'What did you just say?' She wrote it down for me."
He hopes to have copies of a demo he recorded ready soon, and he plans to sell them during his performances uptown. He calls the demo The Beginning of the End, a reference to the end of the old him and the beginning of the new one.
He gained local fame with a tryout for American Idol in early 2013 and the subsequent coverage of that. He's a popular figure uptown. Valets and baristas know him. When he doesn't show up to sing in his usual spots, restaurant managers search for him with their eyes and ears.
Barber started singing as a boy on his porch in rural South Carolina, in the middle of the night sometimes, driving his mother crazy. Now, as a man, singing in the middle of uptown has brought him stability. "I try to be an open book because I feel like a lot of people's lives can be changed," he says. "I didn't lose hope. Why should you lose hope?"
He's an open book and a mystery at the same time.
He says he used a variety of aliases when he was dealing drugs, always trying to stay one step ahead of people out to get or catch him. When he talks of the companies he wants to start and the books, movies, and songs he wants to write, he sounds like he's still running, like he's always chasing the next big dream.
Using aliases means he left no trail to follow. Now that he's trying to live more honestly, he's more focused on what he leaves behind. Whatever path he took to his stage uptown, and whatever path he takes when he eventually steps away from it, he leaves an undeniable impression on the people he encounters when he's singing—and he takes pride in that. "I get a chance to do what I like to do," he says. "And it helps other people."
Those other people wear suits and sweatpants, wingtips and windbreakers, starched collars and stained jackets. They share with him a few bucks; he shares with them his joy. "It's fun to know people are having a bad day and they follow my voice for three blocks," he says.
As Barber walks past the EpiCentre, singing still and again, the valets look over, their faces showing they've seen and heard this show before. Lots of times.
His voice carries and so does his personality. He is buoyant, a man who smiles with all of his face. His voice arrives before he does. "You can always tell when it's him," says Tyneesha Hamilton, a barista at the Starbucks on North Tryon. "He sings songs that go with his voice. Plus, he's loud. You can probably hear him down the block."
Barber stops in at Starbucks often for a cup of hot water, which sometimes he drinks straight and sometimes he uses to make tea. Even after singing for several hours a couple of nights per week for years now, Barber needs only water, tea, and sips of honey to keep his voice strong.
This evening with Rodney is on a Friday in mid-November, three nights before the Monday Night Football game between the Panthers and New England Patriots. As he walks to his show, Barber says he expects the big game to bring an excitement that makes his crowd larger and more vibrant. The legendary rock group, The Eagles, are giving a concert on this night, too, at Time Warner Cable Arena.
He stops between BLT Steak and Rooster's on North College Street and ducks into a doorway. He turns the flat piece of cardboard into a box and cuts a hole in the top. He pulls out a honey packet, sucks out its contents, and drops the empty packet into his box. He squats down and prays, ending with the sign of the cross.
At 6 p.m., it's showtime. His voice rises to the pedestrian walk above him and bounces left and right. As he walks around uptown singing, he listens to how the buildings carry his voice. "This place right here has some of the best acoustics," he says. "You can hear me four blocks away."
You can also hear him several floors up in an adjacent office building, a security guard says. A car rips by, squawking its tires. A concrete truck rumbles down College. Barber's voice floats above and penetrates all that audible trash.
A homeless man stops in front of Barber and takes a front-row seat. "I ain't seen you in a little while," he tells Barber. Barber acknowledges him with his eyes and keeps singing. The man stands like he has his feet on a teeter-totter. He says the same thing again before moving on.
A security guard across the street, his uniform crisp, his stature straight, the bill of his hat so flat you could set a drink on it, watches from a driveway that leads into Belk Theater. A hundred yards away hangs a sign promoting musicals that will soon be performed there. The security guard says he likes listening to Barber, especially his rendition of a Lauryn Hill song.
"It's nice to hear someone who has a soulful voice," he says. A car horn blasts five times. "A lot of music now has just gone to crap. He's singing all the good songs—taking them back."
More honey. More singing. Barber goes through at least 10 packets of honey and even more songs. He keeps his phone in his left hand. He has lyrics on it, a high-tech cheat sheet that glows in the dark. He peeks at it every once in a while if he's singing a song that's new to him.
At 6:45, the beautiful people come out. The jeans squeeze tighter, the skirts creep higher, and the men's shirts open more at the neck. Women wear heels like railroad spikes. The men walk like they believe the lies they are telling. A man walking by Rooster's asks his date, "How much do you like tequila?"
More people means more money dropped into Barber's box. A mom walks by with three kids. One of them, a girl, looks to be about 4. "I want to be able to sing like that," she says.
Darling, darling, stand by me, Barber sings, holding his black baseball cap in his left hand as a boy of about 10 stands in front of him. The boy looks at his parents. He reaches into his pocket and pulls out a wadded-up dollar bill. Barber puts his hat back on. Oh stand by me. "Put this right here?" the boy asks, as he leans over the box and drops it in. Rodney doffs his cap. Whenever you're in trouble won't you stand by me.
Traffic backs up on College Street, and cars line from 5th Street to Barber's stage. A gray Mazda Tribute with South Carolina plates sits in front of him. A middle-aged woman with short blond hair rolls down her backseat window, sticks out her right hand, and raises her thumb. She beams at him and says, "Good voice."
Another homeless man stops to listen and talk. Barber reaches into his box, palms a few dollars, and shakes the guy's hand. When he pulls his hand back, the money is gone.
"Here's some Nickelback," Barber says. Passersby stand close as he sings "Far Away," and when he's done, a man shakes his hand and chest-bumps him. Barber's so talented he makes Nickelback sound good.
Strangers often touch him, mostly shaking his hand. He likes hugs, so he doesn't mind. Some people ask him questions while he's singing. He finishes the song and then answers.
At 7:45, he takes a break. He consumes honey and sips tea. He opens the box, counts the night's haul so far. He takes a walk, with Dean & DeLuca at the corner of Tryon and 4th as his eventual destination.
That's another one of his favorite locations. When the weather's warm, he entertains the crowd dining outside at McCormick & Schmick's (as well as the waitresses, busboys, and managers) across the street.
Not tonight, though. As he heads there, rain starts to fall. It's already cold, especially so for Charlotte in mid-November, and rain makes for a miserable night—at least as far as the weather goes.
The conditions cut Barber's performance short. But his mood is still good. His phone rings. He answers. It's his fiancé. He smiles bigger. She tells him she learned the gender of their child today. Whatever chance there was he would return to his stage on the street tonight ends. No encore in the world can top learning he's having a daughter.
Matt Crossman is a freelance writer based in Charlotte. Reach him at mattcrossman.com and follow him on Twitter at @MattCrossman_.