Roller Wars
A rivalry is born among a crop of roller derby queens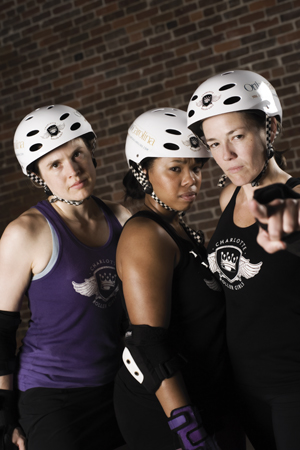 Rosemary Gardner, known on the roller derby track as Rosie Cheeks, first laced up her skates for the Charlotte Roller Girls in early 2007. The relatively unknown club was just a few months old then with eight or nine women coming to practice. Most were still learning what exactly roller derby is—and wondering whether the unusual underground sport could really take hold in Charlotte.
Roller derby has since surged in popularity across the country. The Women's Flat Track Derby Association (WFTDA), the sport's governing body, now has eighty-nine full member leagues and fifty-two apprentice leagues. (The Roller Girls are currently an apprentice member.) The WFTDA Championship will bring three teams from each region to Chicago in November.
"It might just be that the time is right for roller derby to enter the national consciousness," says Juliana Gonzales, the WFTDA's executive director.
Here in Charlotte, the question is no longer whether the city can support a club. It's whether there's room for two. A roller derby rivalry might already be in the works.
Years ago, roller derby was a televised spectacle more like professional wrestling than a reasonable hobby for local mothers, wives, and professionals. Within the last decade, though, it has reemerged, in grassroots fashion, as a relatively safe and serious amateur sport. Matches, or bouts, can be held in a flat, oval rink, and the WFTDA rules are sophisticated but standardized. Points are scored when a skater called the jammer passes opposing blockers—who, although things like elbows and trips are now outlawed, can still shoulder-, hip-, and butt-check the opposition to the floor. "The rules govern game play in a pretty complete way," says Gonzales. "In roller derby one of the first things you learn is how to fall correctly," Gardner says.
Like other derby clubs, the Roller Girls are called a league. This might be a throwback to the days when competition was hard to come by; if a club wanted a bout, it'd have to be among its own members. The Roller Girls now have about forty-five members and field two interleague teams and three intraleague teams. Their numbers, meanwhile, continue to swell; ten newbies arrived in July.
The league took a big hit, though, when twelve of its skaters split to form one of their own. Race City Roller Derby held its first practice on June 15, and now boasts twenty-three experienced skaters, including ten from the short-lived Sweet Union Roller Girls of Indian Trail.
The Roller Girls usually reach their 1,100-seat capacity for home games at the Grady Cole Center, with adult tickets starting at $10. With an eye to the sport's rapid growth, Race City's founders have created their league with a different mission in mind—making it professional, with skaters who get paid.
"We're taking a more traditional sports approach," says Craig Bailey, a sports marketing professional who started the club with his wife, a former Roller Girl, and three others.
Bailey says Race City's skaters will go by their legal names instead of nicknames, and he hopes his for-profit league will, down the line, allow for skaters and coaches to draw a salary, which could attract talent from other cities. Gonzales, of the WFTDA, says she doesn't know of any leagues that pay their players. "We're dreaming big," Bailey says.
The Roller Girls, Gardner says, currently use their nicknames and are OK with keeping funds going strictly to travel expenses and organizational sustainability. Extra money, however, is usually donated to charity. Gardner says her club is "very bummed" at the loss of skaters, but is excited about the opportunities that the new competition will bring. Could Charlotte have a cross-town derby battle on its horizon?
"Heck yeah," she says.