Rolling on Laughs: Jenn Lyon on Broadway
Not long ago, South Mecklenburg High School graduate was scooping ice cream and flinging pizzas, wondering if she'd ever make it as an actress. Now, she's a star in the hottest show on Broadway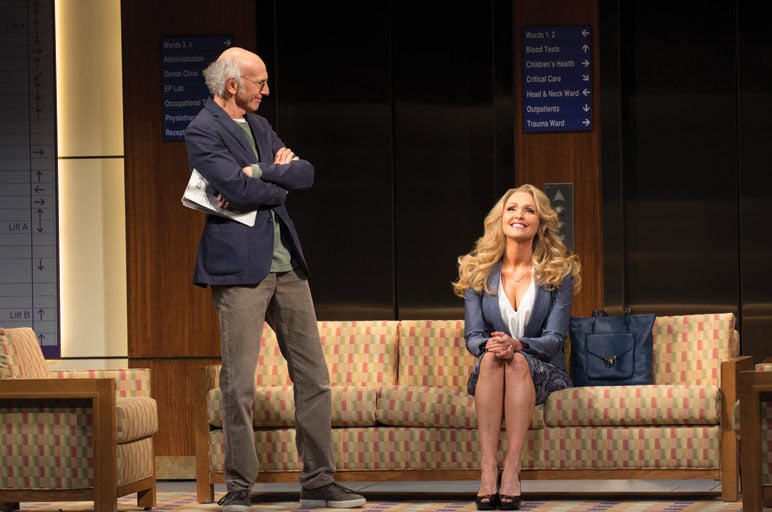 IT'S TWO HOURS before the curtain rises on Fish in the Dark, a new Broadway comedy written by and starring Larry David, and Jenn Lyon needs to find some chocolate. Lyon, a South Mecklenburg High School graduate and actress in the play, opens the door to New York's Cort Theatre and steps out onto the sidewalk along 48th Street on a sunny and warm spring day in Manhattan. It's a crew member's birthday, and Lyon has a specific candy in mind that she wants to give as a gift.
Her character in the play is named Michelle, but here she's just another pedestrian. She heads one block north, then one block east, in the direction of Maison Du Chocolat, located across the street from Rockefeller Center. There are several police cars on the block, and a few cops are milling about in an area near the store. The police are restricting pedestrian traffic at the scene, and a crowd has gathered around the perimeter. It's hard to tell what's going on, but it doesn't seem too serious. There are no ambulances.
"Can I cross?" Lyon asks.
"Sorry," the officer says. "I can't let you pass."
"I just want to get some chocolate," she says, pointing at the candy shop, which appears to be outside the area where the cops are congregating.
"I'm sorry," the officer says again.
"Do you know how long it's going to be?"
The cop shrugs.
David, who wrote and co-created Seinfeld and Curb Your Enthusiasm, has made a living dissecting social encounters such as this. He couldn't tell us how long it was going to be? David might've asked. Why couldn't he just give us an estimate? What's so hard about saying, 'An hour?' Just throw out a number. Now that she's around him every night, Lyon is more inclined to notice the humor in such situations.
"I think that sort of minutiae is built into our culture now," the 34-year-old actress says. "Through Seinfeld, through Curb, we just all kind of relate to each other through these situations."
She aborts the chocolate mission and heads back in the direction of the Cort to pick up her pre-show coffee. She walks into a Dunkin' Donuts, where the man behind the counter appears to be having a tough day. He accidently takes Lyon's order before helping a person in line who was ahead of her, and seems to have some difficulty operating the register and making change.
"He's new," a colleague says.
Lyon smiles and offers words of encouragement. "You're doing a great job," she says.
She's sympathetic to the man's plight. On her way up the acting ranks, Lyon worked in an ice cream parlor, a grocery store, and a pizza shop to pay her bills. But with persistence and a few well-timed breaks, the actress landed a major role in one of the biggest comedies to hit Broadway in a long time. Fish in the Dark sold $13.5 million in tickets before the first performance. It has broken house records for the Cort Theatre, where its gross receipts are in excess of $1 million per week. Throughout its run, it has been one of the toughest tickets to get on Broadway.
"We've all been in shows where there are more cast members than there are people in the audience at night," Lyon says. "You say a punch line, and there's crickets. And then you trudge backstage at the end, and you just think 'What am I doing here?'
"But this … it's like being at a rock concert. There's rolling laughs, and you're just surfing on them. It's unbelievable."
***
WE'RE 90 MINUTES from curtain now, and it's time to head back to the theater. Petite and blond, Lyon opens the Cort's massive stage door, makes her way through a cold, dank alley, and goes inside. She climbs three flights up a narrow, metal staircase before she reaches the top floor, where her dressing room is located.
You wouldn't know Lyon has a prominent role in one of the hottest shows in town by looking at her cramped dressing quarters. The space is about 10 feet by 10 feet, and she shares it with another cast member. "It's like Alcatraz," Lyon says jokingly. The comparison falters somewhat upon a close examination—it's doubtful the inmates at Alcatraz had a makeup mirror or a large assortment of outfits hanging on the wall—but the fact remains that it's a very tiny room.
Lyon takes a seat in front of the mirror and begins to put on her makeup. She enjoys the process, even though it's meticulous. "It takes lashes, and lips, and contouring," Lyon says. "But as a Southern woman, I've been putting makeup on forever."
The heavy makeup is an important feature of her Fish in the Dark character, Michelle, who's described by New York Magazine's Vulture website as "a spectacularly bosomed shiksa notary." Lyon doesn't seem like the most obvious choice to play this role. Her personal style is understated, perhaps best defined as nerd chic. Her hair is pulled back, and her blue eyes are hidden behind a pair of librarian's glasses.
When she was a kid, she wanted to be a scientist. She grew up watching the Nickelodeon program Mr. Wizard's World and was fond of science from an early age. "I have the periodic table as my wallpaper on my computer," she says. Beyond Mr. Wizard, Lyon credits her family with stoking her interest in the sciences. Her mom works as a nurse in Monroe, and her brother now works in a technical capacity for a major appliance manufacturer in Kentucky. The family moved a number of times while Lyon was growing up, making stops in Greensboro, Rutherfordton, and High Point. Eventually, they arrived in Matthews in 1996 when her father, a Methodist minister, was assigned to serve there.
At South Meck High, Lyon found an influential chemistry teacher named Tom Holder, who helped cement her love of that scientific discipline. But there were two other teachers at the school who also inspired her, she says—drama instructors Deb Curl and Martha Guzman. Under their tutelage, Lyon developed a passion for the theater. She starred in a number of class productions and was fascinated by the range of characters she portrayed. Any thoughts she might've had about pursuing a career in science soon disappeared.
"I wanted to be so many things, and I think that's where my wanting to be an actor came from," Lyon says. "I wanted to live more than one life, you know?"
As she continues to apply makeup, swiping blush on her cheeks and putting on fake eyelashes, the actress reflects on her journey to New York. When she arrived in the city just three days after graduating from the University of North Carolina School of the Arts in 2003, she had trouble adjusting. Her first New York apartment was a tiny sublet where she had barely any room to move around.
"I literally lived on a futon," she says. "And my head was, like, right in front of the refrigerator door."
Lyon spent many nights during those early days on the phone with her parents. They'd always been supportive of her decision to become an actress. She would tell them about auditions for commercials or shows or plays, and she'd often end by telling them she thought that this time, she really had a shot.
But there were moments when she wondered.
"I wept openly every day. I cried on trains. I cried on buses. … I was scared."
But she kept working and eventually landed some juicy parts—most notably on the FX drama Justified, where she played Lindsay Salazar, a love interest of the show's lead character, Raylan Givens. That and other parts helped her land more regular work and eventually a steady income—although she maintained some of her outside employment for awhile, just to be safe.
"I shot my last season on Justified and was still selling pizzas in Central Park. And people were like, 'Aren't you on Justified?' And I was like, 'Mm-hmm. Do you want mushrooms or pepperoni?' " she says. Finally, she gave up the pizza gig and started booking even bigger jobs, such as a series regular role on the FX comedy Saint George, starring George Lopez.
All this work leaves the actress with little time to get back home. She says that she tries to go back to Matthews twice a year—once during the summer and once during the Christmas holidays. But she wishes she could go more often. She misses her family. She misses going out for long drives (her commuting these days is largely done on the subway). And she misses the Carolina pines.
"People are like, 'Why don't you just go to Central Park?' It's not the same. It's not the same as driving down 485 and looking at pine trees."
***
HER PRE-SHOW routine is interrupted by a knock at the door. It's Lewis Stadlen, one of Lyon's co-stars, bursting with good news. "Want to see my award?" he asks. A longtime Broadway stalwart, Stadlen went to Ireland last year to star in an Arthur Miller play. The Irish Times awarded him Best Actor of the 2014 Irish theater season, but his obligations to Fish in the Dark rendered him unable to go to Dublin to collect his statue. So it was sent here.
"This is so cool," Lyon says, admiring the statue—basically a skull—mounted on a base that's patterned with Irish Times newsprint.
Stadlen tells Lyon about an upcoming project he's working on.
"It's pretty good. Pret-ty, pret-ty, pret-ty good," Stadlen says, mimicking one of Larry David's catchphrases. Lyon laughs and joins in for the last couple of pret-tys.
Fish in the Dark began rehearsals shortly after the beginning of the new year. The first preview was on February 2, and the show opened on March 5. So by early April, everyone is on the same page. Still, the cast continues to tinker, trying to find the right formula. David, too, continues to experiment with the dialogue. "He never stops working on the script," Lyon says. "Never stops working on making it better, even though we're open now."
Six of the top nine Fish in the Dark cast members—including Stadlen—are at least 60 years old. So despite having more than a decade of showbiz experience, Lyon is a novice here. She's using it as a learning experience.
"There are no better teachers than the ones here, in terms of comedy," she says. "Just watching the way they hold for a laugh, and come in right after the crest of a laugh, right as it's about to die. The way they work a laugh, night after night, and finesse a line. Or work to get a different kind of laugh. They're just brilliant about that stuff."
Stadlen leaves, and in walks Glenne Headly. Headly is perhaps best known for her memorable turn as Iris Holland in Mr. Holland's Opus. She joined the cast just two days ago, playing the role of David's wife. She stops by Lyon's dressing room to say hello and to work on some lines. The actresses retreat to the hallway, where they spend a minute or two working on a particular way they should be clapping in an early scene. It's a subtle thing, something most audience members would never notice. But it's important, and, at least to Lyon, very enjoyable.
"Comedy is made of specific stuff like that," she says. "The science of comedy … that stuff thrills me."
Finally, showtime. The curtain rises before a packed house at the Cort. Over the next two hours, the sound of riotous laughter is nearly constant, with the exception of a 15-minute intermission. Fish in the Dark is a classic case of disagreement between critics and the audience. The play's reviews were mixed, and a few were quite negative, notably Ben Brantley's assessment in The New York Times. Brantley wrote that he found only one joke funny in the entire show. Had Fish in the Dark relied on positive reviews for ticket sales, it would've shuttered faster than a Max Bialystok production. But that huge number for advance ticket sales gave members of the company the security of knowing they weren't going anywhere. And the audiences have spoken not only with their wallets, but also with their uproarious laughter.
One of the show's most positive reviews came from the Hollywood Reporter. The critic praised Lyon, calling her "dignified perfection." When she makes her first appearance onstage, she is unrecognizable from the way she looked just an hour and a half earlier, running around looking for chocolate. Her time working on her stage makeup paid off. She has become the Marilyn Monroe type that this role demands.
Lyon interacts with David often during her two lengthy scenes in the play. If she's intimidated by the prospect of acting with him, you wouldn't know it by watching her performance. She delivers several punch lines, and based on audience reaction, she hits them all. She's rewarded with a healthy round of applause when it's her turn to take a bow at the end of the show.
Backstage afterward, Lyon meets up with David, who's fielding requests from friends and strangers alike. The dimly lit, tiny space is crowded. There are about 20 people mingling in an area that was not designed to comfortably hold more than 10. David, at one point, is asked for an interview. He demurs by pursing his lips and tilting his head to the side, the kind of quizzical expression normally reserved for his Curb Your Enthusiasm nemesis, Susie Greene. It's been a long night, and he can't be blamed for wanting to leave. But before he goes, one of the biggest stars in television offers a brief, on-the-record testimonial of his cast mate, Lyon.
"Beautiful and hilarious," he says emphatically of Lyon. "That's your quote."
David turns and heads toward his dressing room. But as he begins to make his way up the narrow, metal stairs, he stops suddenly, then rushes back. He has something he wants to add.
"On and offstage," he says.
The actress smiles—perhaps because David's words are validation, of sorts, that she's a long way from scooping ice cream and slinging pizzas. Or perhaps it's another one of those social encounters that she can't help but find funny. Really, why did he feel the need to beef up his compliment? Why didn't he just give his compliment and move on? He looked as though he was adding money to a restaurant tip. Who runs back and gives a compliment add-on?
Joe DePaolo is a writer living in New York. His work has appeared in The New York Times, The Boston Globe Magazine, and elsewhere. He can be reached at Jdepaolo85@gmail.com.