RomareFest Arrives, Party in the Park to Start New Season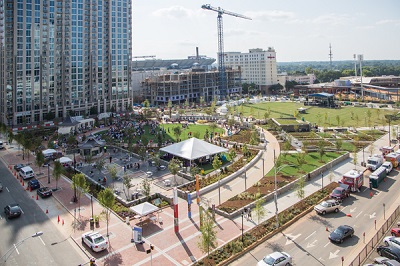 It's a busy weekend for Romare Bearden Park, as Friday's Hats Off to Parks event leads into the inaugural RomareFest, taking place Saturday and Sunday.
Tonight's fundraiser benefits an October project. Funds will aid Partners for Parks, Mecklenburg County Park and Recreation, and volunteers in building a playground. The project is a tribute to lives lost in the 2012 Sandy Hook Elementary School shooting in Newtown, Conn. Tickets to the event are $20, and music is provided by vocal group The Tams.
As for RomareFest, the free, two-day event that features food trucks, family activities, and live music, check out the schedule of musical acts below.
Saturday (event runs 11 a.m.-9 p.m.)
12 p.m: Jazz Arts Initiative
1 p.m.: Bill Averbach ft. BAM-JAZZ
2 p.m.: Kojo Bey Drum Circle
3:30 p.m.: 5th and York
5 p.m.: Brad Bailey Quartet
7 p.m.: John Mayall
Sunday (event runs 12 p.m.-4 p.m.)
12 p.m.: Stevens Mill Project
1:30 p.m.: The Grass Cats
3:30 p.m.:Molasses Creek
Romare Bearden Park's Party in the Park series also kicks off its new season next week. The regular event, every Wednesday at 5:30 p.m., brings in acts of many genres. Here's the schedule:
May 7: Peace & Love
May 14: Trial by Fire
May 21: Who Rescued Who
May 28: Lipstick on a Pig
June 4: The Extraordinaires
June 11: Too Much Sylvia
June 18: Flashback, The Party Band
June 25: The Volunteers, U.S. Army Field Band