Ron Carlee: The Exit Interview
The outgoing Charlotte city manager on his turbulent three years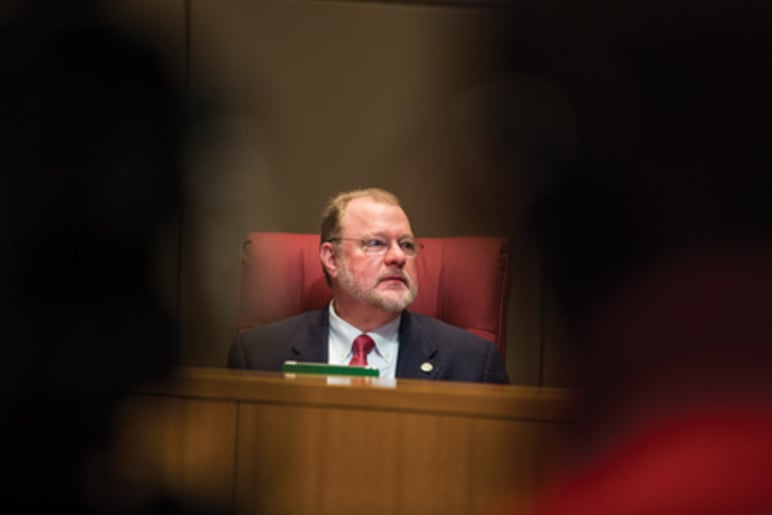 After three years on the job, Charlotte City Manager Ron Carlee announced this year that he would not renew his contract with the city. Carlee, 62, had to manage a series of crises in a short time, including the arrest and conviction of ex-Mayor Patrick Cannon; the state's attempt to seize control of Charlotte Douglas International Airport; a major budget shortfall; and accusations that the city administration fired a Fire Department investigator after she raised concerns about safety at a renovated office building. (Carlee says the investigator, Crystal Eschert, was fired for making offensive comments about the residents of Ferguson, Missouri, after civil unrest there in 2014. Her lawsuit against the city is pending.)
On July 1, his last day, Carlee granted interviews to local media, including me, in his office. The following is an edited transcript of the conversation.
Charlotte magazine: Why did you decide not to renew?
Ron Carlee: It has always been my plan to transition to academia … When I left Arlington [Virginia, where he was county manager] in '09, I had planned to go from that job into academia full-time; I thought I would transition to GW [The George Washington University in Washington, D.C.]. I had been teaching at GW since the mid-'90s. But I got offered the position at ICMA [the International City-County Management Association], which enabled me to have a broader platform … so I was in the process of actually moving toward crossing those lines, where I was going to be doing more in academia and less in ICMA, and I took a detour to Charlotte. I had not planned to do another city manager gig. But when Charlotte came up, it was just too interesting, and my wife and I had never even been here, and came for the interview, and stayed twice as long as we had planned to stay that week, and thought it was a really good opportunity …
As you well know, it's been a very intense three years, and I've loved it; I wouldn't trade anything in the world for the experiences. I think I have a lot more to take into the classroom, to take into training for other people working in local government, and I have a lot more to take into my research and writing agenda as well. If I were 10 years younger, I would have not left the job. I would have stayed here … and if I'd wanted to continue being a city manager, I wouldn't do it anywhere but right here. I think this is truly one of the best cities in the United States for a person to be a city manager.
So what is your new position?
I don't have one. My new position is a two-month sabbatical. It wasn't possible to get my head wrapped around where I wanted to be and exactly what my academic agenda would be and do this job, which is truly 24/7. I felt that, as we moved into the year, I had accomplished most of the things I had set out to accomplish here, the things that the council brought me here to do. And I felt that really deeply lying in bed one evening in December, the day Congress passed the budget that had the [Phase 2] Gold Line funding in it. I thought, "You know, my work here is done." That's why I came in, to advance the Gold Line, and I didn't think Congress was going to pass the budget. I really didn't think it was going to happen … It was a really heavy lift, but it's going to make a long-term difference for this community.
So you don't have any kind of formal arrangement with GW or any other school?
No, I intentionally want to take some time to figure it out, so I'm talking with a variety of schools, including schools here in Charlotte …
Oh—so you're not necessarily leaving town.
No. Emily and I would be thrilled to stay in Charlotte. It's a great city with a great quality of life. We have a beautiful home, we have wonderful friends. So if the right kind of position emerges here in Charlotte, that'd be awesome. We haven't decided that we really want to go back to the Washington area. We loved it; we were there for 30 years, and we were very happy there. But there's a little bit of "been there, done that." Taking some time off really gives us a chance to evaluate where the options are, both where I'll have the right kind of academic atmosphere that will be really rewarding to me and also deciding where we want to live. So those things have to intersect, and I think there's a real possibility that could happen here.
So you're looking to be, what, a professor of political science? Public administration?
I think the term of art these days is "professor of practice." My doctorate is in public administration, and I taught that and public policy at GW. But my love is local government specifically, and within that interorganizational relations, how you work across sectors, with a really strong emphasis on citizen participation and civic engagement … and a strong orientation toward economic and social justice.
You said the other day that you expect to have second thoughts. Why?
Because I'll miss it, and I'll miss the people. I still have second thoughts about leaving Arlington; I was there six months shy of 30 years. I had a great job, a great elected body, a wonderful team to work with. I have second thoughts about leaving ICMA. It was a wonderful job, too. But it's always been very important to me not to stay someplace too long. Once you know it's time to go, you've stayed too long.
How much of a role did friction between you and the City Council play in your decision?
Not that much, really. That just comes with the territory. People like to make a big deal out of it, but this is not my first rodeo, and I have a lot of communication with city managers all over the country, a really strong network of friends and colleagues; I know what other people are going through. When my co-workers here in Charlotte start complaining about the council—and everybody complains about their elected body, trust me—I say, "OK, now which body do you want to trade them in for?" And then suddenly it's put in a very different perspective.
We've got very hard-working, very dedicated people on council. And one of the things, even when I disagree with them or they disagree with me, I think it's really important as professional administrators that we respect the democratic process. Each one of the council members and the mayor, they stood for election, got elected, the people have spoken. We need to respect them and help each one of them be successful. I strongly believe in that. It's funny—a couple of times, I've had council members accuse me of having favorites. I think they do that because they're not the favorite. But I don't have any favorites, because I don't think you can do that. You have to work with everybody.
Do you think, as Charlotte grows and momentous events transpire, like HB2, that the city in any way needs to re-examine the relationship between the city administration and council and the role of the city manager?
Not really. I don't think the system's broken. I think what we've seen, given all of the change that we've had especially over the last three years, is that this form of government works. The ability of Charlotte to really take the long view and accomplish all that it has over the decades, I think, is very much tied to this form of government. And having a professional city manager who's able to bridge across the elections and take that long view … With all 12 of our elected officials up for re-election every two years, there is a tremendous opportunity for chaos in this city. It doesn't happen because our voters don't kick everybody out at one time, although they could; but there is transition each time, and your city manager becomes your continuity to continue to work with the professional managers in the departments to do the long-term planning and accomplish goals that will take multiple years to achieve. Remember, the Gold Line wasn't created on my watch. The idea of the Gold Line was created under Curt Walton and Mayor [Anthony] Foxx … and we're able to see that vision and continue it because of the continuity of that professional management. If you were changing city managers every time you had a change in mayor … you just wouldn't have the kind of accomplishments like you've had in Charlotte.
On the Crystal Eschert situation—media reports have indicated that the city has retained at least six other Fire Department employees accused of posting insensitive or offensive comments to social media. What was the difference with Eschert, and why was she fired when the others weren't?
Each case has to be taken on its merits: What did the person actually do? Did they do it themselves, or was it something somebody else posted? What was their involvement with it, and what was their understanding of why it was inappropriate, and how did they position themselves going forward?
So, for example, it's one thing to forward a potentially offensive meme grabbed off somebody else's Facebook page, and another for a city employee to refer to a certain group of people as "thugs" or "worthless" or whatever.
Well, also, when it happened, and the context of what was going on in the community at the time. What is the impact on the organization where the employee works, and how does the employee view what they've done?
Along those lines, how have those technological changes and the rise of social media affected the way local government administrators have to oversee their personnel?
You're touching on something that really is important, and all city administrators are trying to get their heads wrapped around it. I think the biggest issue is how quickly information travels. It's almost impossible to stay ahead of the curve. The question is, how far behind the curve are you going to be, and what is the appropriate response? You could spend all day responding to tweets and Facebook postings and not get anything done whatsoever. We have great news media here, and one of the things I appreciate about Charlotte is that our various news outlets help get out a lot of information so that we have an informed citizenry, and that's been particularly valuable when we've had weather and other situations where we needed the public's help …
On the other hand, though, we probably have more media than we have news, and people are desperate to get a story and desperate to get a headline, and they will take things that are confidential personnel issues or anonymous tips they get from people who have an agenda, and I think sometimes the media lets themselves get played a little bit. I would say that at times has been a difficult distraction. There's plenty of other real news out there, but I think in the effort to get that sensational promo, sometimes I think a lot gets made out of things that really shouldn't be.
You're talking about something in particular?
God, I'd have to go back and go through the whole list. Well, the one this week was one outlet trying to make a big deal out of Brent [Cagle] no longer having the qualifier as interim aviation director. He's been doing the job for three years, and we just removed the qualifier. So we had one outlet trying to make a big deal: "Well, what happened?" And they sent a public records request for all communication between Brent and me, and all communication between me and American Airlines. We have people in the media who have gone berserk on public records requests, and it's bringing some of our offices to their knees.
What's your proudest accomplishment?
The Gold Line is really important. The year before I came, there was huge controversy around the Gold Line; the council passed a budget without [funding for] it … and they missed an entire bond cycle. You look at it, every year except 2012, and this is when prices were about as low as they were ever going to get. It was really unfortunate … so picking up the pieces there was why I was hired, and that's part of what brought me here. I thought it was a really important vision, and I thought it was fixable.
And it's not just about getting the Gold Line done. It's important to understand that this is not just a transportation project. This is an economic equity project. This is really about bringing economic prosperity to the east and west, out Central [Avenue] and up Beatties Ford [Road]. That's what really drives me in this work, to really try to make society better, not just provide services. How do we create a more just and equitable society in what we're doing? It's those underlying values where the mayor and council and I have had real alignment … At the August meeting, they'll be approving the purchase of the cars and the construction contract. So we're ready to go.
What do you think are the main things this city has to do to best prepare for the next 25 years?
The most important challenge Charlotte faces—and it's true for every city—is taking transportation to the next level. As you become a larger and more dense city, a more urbanized city, you really have to have effective systems to get people around, and that's a combination of your land use planning—the rewrite of our zoning ordinance is one of the most critical things that's on the agenda for the next manager. We're also in the process of rewriting our Transit Action Plan, which includes elements related to biking and walking; that is also huge.
But the real challenge is going to be the funding of transit. We are better positioned than, I would say, any city in the Southeast as it relates to transit right now. My predecessors and their work on the Blue Line was masterful and has dramatically changed the character of this city in very positive ways. The Extension will open at UNC Charlotte and connects the north and the south, and we get the Gold Line going east and west, all converging into uptown—we will have connected all the academic institutions in Charlotte by rail except for Queens University. That's really cool. That's going to help attract the youth we want and need to grow and sustain ourselves.
But we don't have anything after that funded. So what we do with the Silver Line going out into Union County, the Red Line going up north, how we get rail out to the airport—what are the pieces that we've not done that we need to think about to create connection not just within our city but within our region? So there's going to be a really major grassroots effort involving people at the community level and business and organizational level to take the 2030 Plan, as we call it now, and basically re-envision how we take transportation to that next level and generate the resources to make it happen.
So you think transportation is the big umbrella issue that hangs over all the others.
It is, when you connect it with the planning process and how communities and neighborhoods develop. All of that is an integrated system that drives the quality of life in a community. What attracted me to Charlotte, and why I would be thrilled to remain a resident of Charlotte, is that we have a great foundation. We've done so much work and achieved so much, and even on the capital projects that are underway now and already approved, you're going to see it continuously get better. And we've got a lot on the table in the next five years—but we can't stop there. We've got to be thinking about the next five, and the next five, and the next five.
Anything major that you wish you had done differently in your three years?
Well, like I said earlier, there's nothing I've done that I don't feel like I could have done better a second time around. But no, nothing where I lie awake at night and say, "Damn, I wish I hadn't done that."
Regrets, you've had a few, but then again …
[Laughs] There you go. You can take that line and use it for me, absolutely.