Ron Carlee's Charge: Deal With It
Charlotte's city manager has had to handle a state attempt to seize control of the city's airport, a hot-potato transit project, and an arrested mayor. He's done so by getting to work, and remembering when times were far worse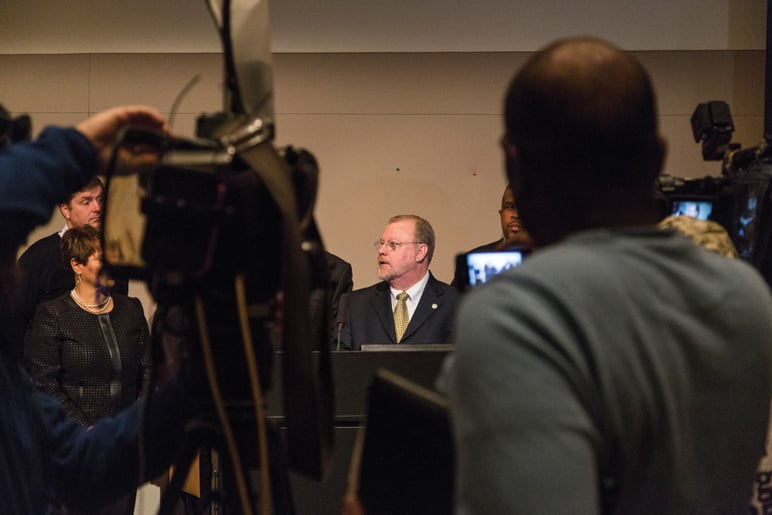 ONE YEAR AGO, Ron Carlee stood before a bank of television cameras and a flock of reporters to explain to the nation's 16th-largest city how its government would function after the arrest of its mayor.
Carlee was just less than a year into his tenure as Charlotte's city manager, and he'd already inherited a full set of crises that would test anyone. The state of North Carolina was trying to wrest control of Charlotte's airport, the nation's eighth-busiest, from the city. The city continued to grow, in many ways faster than local officials' capacity to absorb the changes. The City Council, divided for months over a way to pay for a contentious transit project to help cope with the growth, had essentially handed the entire mess to the new city manager and told him to fix it.
This was something different, though—a neon-lit corruption case in a city that prided itself for generations on clean, efficient local government. Charlotte's elected officials, the mayor and City Council, are supposed to assume the public faces of the city government, setting the general course and policy to match. The city manager's job is to enact those policies. There's rarely any need for the manager to step forward and represent the entire city government to the public. But here was Carlee, on March 27, 2014—the day after federal agents had arrested Mayor Patrick Cannon for accepting bribes—having to do just that.
After a pair of brief housecleaning items—acknowledging Cannon's resignation the day before and announcing a special City Council meeting the next Monday—the normally soft-spoken Carlee delivered a simple message, which he enunciated deliberately, phrase by phrase, emphasizing each one:
"This event—does not affect—how the city of Charlotte operates—on a day-to-day basis."
Facing a city stunned by the big implications, Carlee turned immediately to the specific and mundane: "Yesterday, the utility department treated 91 million gallons of drinking water and performed over 600 service account orders. Today, the solid waste department collected on 60 routes serving 38,000 households. Through 11 a.m. this morning, 311"—the city-run customer service line for Charlotte and Mecklenburg County—"had answered over 1,200 calls within one second."
It was a kind of incantation of the everyday, and it carried a larger point. Local governments exist to collect taxes and fees and use the money to provide basic services. Carlee has spent a nearly 40-year career trying to figure out how best to do that. At this moment, with the political side of the city in turmoil, he wanted to stress above all that the business end was intact and functioning as if nothing had happened—water would still come out of the tap, garbage would still get picked up, and the police would still respond to calls. It was a political crisis, not a citywide emergency.
He'd already met with city staff members and delivered the same message. "Some people were calm, some people were concerned, excited—there were a lot of different emotions," he tells me in December, in his 15th-floor office at the Government Center. "My tendency is just setting emotion aside and asking, 'How do we deal with the environment that we have? ' "
He told staff members that they were to cooperate fully with the FBI. If anyone else was involved in the corruption case, he wanted to know. The city would operate as usual: "Charlotte is more than one man," he said.
At the time, it was tempting to dismiss Carlee's reassurance as the kind of everything's-under-control message a city manager would fall back on, regardless of its accuracy. But weeks and months passed. Cannon pleaded guilty in federal court. To date, no other city officials have been charged. Charlotte had taken a public relations hit. Barring further revelations—the federal investigation remains open—that was all.
"I thought Ron was masterful in his initial response," says Charlotte Chamber President and CEO Bob Morgan. "The way it was handled, I think, helped the city deal with a very, very emotional situation. If you look at the business of the city, it's almost like they didn't miss a beat."
Carlee says the Cannon episode, and the others he has faced here, haven't fazed him. "This is what city managers do," he tells me. Problems arise; good managers solve them and move on to the next one. Carlee has had to contend with far worse.
***
CARLEE WAS IN A TRAINING SESSION with staff members in Arlington County, Virginia, on the morning of September 11, 2001. He had worked for the county since 1980 and was six months into a new job as the county manager. The session had just ended when his pager went off. It was the county Emergency Communications office. He didn't think much of it at first. "Nothing ever happened in Arlington," Carlee says. "Arlington didn't even see any battles in the Civil War."
He called back a few minutes later and learned about the World Trade Center attacks in New York. He was watching news coverage on television and thinking about a precautionary plan for Arlington County when, at 9:37 a.m., American Airlines Flight 77 flew into the Pentagon, three miles southeast, on the other side of Arlington National Cemetery.
Although the Pentagon is a federal building, Arlington County handles emergency response there. Carlee and a fire department captain went to the site immediately. He and other officials opened an emergency operations center where local, state, and federal agencies could coordinate their response—"flipped all the switches to go into emergency mode," he recalls. The aftermath dominated Carlee's life for the next month.
"That was a bad day," he says, with characteristic understatement. "But even on that day, the team that I worked with there, we just went into problem-solving mode. You've got to deal with it; you deal with it."
This is a classic manager's philosophy, developed over decades in business and government circles. We hear constantly about the virtues of "leadership," an amorphous concept that suggests that mere exhortation can accomplish wonderful things. What's less celebrated, and far less romantic, is the person who can translate general goals into concrete action through a succession of small measures—working the assorted gears of an organization without losing sight of the overall objective.
That, in essence, is what Carlee and people like him do. Others can articulate the vision. Carlee absorbs it, then arranges and moves the pieces, step by meticulous step. One of his challenges in Charlotte is to do that in a way that respects what's worked before while discarding what no longer does—balancing the way the city has operated for decades and the way it needs to now.
"The neat part of Ron is that he sees both the trees and the forest, the ground and horizon," says Bob O'Neill, the executive director of the International City/County Management Association, where Carlee worked as chief operating officer for almost four years before he came to Charlotte. "A lot of people tend to be either one way or the other. The way I describe Ron, he's an 'and' guy. He sees both things."
Soon after he took the Charlotte job, Carlee sat through a contentious meeting on the airport situation. Afterward, someone remarked to him that it must have been one of the toughest days of his life.
"I said, 'No, it really wasn't. I was a manager in Arlington, which is where the Pentagon is located, when terrorists attacked it. Nobody died today. ' "
***
IT'S 9 A.M. on a gray Monday in December, a "council day." The Charlotte City Council has a meeting tonight, and the agenda is packed. Council days are long days for city staff members. Carlee's starts in a windowless conference room, where representatives of the police and planning departments have arrayed themselves around an oval table to discuss a proposed zoning text amendment regarding commercial kennels.
The city requires anyone with three or more dogs or cats, or a combination of them, to obtain a permit from the animal care and control division, a division of the police department. The animal care and control division wants the city to specify the distinction between commercial and private kennels, which would allow private owners to keep their rescued animals outside in residential areas. The group discusses the implications of this. They review spreadsheets of odor and barking complaints.
Keep in mind that it's Monday morning. This discussion numbs the mind. It drones on for 30 minutes before Carlee, who's been mostly quiet, pipes up: "I guess the question I'm really trying to get at is, 'Exactly what problem are we trying to solve?' "
Nobody provides a clear answer. Carlee politely suggests they return when they have one. The meeting adjourns.
Upstairs, Carlee prepares to sit down for an interview with me when the mayor, Dan Clodfelter—whom the City Council appointed last April to serve the rest of Cannon's term—emerges from his adjoining office.
"I just want to ask you one follow-up question," Clodfelter says.
"OK," Carlee responds. "Is it one that requires confidentiality?" It is. The manager and the mayor meet in private for two minutes, in what Carlee refers to informally as a "drive-by consultation." Carlee returns.
"So part of what happens today is being flexible and adjusting to things as they evolve," he explains, carefully aligning his pen and smartphone on the table in front of him. "There's always more work to do than there is time."
On the agenda tonight is a series of issues that—in due respect—trump the zoning of kennels. There's a long briefing on needed repairs to the city's aging storm-water drainage system, which could raise rates in the coming years. There's a long review of transit-oriented development policy, a cornerstone of city planning as Charlotte develops its light-rail and other transit systems. There's the announcement that Charlotte Area Transit System CEO Carolyn Flowers, one of the city's most important department heads, has resigned to take a job with the Federal Transit Administration, where she'll work under U.S. Transportation Secretary and former Charlotte Mayor Anthony Foxx.
But the most potentially explosive item is a proposed ordinance, a "local Civil Rights Restoration Act," Carlee says, that would reinforce the duties and limits of the police department in fighting crime. It also would acknowledge citizens' rights to free expression and to gather in public without fear of racial profiling or unlawful search and seizure.
It's two weeks after a St. Louis County, Missouri grand jury's decision not to indict police officer Darren Wilson in the shooting death of Michael Brown, and five days after a similar decision by a grand jury in New York in the death of Eric Garner. Nerves are raw, even in Charlotte, where police took the unusual step of charging one of their own officers in the shooting death of an unarmed black man in September 2013. Officer Randall Kerrick was later indicted in the death of Jonathan Ferrell. Still, protesters with signs crowd the room as the council meets. "Jonathan Ferrell!" a woman begins chanting as the presentation concludes. "Black lives matter!"
The ordinance simply makes explicit what's generally understood as the proper limits of police power. But it's a delicate subject politically. One segment of the city is infuriated by the grand jury decisions; another is infuriated by the reaction to them. (In January, the City Council adopted a broad version of the policy; it may pass a more specific one later.)
Nonetheless, "We're happy to do so," Carlee says. "Police exist to protect people's rights, and ensuring those is a core ethical responsibility that we have. Some cities might be dismissive of this effort, or maybe even antagonistic toward it, but we have approached it in a very positive and constructive way …
"Because we're all about the same objective: a safe community. That's what everybody wants."
That's the professional side of the issue for Carlee. There's a personal one, too. He can draw a straight line from issues of race and power in Charlotte in 2015 to his own childhood in Alabama, a place where another generation used the framework of government to keep people apart.
***
CARLEE WAS BORN February 1, 1954, into the same time and town Randy Newman would later write about in his song "Birmingham": "Got a wife, got a family/Earn my livin' with my hand/I'm a roller in a steel mill …" Carlee's father, Cecil, was a short-order cook, the son of an iron-ore miner. His mother, Joyce, worked in a doughnut shop, then as a retail clerk at J.C. Penney. Neither finished high school; they both left school to go to work to help support their families.
This was segregated Birmingham at the height of the civil rights era—the season of Bull Connor and the 16th Street Baptist Church bombing—and Carlee and his two younger brothers grew up poor and white in a society where segregation was not only the norm but also the law. Carlee, whose mother is a devout Southern Baptist, couldn't understand the division between races.
"The first place my mother ever took me, as an infant, was to church," he says. "So I learned in church, 'Jesus loves the little children, all the children of the world/Red and yellow, black and white, they are precious in his sight.' That's the way I was trained. I never got this segregation stuff."
His home was a different kind of battlefield. In 1960, when Ron was six, Cecil Carlee moved the family from Birmingham to Dallas to open a restaurant with his sister. Within a few years, Cecil and his sister had a falling out, the restaurant went out of business, "and we came back from Texas with literally nothing," Carlee says. "A family of five. And we had no place to come home to." During their first several months back in Birmingham, the family stayed illegally in public housing with Carlee's maternal grandparents.
"People talk about public housing; they talk about overcrowding—these aren't hypothetical issues to me. They're real issues," Carlee says. "I can tell you, being overcrowded in that public housing project? A lot better than living in your car." He falls into several seconds of silence.
This is a touchy subject for Carlee, who's married but has no children. He'll tell me about his family and upbringing only to a point, and only as a way of illuminating his philosophy of local government. One of his younger brothers died of heart disease. His mother, now in her mid-80s, still lives in Birmingham; his other brother, John, works in data management in Winston-Salem. But he blanches when I ask if he'd mind if I contacted them. "I don't mind sharing some of these stories to illustrate the public policy points, but I wouldn't want to get too personal in it, if that's OK," he says. "I wouldn't want to put him [his brother] or my mother on the spot."
Cecil and Joyce Carlee split when Ron was 14, largely because Cecil's financial failures drove him to drinking and fits of self-loathing and rage. "It was an abusive household," he says, declining to elaborate. "School was a safe haven for me. The library was a safe haven for me."
Joyce Carlee supported her oldest son's scholastic and extracurricular pursuits, but only emotionally. "My family was not able to contribute a dime to my college education," he says. But thanks to a work-study program, partial scholarship, government grants, and student loans, he didn't need the help. Carlee entered the University of Montevallo, a small liberal arts college about 40 miles south of Birmingham, in the fall of 1972.
When Carlee graduated in 1975, he thought about working as a journalist. He applied to Columbia's and Northwestern's journalism schools but didn't get into either. In the meantime, he volunteered for the Birmingham mayoral campaign of David Vann, a white city councilman and former U.S. Supreme Court clerk who'd been a vocal leader in the Civil Rights movement. "I realized after about a day," Carlee recalls, "that it was more fun making the news than writing about it." When Vann was elected mayor that year, Carlee asked Vann for a job. He worked as an assistant to the mayor for four years, until Vann lost the 1979 mayoral election. Carlee left for the Washington D.C. area a few months later.
This is the point in our conversation when Carlee gets most emotional, when he talks about what he learned about communities and government in Birmingham in the late '70s. It's nothing spectacular, no fireworks or tears involved. That's not Carlee's style. He's not a physically imposing man—average height, a slight belly, sandy-red hair, and a thin beard that makes him look gnomish. But when he gets down to the guiding principle of his professional life, much as he did behind the lectern after Cannon's arrest, he emphasizes each phrase, still speaking quietly, but firmly, rapping the table in front of him. He means this.
"Liberty and justice don't happen at the federal level. They happen where people live, and if you don't have it where you live, you don't have it," he says. "When I was growing up, that local government was committed to injustice and unfairness. It was the official vision and mission of that city government to maintain a segregated society.
"So I saw growing up that government could definitely be a force for evil, and I also learned—as history evolved and as Birmingham evolved and as I started work there with a mayor who had been involved in the Civil Rights movement—that local government could also be a force for good."
***
IN THE MID-1990s, a shift in philosophy swept through local government circles, informed and driven by Reagan-era free-market reforms: Government agencies need to work like businesses.
City and county departments would still run on taxpayer money, of course. But their focus would be on efficiency, prudent spending, and meeting corporate-style performance standards. For the first time, "customer service" became a buzzword in government.
The practice took stronger hold in Charlotte than perhaps any other city in the country. The city formally refers to its departments as "key business units," or KBUs. In 1994, Charlotte became the first American city to adopt the "balanced scorecard" method of gauging departments' effectiveness in financial performance, customer satisfaction, and other areas, according to a specific set of quantifiable goals.
In and of itself, this wasn't a bad thing. Governments are prone to waste public money and sink into the quicksand of their own bureaucracies. Officials found over the years that the corporate approach to government can reduce costs and make services more efficient. But it can also undermine coordination among agencies and departments and create a public sector more concerned about meeting its benchmarks than serving citizens. "You can't have a solely transactional relationship with your citizens," says Carlee's old friend, Bob O'Neill of the ICMA. "There's a customer relations aspect to government, of course, but it's not the same as a customer in a store."
It's better, O'Neill and Carlee believe, for local governments to operate efficiently while aiming to make people's lives better—working with nonprofit organizations to boost services for the homeless, say, or enhancing home values through neighborhood improvements. Carlee wants to break down barriers among departments—and among governments, nonprofit groups, and businesses—through more frequent meetings and shared projects.
Success, he says, requires an appreciation of what a local government is and isn't—and, harking back to his childhood in Birmingham, what it can and can't do. It's a matter of choice.
"Government is not business. Government is not about making a profit. We're about making community, and you can't make community in silos," he says. "Part of what I've been working toward here is trying to transform our motto of 'Run the Business' to 'Build the Community.' Our metric at the end of the day is, how great a community is this? Is this a place where people continue to want to come and stay and live and invest and raise a family?"
That means the entire city, not just part of it. That means everyone in Charlotte, not just the people who live in uptown, Myers Park, and Dilworth. A city can operate under unofficial segregation, too, based on income as well as race.
Tearing down those walls requires willpower, money, foresight, and what Carlee views as any city's most important tool for a sound economic future: public transit. When he arrived in town, he landed in the middle of a major political battle over just that.
***
WHEN IT WAS FIRST proposed in 2002, city officials saw what they came to call simply "the streetcar project"—it's now formally called the CityLYNX Gold Line—as a way to link the poor and largely minority east and west sides of Charlotte to each other and to uptown. The question was always how to pay for it, and even Democratic council members opposed using property tax money for the project. In 2012, the council voted down then-mayor Anthony Foxx's proposal to include the streetcar in the city budget, handing Foxx his most humiliating political defeat.
When Carlee arrived, he decided to try to find a way to pay for the second phase of the project without making it part of the city's property tax-funded capital plan. In a few weeks, he and his staff pieced together $63 million from reserves and savings that, with matching federal transit funds, would pay for the second phase, scheduled for completion in 2019. The City Council approved the plan by a 7-4 vote in May 2013. (The third phase, an estimated $500 million project, would complete the 10-mile line. That section hasn't been funded yet.)
From the start, Carlee strongly expressed his support for the streetcar. "As I study this project and learn about it, it becomes clear to me that this rail project is not a toy. … [It is] an integral part of our overall transportation policy," he told council members during a meeting in May 2013, six weeks into his new job. "We are either going to be a growing community or we are going to be a dying community."
That vehemence doesn't sit well with council members who question the Gold Line's supposed benefits and fear the city will have to raise the property tax rate to help pay for it. "My personal feeling is that his commitment to the streetcar was not reflective of the whole of the council. On some of the stuff, I feel like he needed to stake out a more neutral ground," says Republican council member Ed Driggs, who has voted against Gold Line funding. "At times, to me, he shouldn't be part of a partisan conversation."
On one level, Driggs' comments simply reflect a difference of opinion—he opposes the streetcar project, Carlee supports it, and Driggs emphasizes that he's been impressed with Carlee's overall performance as city manager. But on another level, it's an especially damning observation, a charge that Carlee has stepped way over the line. The City Council, after all, is supposed to set policy; Carlee's job is to enact it. The manager can assemble a funding plan to pay for a project that a majority of the council wants, Driggs is saying, but he shouldn't publicly endorse the idea itself with such enthusiasm.
Except that Carlee doesn't see the Gold Line as a partisan issue, or his support as a problem.
"If Charlotte had not had a transit plan, I would not have come here," he tells me. "What it comes down to is, do you really want to be a large city or not? … We're way behind the curve on transit in this country, and we're slowly and painfully catching up.
"You look at what the Gold Line is intended to do, to bring investment and opportunity to the west and east, out Beatties Ford [Road] and Central [Avenue]—tell me what other public investment offers any hope whatsoever of significant investment in those communities. You're not going to do it with sidewalks and streetlights. It's just not going to happen."
He tells a story about when he moved to Arlington in 1980, when the city was an underdeveloped and dismal suburb of Washington that seemed to be mainly a home for auto-repair shops and parking lots. "I really wasn't sure I wanted to move there, to tell you the truth," he says. But city leaders in the 1960s decided to accept the cost and disruption of a line of Washington's Metro subway system, and that helped turn Arlington into one of the most economically vibrant and well-educated areas in the country. It just took decades.
The benefits of good planning and management usually emerge only over time, he says: "We have to ask ourselves, as we sit here in 2014, what is our city going to be in 2024, 2034, 2044? Do our investments provide that long-term payout that makes Charlotte a thriving city into the future?"
He believes so. That's both the blessing and curse of someone in his position: All the work he's doing now, all the choices he's making day to day, won't reach full flower until long after he's gone.
But that's the way it has to be. Cities and populaces are unwieldy things. They don't change course in a day, or even a year. The best we can hope for, from ourselves and the people we trust to make the small decisions as they go, is that the choices will be good ones, and that they one day add up to something worthwhile, for everyone.
Carlee knows because he's seen it happen. A few years after the height of the civil rights battles in Birmingham—around 1970, when Carlee was still in high school—the governing board of the church the family attended, Fiftieth Street Baptist Church, voted not to admit black people as congregants.
"Yeah," Carlee says. "Never went to that church again." He notes with a wry smile that, decades later, what used to be Fiftieth Street Baptist now is a predominantly black church, and it's just off a street renamed for the city's first black mayor.
Greg Lacour is a contributing editor for this magazine. Read his political commentary on his blog, Poking the Hornet's Nest, at www.charlottemagazine.com.