Ronald Carter: Minister of Education
The president of Johnson C. Smith University looks for new ways to fund the school by helping needy students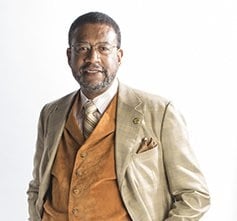 Beige trays slide along the sparkling metal serving line. Behind the glass, smiling women in starched white coats pile fried fish onto plates and heap vegetables into small bowls. It's lunchtime at Laurene's Cafeteria, which took the spot of the old McDonald's Cafeteria on Beatties Ford Road.
Ronald Carter, president of Johnson C. Smith University, is ahead of me, picking out flounder with cabbage and boiled okra and tomatoes. Carter, in a navy pinstriped suit and gold-and-navy-striped tie, carefully slides his tray down to the end.
"If you like soul food, you're gonna love this," he says over his shoulder. We make our way to a red booth along the wall. Carter takes off his jacket and slides in. He's wearing suspenders that match his tie.
It's the Tuesday after Thanksgiving, and I ask how Carter spent his holiday. Members of his family came to Charlotte, he says, to host a Thanksgiving feast for a couple of dozen JCSU students who had nowhere else to go; many had been in foster care, and some had been homeless.
"It's my ministry," says Carter, a theologian who's led the historically black university on Charlotte's west side since 2008.
It's also a mutually beneficial arrangement. Johnson C. Smith, like many historically black colleges and universities, must cope with a shrinking college-aged population and
dwindling federal assistance for students.
"Our space is going through a perfect storm that we all saw coming back in 2009," Carter says. "We feel it greater because the majority of our students are dependent on federal funds."
Holding a stack of flounder on his fork, he explains that he's seeking new ways to pay for the university's programs by finding new applicants and new pools of money. The
foster-care population is one such group. Many colleges simply write off children who age out of foster care. By recruiting foster kids, Carter says, JCSU is able to tap into what he calls an "uncontested market."
"You don't think in terms of recruiting those children," he says. "There are lots of stereotypes that come to mind, but we've found that if we provide the students a very solid network of support services that they can trust, they come alive."
In the coming years, JCSU will also expand its adult education programs and add graduate degrees, starting with a master's of social work in January 2015.
In the interim, the 147-year-old university must compete for students and limited money from donors. JCSU parents are often unable to cut massive checks for the university's endowment, which means Carter has to make tough financial choices.
At the end of October, he announced he would lay off 21 people and freeze 30 additional positions as part of an effort to cut $3 million in annual operating expenses. "Maybe people don't understand that I'm more than an educator. I'm a businessman.
I have to make good business decisions for this university to be successful."
Still, Carter says, the process was emotionally and spiritually taxing. He met with each of the laid-off employees individually. "You can't run away from the hard decisions and the consequences. All of these are personal. We're talking about people and their lives."