Room to Grow: Union Shop Studio
Local artists convert a Wilkinson Boulevard warehouse into shared space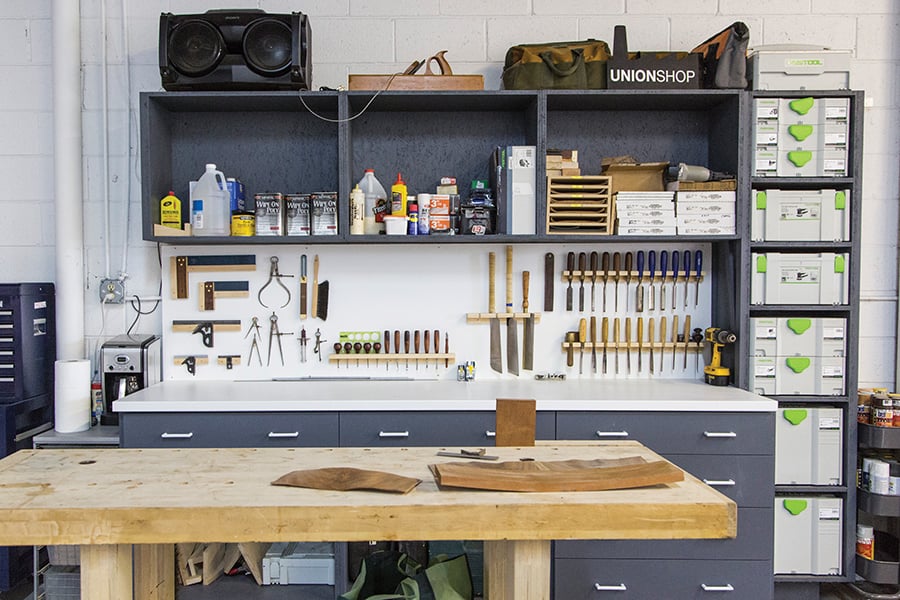 At the top of a small hill, next to a defunct porcelain-repair company, and two miles from the airport on Wilkinson Boulevard, a cinder-block warehouse sits with construction debris on its loading dock. The parking lot is bumpy from cracked asphalt, and weeds grow in the uneven breaks.
Inside, a 7,500-square-foot space is filled with paint cans and boxes, evidence of settling in. Newly installed walls divide the large space into smaller sections. An industrial fan hangs from the ceiling. Jeffrey Barninger is wearing a St. Louis Cardinals cap and takes a break from building furniture to greet me.
The 33-year-old recently moved to Charlotte from Washington, D.C., where he'd worked for a nonprofit, teaching furniture-making to inner-city youth. But when that program lost funding in 2011, he ventured out on his own and settled into a joint workspace on Capitol Hill. It was refreshing to be surrounded by other creative people, but the math wasn't right. D.C. was far too expensive. He needed a growing yet affordable place to set up shop.
So he posted a Craigslist ad in Charlotte, seeking artists to work in a collaborative environment. Two responses arrived immediately, which gave him some confidence that his shared studio idea might work. He also took note of how the city was changing. Development and high rents have been pushing people out of NoDa, he says, and the west side of town, with its abundance of warehouses, could be the next arts district. He thought that by investing now, he might be able to help transform the area.
He signed a three-year lease on the warehouse in March, and began spending his weekdays here and his weekends in D.C. before moving to Charlotte in May. The space, known as Union Shop Studio, is now booked, providing studios to a total of five artists—a man who makes cast concrete counters, two painter/photographers, a designer/printmaker, and Barninger, who designs and crafts furniture. The studio will be open to the public by appointment, with plans to add an open-studio day once a month. Barninger also wants to have gallery shows in the event space. "The whole idea was to bring a bunch of people together who do completely different things so they can bounce ideas off each other," he says.
Since the studio booked up so quickly, Barninger is hoping to expand to other sections of the warehouse and add more artists, with the long-term goal of a grant-funded, artist-in-residency program. "I see Charlotte as a place with a lot of opportunity, and I really want to be a part of growing something."
---
Creative Spaces
Inside Union Shop Studio

Jeffrey Barninger
Furniture designer and founder of the studio
---

Micah Cash
Painter/photographer focused on landscapes and their social history
(Photo: Courtesy Micah Cash)
---

Bradford Beardall
Street artist/photographer
---

Kellie Duff
Printmaker and designer
---

Nathan Smith
Cast concrete designer of counters, coffee tables, and other items
(Photo: Courtesy Nathan Smith)
To make an appointment, visit unionshopstudio.com.