Room We Love: A Dining Room in Firethorne Country Club
Designer Sara Lynn Brennan transformed the space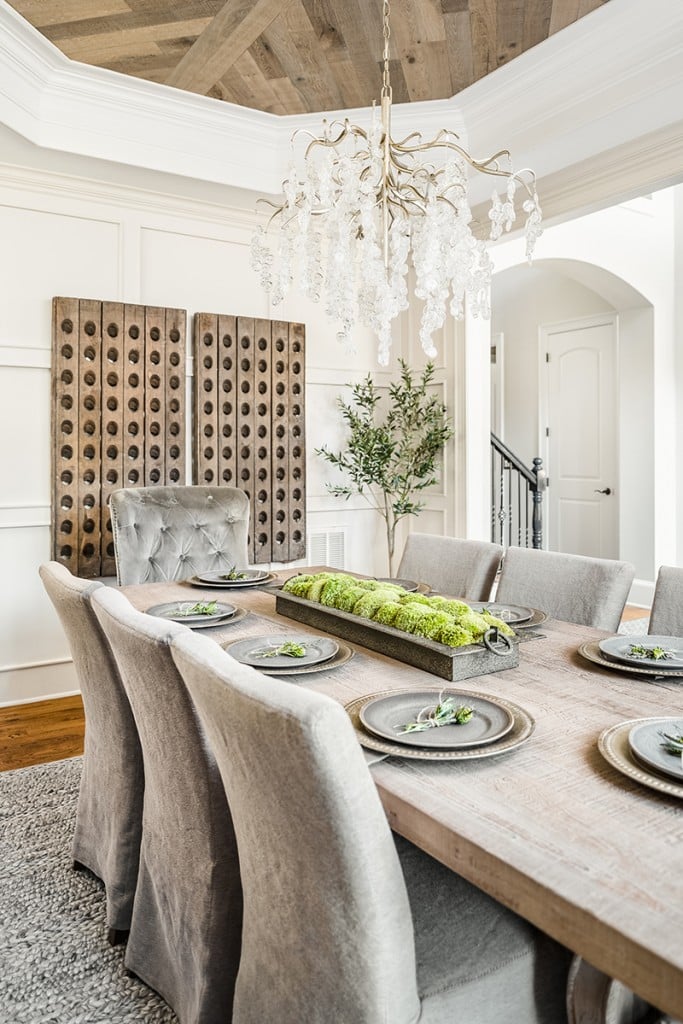 Designer Sara Brennan, owner of Sara Lynn Brennan Interiors, could pinpoint the age of her clients' dining room in their Marvin home from the moment she saw it. "It had the time stamp of the Tuscan-inspired, Mediterranean look that was popular 12 years ago," she says. With faux finished walls and gold and brown tones, the room felt confined and too formal for a family with two young children. So Brennan brightened up the space with custom wall molding, greenery, and a wood feature ceiling to make it more inviting and family-friendly.
A Good Style Match
The homeowners moved into their Firethorne Country Club estate 10 years ago and have worked with Brennan to renovate it room by room. "When we did the dining room, they stayed out of my way and told me to do whatever I would do if it was my house," Brennan says. "My style is romantic transitional, and I selected everything with light in mind. This was a very intentional blend of masculine and feminine."
Lighter and Brighter
Brennan chose Sherwin-Williams' Egret White for the wood wall panels and light wood furnishings and accents to complement the wood feature ceiling. She installed a romantic crystal light fixture with gold leaf for something feminine and saved one white wall for an architectural statement piece. She knew she'd found it when she spotted two French riddling racks in the back corner of a consignment store. "The size, scale, and wood tone were spot-on," she says, "and it adds so much character to this design."
Patches of Green
Brennan began her career as a floral designer and loves to make wreaths and arrangements to style a client's space. She had a green centerpiece custom-made for the wood dining table but used moss, olive trees, and preserved greenery to add pops of green and complete the look.