Room We Love: A Music Room in Dilworth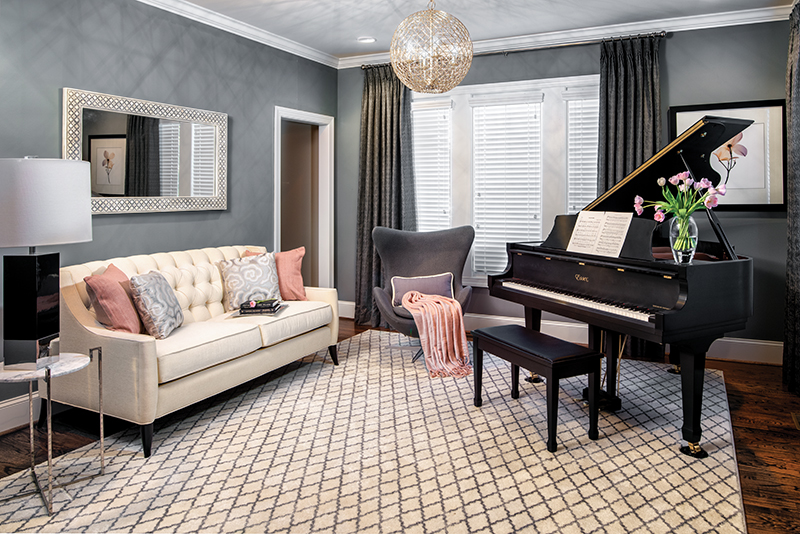 IT ALL STARTED with a piano.
The owners of this modern, Craftsman-style home in Dilworth tasked interior designer Tamara Leicester, of Tamara Heather Interior Design, with a project born out of a passion. "She decided she wanted to learn to play piano," Leicester says of her client, "so she bought a piano." Inviting attention and luring visitors to sit, the music room is a show of its own.
---
Gray, Ivory, and Blush
Because of the adjacent family room's gray, ivory, and black color scheme, Leicester wanted the music room's palette to be "more dramatic and elegant" to match its purpose. The resulting colors are more attention-grabbing, letting this main-floor room take the lead among its beige-gray-walled counterparts. The soft blush accent color adds a touch of femininity to the black and gray shades.
Iconic Furnishings
The Arne Jacobsen Egg Chair and a globe-like chandelier, marble side table, and artsy lamp from Worlds Away are all glamorous. Leicester made sure the space has no shortage of striking furnishings. "The room needed to support the piano," she says. The strong, contemporary furniture serves to balance the piano's demanding presence.
Diamond Pattern
A diamond motif repeats—from the carpet design to the couch tufts to the mirror frame to the chandelier's casted shadows—and creates consistency. "I think the room design overall is classic," Leicester says.