Room We Love: A Playroom in Myers Park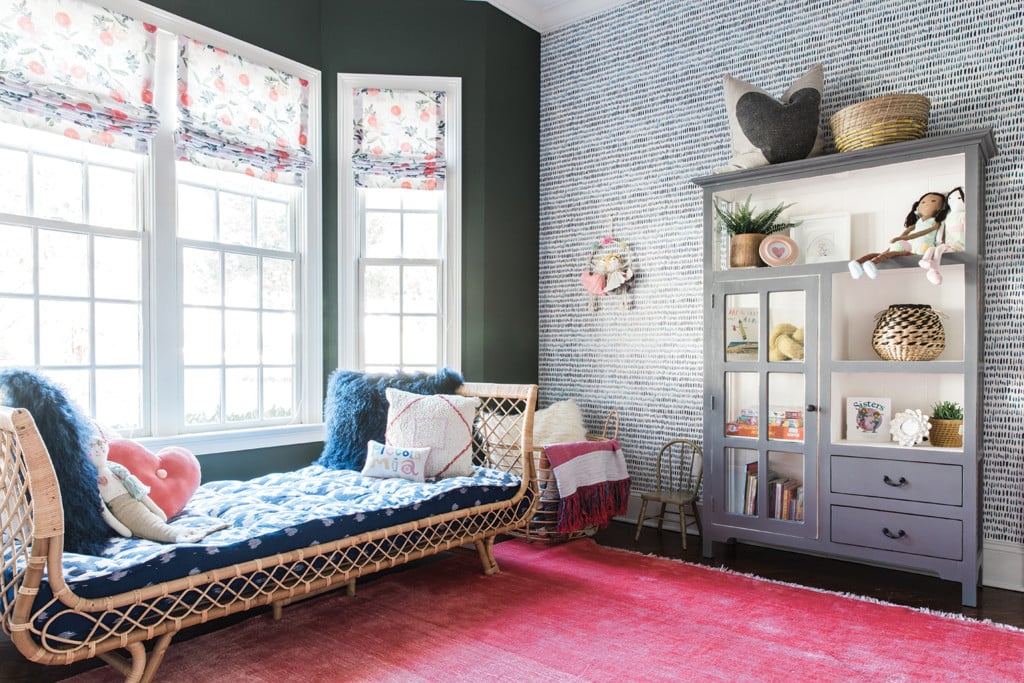 PLAYROOMS ARE MEANT for fun, so it was natural for Beth Barden of designPOST Interiors to get creative with a Myers Park play space for two young sisters. Although the home is a moody, Tuscan-style build, the room renovation reflects both the homeowners' style and the light-and-bright vibe a playroom should project.
TEXTURE
The rattan daybed from Anthropologie was the ideal balance for a room that Barden and the homeowners didn't want to be "too sweet" or "too cutesy." Barden says the natural wood helps the girls from outgrowing the room too quickly, but keeps the space "fun-looking and kid-friendly." The fluffy pillows add visual interest. "A furry pillow in a playroom is begging for kids to plop down and read a book and lounge," Barden says.
COLOR
"The client didn't want anything too expected," Barden explains, "so we tried to pick shades that were a little off," noting the coral shade used in the eclectic design. The accent wall behind the bay window is a unique, deep green, breaking up the wallpaper. "I don't want to do overkill when it comes to color and pattern, which is funny talking about this room," Barden laughs. "If anything, at the end, (the client) was still saying, 'What else can we add?'"
STORAGE
The darling display cabinet was a "must-have" for the client—as well as the toughest piece to find. Because the girls have a lot of toys, storage was crucial, but the execution of that storage needed to be atypical. Trying to stray from average solutions, Barden opted to forego kids' furniture stores and found the armoire at Nadeau on South Boulevard—a chic piece for accessories new and old.