Room We Love: An Eastover Dining Room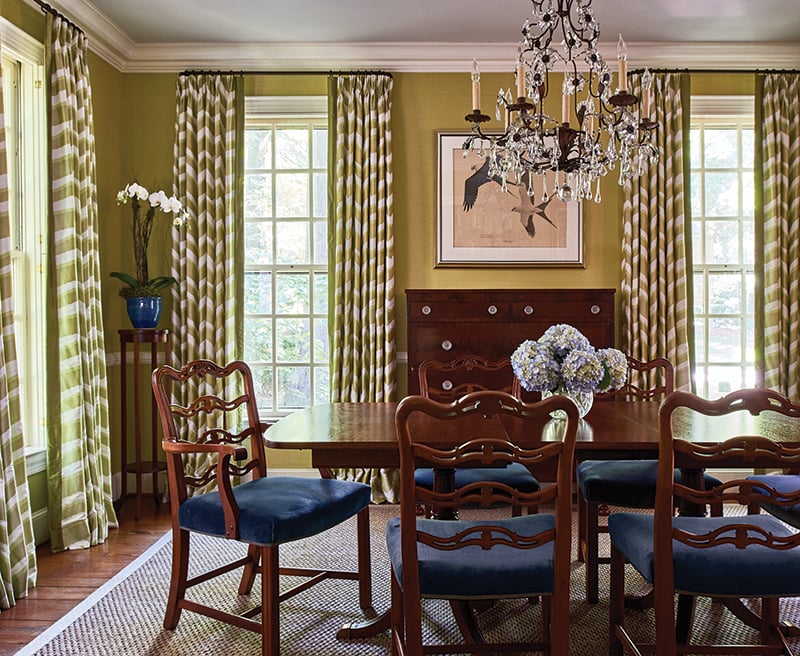 THIS EASTOVER DINING ROOM was not originally on the punch list for designer Anne Miller of Miller House Interiors. But after she and her client found the stunning chartreuse silk draperies by Brunschwig & Fils, they added the room to the home's overall design installation. The result is an elegant space with bold color and rich finishes.
Chandelier
The texture from the grass cloth and silk draperies, coupled with the deep chartreuse hue, lends a heavy dose of drama to the room, while the addition of the crystal chandelier adds a different element come nightfall. "At night, the light bounces off the crystals, and makes the drapery and wall covering glow," Miller says.
Sisal Rug
With so much visual interest elsewhere in the room, Miller opted for a sisal rug, which adds an organic touch to the elegant space while also grounding the design: "It tones down the formality of the room and makes this glamorous room feel effortless."
Dining Chairs
The clients wanted to integrate inherited heirloom furniture, such as the dining chairs and adjacent chest, into the room's design. "The traditional dining chairs will never go out of style, especially in the South," Miller explains. "They have a great deal of emotional value to the client," so the designer reupholstered them in a dramatic Prussian blue linen velvet by Holly Hunt to update the original soft blue pattern. "That deep blue can easily hold its own against the deep, saturated hues of the walls and curtains," Miller says.
Draperies
The hand-loomed and hand-dyed fabric has an organic, painted quality, which Miller says is the ideal contrast to the more traditional heirloom furniture in the room. "The large-scale pattern provides just enough drama to the space, which is otherwise very understated," she says.