Room We Love: Double Duty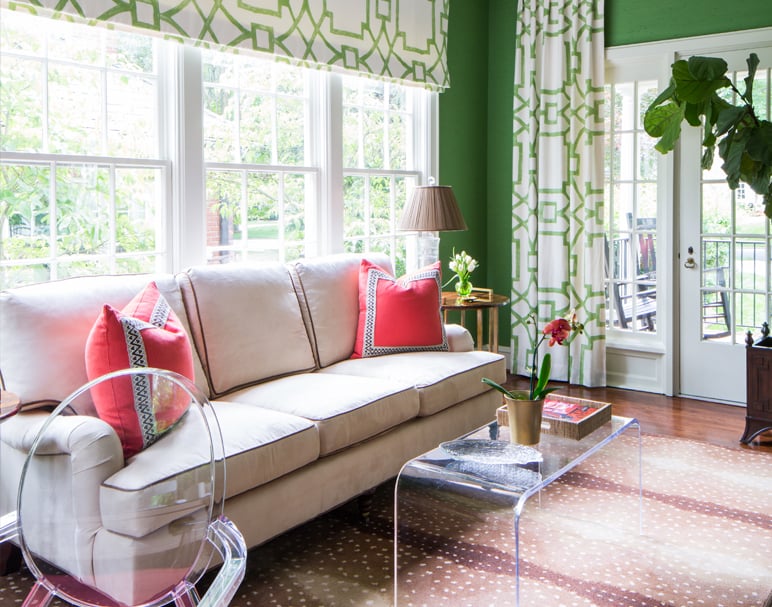 WHEN TASKED with the challenge of creating a dual purpose room, designer Allan Chapman had her work cut out for her. To create a stylish space where the homeowner could answer emails and the kids could watch TV, Chapman mixed natural and contemporary elements. The combined office and sunroom in this home has eye-catching designs and child-friendly furnishings that accommodate both needs.
PATTERNS
For the curtains and shade over the back windows, Chapman employed fabric designer Michael Devine's oversized modern fretwork. The hand block-printed fabric, a custom green hue over white, is an intriguing focal point. "That was our wow factor for the room," Chapman says of the patterned fabric. The bold lines make for a grand entrance when you enter the space.
NATURALS
With the office doubling as the sunroom, the space receives a generous amount of natural light. To accentuate this aspect, Chapman had the idea of "bringing the outside in and sticking with the natural elements." The light fixture is a drum pendant made of wood beads, which have a casual feel and make the atmosphere comfortable. The grass cloth paper-covered walls are also painted green for touchable, earthy texture.
ACRYLICS
The acrylic ghost chairs, table, and curtain rod all follow one theme: less is more, Chapman says. The key is to combine contemporary style with a kid-friendly atmosphere. "I was trying to come up with a little something unexpected," she says. With the tight quarters of the room, a narrow table makes more of the space. And the ghost table's absence of sharp corners is safe for children.
COMPLEMENTARY COLORS
Since the homeowner has an affinity for green, Chapman ran with it. There's green throughout the entire house, and it didn't stop in the office/sunroom. "Having that pop of color makes it more interesting," Chapman says of the coral pillows on the couch. Complementary colors work well for breaking up blobs of bright color without messing with consistency.
PRINTS
The antelope-printed rug resting on the floor is a trendy touch. Chapman had to keep the kids in mind, so she chose this synthetic rug. "It's great for kids because it doesn't show a lot. I wanted it to be a child-friendly—but pretty—room," she says.