Room We Love: Teenage Dream
Designer Beth Keim creates an eclectic teen haven with sophisticated style that even adults will covet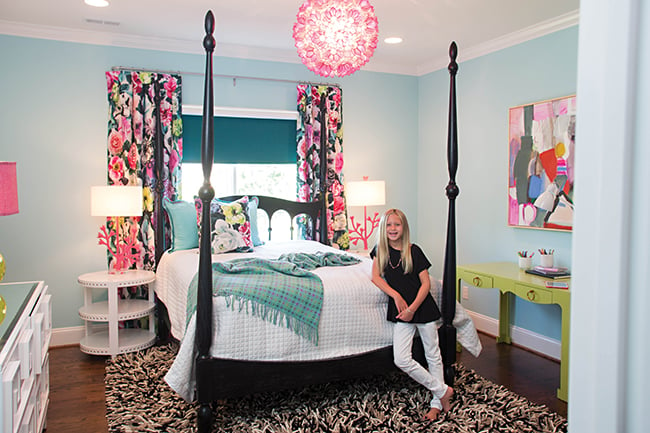 WINDOW TREATMENTS
To showcase the Osborne & Little fabric her teenage client loves, Beth Keim, owner of Lucy & Company, centered the bed in front of the window and let the curtains do the rest. For functionality, Keim added a custom roll shade that can be easily raised or lowered. Better yet, this approach is budget-friendly. "It's a great way to justify going with a more expensive fabric, because you're only going to need two panels in a single width of fabric, whereas fully functional curtains require a lot more width."
LIGHTING
In Keim's design, light fixtures are more than just afterthoughts—they're the key to achieving maximum drama. She banished a bland ceiling fan in favor of a Capiz shell fixture, then added matching botanical-inspired lamps atop the bedside tables.
ACCENT COLOR
When there's a dominant, multicolored fabric at the forefront of your design, selecting the right mix of accent colors is critical. To avoid oversaturation of any one hue, Keim pulled from all colors in moderation. Her client was specifically drawn to the shades of blue in the print—which Keim pulled into the wall color, window shade, and other accessories—and the pop of hot pink, which Keim reflected in the light fixtures.
COLOR TONE
The key to creating an eclectic look is to create continuity through color tone. In this space, Keim has selected furnishings that all have a high-shine, lacquered finish, which keeps them looking cohesive even as their details differ. "You can mix metals, shapes, colors, and have them all work together," says Keim. The green desk, Greek-key adorned dresser, and mismatched side tables (one round with silver nailheads, the other rectangular with gold pulls) she selected for this space are harmonious without approaching the dreaded "matchy-matchy" territory.
BLACK AND WHITE
Designing a room a teen will love two years from now is not easy. So Keim added elements that ground the design and keep it from looking too young. Strip away the bold fabric and bright accessories and you're left with basics: black and white. "The black four-poster bed, black-and-white desk chair [from Slate Interiors], and the black-and-white high-pile shag rug in this room balance out the crazy pinks and greens and blues and make the whole effect more grown-up," says Keim.