Room We Love: Transitional With A Twist
Interior designer Amy Vermillion transforms a formal living room with unexpected texture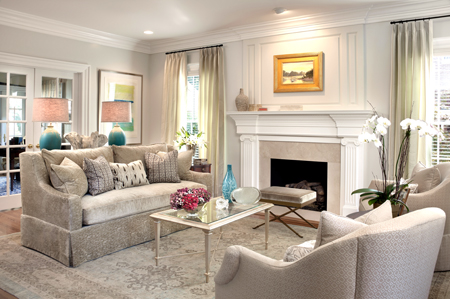 COLOR Hints of blue are visible from almost every angle of this otherwise light and neutral room, but look closely and you'll notice that no two hues match exactly. "It's actually all different shades of blue, from the lamps to the rug to the art," says designer Amy Vermillion, who took her color cues from the way a body of water looks different depending on its depth or the time of day. Playing with shades keeps your accent color from being too predictable.
FAVORITES It's rare to start with a blank slate when updating a room. "There are always items that have to stay—things that just fit too well in the room to get rid of or things that have special meaning," says Vermillion. Balancing these beloved older pieces with new, contemporary ones is what makes a room feel custom-designed. Vermillion accessorized the room with existing antiques, such as a pair of pearlized opera glasses and books from a prized family collection, and added a few casual items, including a petrified wood bowl placed on the console table behind the love seat.
ART Art can be the perfect bridge between two design worlds. "The oil painting over the mantel was a more classically traditional piece the clients already owned," says Vermillion. "I added a pair of bold abstract pieces [from B.D. Jeffries] on either side of the French doors." Don't feel limited by a particular style of art. Instead look for common themes, like the serene lake scene in the oil painting, which is mirrored in the aquatic-inspired colors and watercolor effect in the abstract pieces.
RUG In the case of this formal living room in Foxcroft, the rug was among the first pieces acquired. "The rug set the tone for the updated, more transitional look the client was looking to achieve," says Vermillion. "It was tradtional enough to fit in with the rest of their home without being dark or heavy, and the touch of blue became the inspiration for our accent color."
TEXTILES "The mixing of textures and woven materials is really where interior design comes from for me," says Vermillion. "That's my favorite part of any room." In this space, Vermillion sought out neutral fabrics with a noticeable sheen like silk velvet for the small ottoman cushion and flowing silk for the draperies. She upholstered the custom loveseat in linen velvet, which has a subtle pattern reminiscent of rippling, sun-dappled water. Then she layered on richly detailed pillows in cut velvet and embroidered linen.
USAGE When she first sat down with her clients to consult on their formal living room, Vermillion learned that the homeowners almost never see the room during daylight hours. Busy work schedules and the clients' love for nighttime entertaining meant that this room's time to shine was after dark. So Vermillion took special care to look for finishes, fabrics, and found objects that would look elegant by day and shimmer brilliantly by night. One look at the glimmering patina of the coffee table and the mercurial shine of the custom mirror and you can tell this is a room that was made to be enjoyed by guests sipping wine by candlelight.