Rooted in Purpose: Chef Sam Diminich's Restaurant Constance
He keeps his friends close and his farmers closer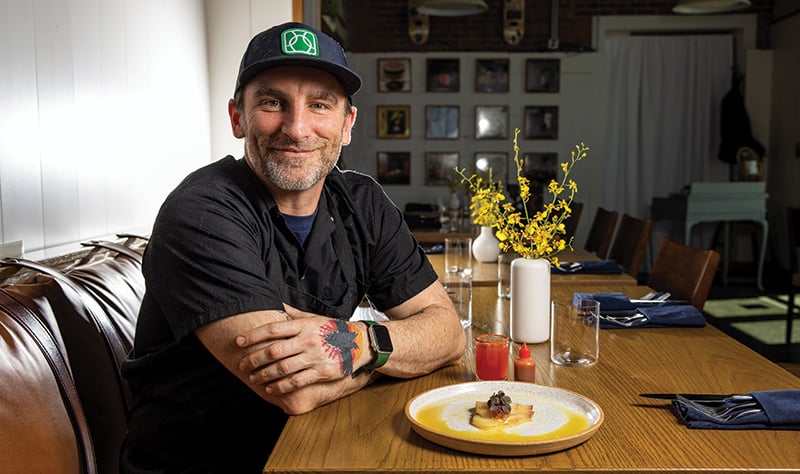 Sam Diminich named his new restaurant after his 19-year-old daughter, Constance, which means "steadfast." It's an apt name for a culinary endeavor almost a year in the making.
This isn't a restaurant that bought a head of broccoli at the farmers market a year ago and calls itself a "locally sourced" establishment. Diminich built his entire menu around food grown by local farmers who care about the seeds they select and the soil they grow them in, the grass they feed their cows, and the water that sustains their oysters. All of this takes time, patience, and creativity.
Restaurant Constance opened in late January in the former Counter- location inside The City Kitch, next to the space that houses Constance @ Home, formerly Your Farms Your Table, a meal delivery service Diminich launched during the pandemic, which uses food from local farms and suppliers. The dining room has seating for 38, a chef's table with a view of the open kitchen, and a projector that shows videos of featured farmers and suppliers. On the walls are framed pictures, records, and memorabilia that represent Diminich's 30-year career.
The drink menu includes wine by the glass or bottle, imported and local beer, and an expansive list of nonalcoholic options. Diminich, who battled addiction for three decades and got sober in 2014, didn't want these drinks to just mimic spirit-free bourbon or NA lager. He makes them with fruits and vegetables he purées and freezes in late summer to create profiles as complex as the wines they pour.
Highlights include For The Crown ($12.50) with cranberry, apple, mint, and ginger beer; Dear Rosemary ($12.50) with strawberry, kombucha, and rosemary ice; and The Rocker ($6), a peach coconut milk.
The food menu changes based on what's in season, but you can always count on raw bar selections, colorful salads, and a range of meat and seafood entrées. Here's what was available in early March:
Oysters on the Half Shell (market price), served with lemon, mignonette, hot sauce, and crackers, is the correct move if you came for the raw bar. If you typically wrinkle your nose at raw fish, try the Hamachi Sashimi ($18.50). This sushi-grade yellowtail fires up all of your taste receptors, then melts in your mouth like butter.
The Cashew Hummus Bowl ($15.50) comes with wedges of toasty naan—beware, it's easy to fill up on this rich, velvety spread. The Jalapeño Cornbread Waffles ($14.50) with a white cheddar and pepper jelly spread have a hint of spice but not enough to kick you in the mouth.
The Kale Salad ($14.50) reminds you how real, unprocessed food is supposed to taste, with floral notes from the pear and a mix of textures from the sweet potato and candied pecans. The Short Ribs ($35.50) are so tender you could eat them with a spoon, and the Saroya Potato Gnocchi ($29) with mushroom Bolognese is so hearty, you won't miss the meat.
The dessert selections change seasonally as well. Look for treats like Miso Caramel Salted Chocolate Tarts, House Made Gelato, and seasonally influenced desserts that align with the dinner menu.
You won't find anything at Restaurant Constance that's doused in sauce, overloaded with sugar, or deep-fried beyond recognition. When ingredients are this fresh, you don't need to "elevate" your menu; the contrasting textures and colors on the plate are enough to make your dishes sing.
Diminich often emerges from the kitchen to say hello to his guests, drizzle shiitake jus over their steak, or tell a story about a farmer on the projector. This was always his plan: to start a conversation about what we eat, who provides it, and how he serves it. This is what steadfast dedication looks like—and what farm-to-table is supposed to be.
---
2200 Thrift Road
Hours:
5-10 p.m. Tuesday-Saturday
KNOW BEFORE YOU GO:
The dining room seats just 38, and tables book up fast, so don't come without a reservation.
TAYLOR BOWLER is the lifestyle editor.