Rosalía Torres-Weiner's Paintbrush Amplifies Latinx Voices
"My people, they say, 'Thank you for telling our stories, Rosalía'"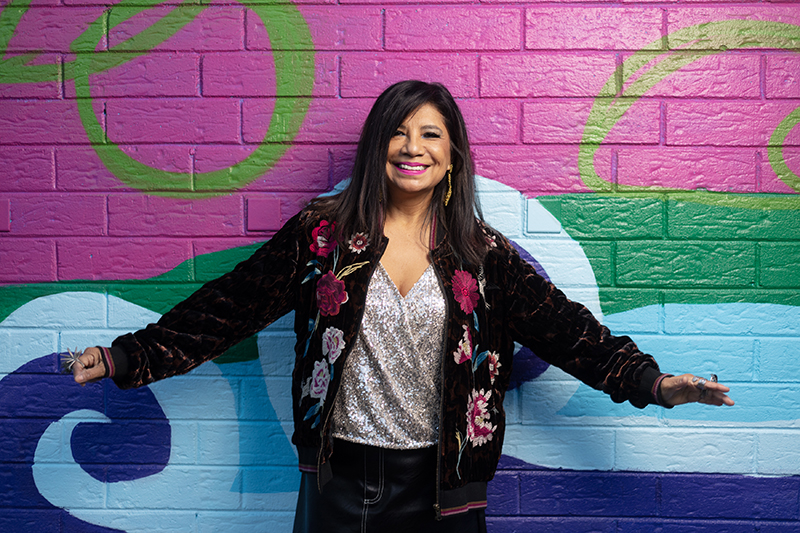 Rosalía Torres-Weiner grew up with an abusive, alcoholic father. "¡Escóndete! ¡Escóndete!" her mother would call out to Torres-Weiner and her three siblings when she saw their father drunkenly approach their home. The kids would huddle under the kitchen table, hidden by a floor-length tablecloth. On her way, Torres-Weiner would grab paper, a pencil, and a matchbox she'd turned into a pretend camera. She'd distract her brother and sisters by taking a "photo" of them, which she'd "develop" by drawing a quick caricature.
Those are Torres-Weiner's earliest memories of creating art. "Art saved me when I was a little kid," she says. "My creativity has been with me since."
Today, the self-taught artist's work can be seen all over Charlotte. Her murals—filled with vibrant colors, symbols, and iconography from her native Mexico—seem to pop up everywhere: at the Central Avenue entrance to Eastway Crossing Shopping Center; in Camp North End; at Roof Above's new Rise apartment complex off Clanton Road.
Torres-Weiner is also known for her "artivism," or activism through art. She uses paint, mixed media, and Adobe software to depict the achievements, struggles, and fears of Latinx immigrants—like being ripped from their families through deportation or being unable to become legal U.S. citizens despite growing up here. Torres-Weiner's art has been featured in museums all over the South. Two of her paintings are part of the Smithsonian Institute's private collection.
"My people, they say, 'Thank you for telling our stories, Rosalía,'" Torres-Weiner says. "And non-Hispanic people say to me, 'I didn't know that this is happening in Charlotte. Thank you for letting us know.'"
***
Torres-Weiner immigrated to California from Mexico City in 1985. "I came to the U.S. with 100 pesos and a lot of dreams," she tells me on an unseasonably warm day in December. We're sitting on colorful floral furniture in the back of her 24-foot art truck, which she converted into a mobile gallery and studio in 2017. She uses it to transport art into Latinx communities. On this day, it's parked in the lot of Mint Museum Randolph, where her work is on display as part of the museum's Interventions series.
She tells me she met her husband, Ben, in Los Angeles while working her way up in the hotel industry. In 1996, the couple relocated to Charlotte for Ben's job. Torres-Weiner took a job with US Airways as a flight attendant. But after 9/11, she quit to start her first professional art venture: a mural-painting business called Home Art Designs. She painted race cars, Panthers players, and scenes of Tuscany in ritzy homes around Charlotte. "I was painting for a lot of NASCAR drivers, for a lot of wealthy people here in Charlotte," she says. "I was providing jobs to other artists. We were busy … making good money. But then the economy collapsed.
"At the same time, I saw our Latino community going through deportations, family separations, kids being left behind." Between 2001 and 2008, the Bush administration increased funding for border security and immigration from $4.8 billion to $12.3 billion. In 2008, ICE detained 378,582 people—22% more than in 2007. Sixty-one percent of those detained were from Torres-Weiner's native Mexico. "This is when I said, 'I need to do something with my art,'" she says.
She started her first "artivism" series, The Papalote Project, that year. Working with local children whose parents had been deported, she helped them make kites from their drawings and clothing their loved ones had left behind. More important, she gave them someone to talk to and trust.
***
Today, Torres-Weiner still paints public murals and teaches workshops to pay the bills. But her activism remains her priority and passion.
"I want to go and do more outreach to other communities, out of Charlotte and North Carolina, because I've seen how my people, they look for me. By doing what I do, I empower our Latino community," she says. "Twenty-six years ago, people were telling me to leave Charlotte, that my art was too colorful, too much. But now, people are looking for my art."
Tess Allen is the associate editor.