Round One at the PGA Championship
Scenes from the first day of play at Quail Hollow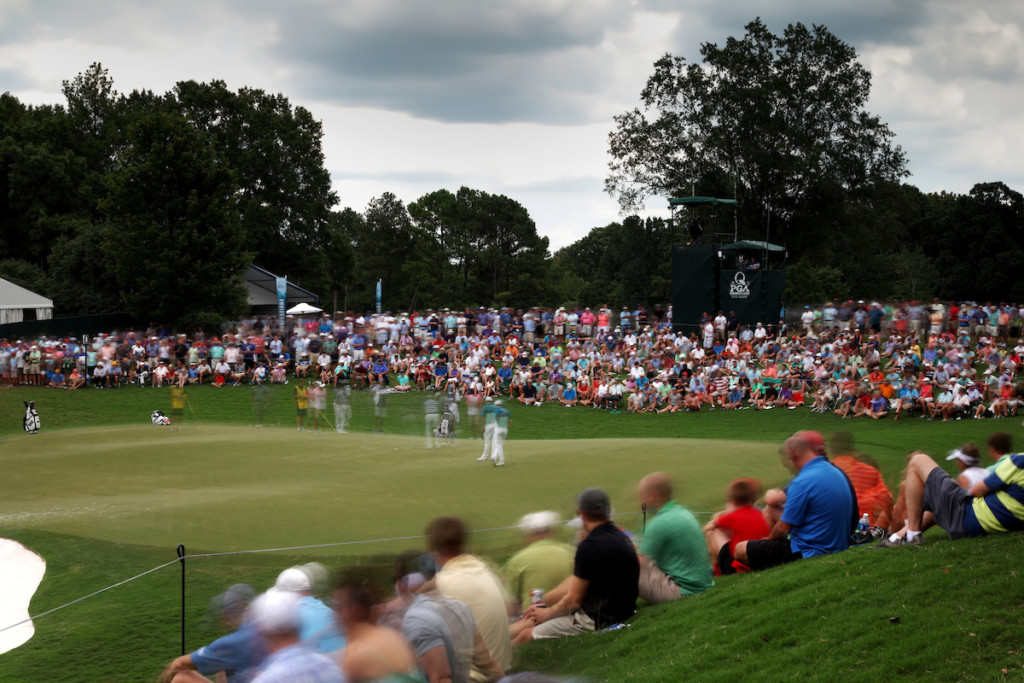 THE SUN CAME OUT and a colorfully dressed crowd packed Quail Hollow Club Thursday for the first round of the PGA Championship. They sipped beer and wiped sweat from their foreheads. Many of the world's best golfers struggled on the Green Mile—the course's notoriously tricky final three holes—and the field is still wide open heading into the second day of play. Photographer Travis Dove captured some of Thursday's action, from chips and putts to course maintenance at twilight.
---
Phil Mickelson, playing in his 100th major, chips onto the 8th green during the first round on Thursday. Mickelson went on to bogey the hole and finished the day with an 8-over-par 79. The course, which earlier this week was soggy from days of rain, dried out Thursday, leading to ultrafast greens.
---
Rory McIlroy, one of the favorites at Quail Hollow, watches a ball sail over his head on the 8th fairway. He finished the first round with a 1-over-par 72.
---
Play was still underway in the early evening as dozens of grounds crew workers and volunteers gathered for dinner—brisket tacos, rice, and beans—at the maintenance compound near No. 9. The team waited for the all-clear before they set out with tools to prepare the course for Friday's second round.
---
Members of the Quail Hollow grounds crew untangle a hose as they prepare to spray the 10th green. "Woes of tournament golf," one worker joked. "Got a hose that's never been unwound."
---
Quail Hollow Club's grounds and greens crew isn't big enough to handle all the demands of a major tournament, so superintendents from other Charlotte-area golf clubs and other volunteers agreed to help out for the week. Here, workers spray the 10th green to prepare it for the second round.
---
A lone fan watches along the 18th fairway as the final group of the day heads toward the green.
---
As night falls on Quail Hollow Club, the grounds crew works to prepare the 18th green for Friday's play.