Roundup: Charlotte's 'Absentee Landlords'
Plus: a blown save for City Council; healthcare bullet dodged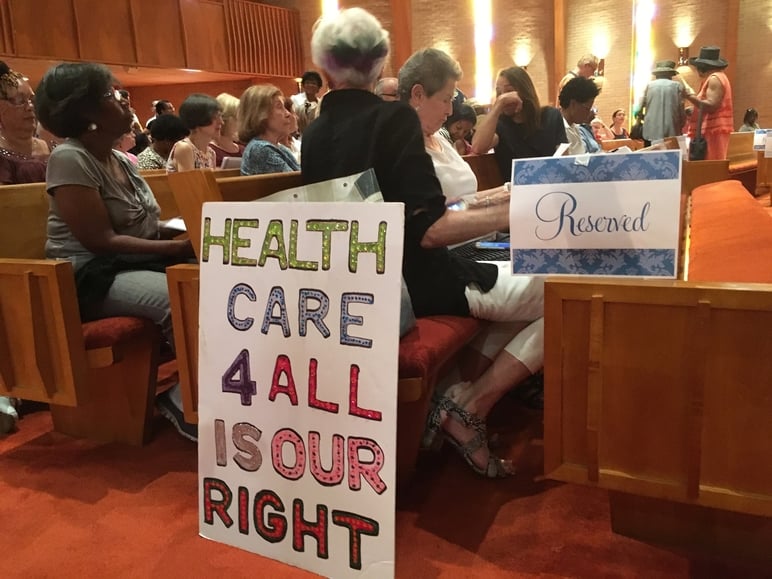 A lassoing of assorted matters:
A woman named Leslie Dwyer took her place behind a microphone Monday to, on the surface, address the City Council about that soccer stadium issue that refuses to die.
What Dwyer really wanted to talk about was far bigger and more emotional. She wanted to tell a story about a city she grew to love 20 years ago, and about watching it gradually turn into something she didn't recognize.
Dwyer, 49, is a financial analyst who moved from her native Indiana to Charlotte in 1997 to work for what was then NationsBank (and which would soon merge with another financial giant to create Bank of America). Here was her central point: Back then, business leaders enhanced public money with private investment to serve the public good. The proposed soccer stadium deal, she believes, represents the reverse—private money strong-arming public entities into using taxpayer money to serve a narrow private interest.
It's the way of the powerful all over the country, especially when it comes to financing of sports stadiums. Dwyer used to think Charlotte was, at least in some ways, different. She's been rethinking that lately. It eats at her.
"Oh, my heart hurts. I feel dumped. I feel jilted," she told me this week. "I am so sad. I want to go, and I'm really struggling with that."
Charlotte and Mecklenburg County haven't yet decided whether to devote $30 million each—or any other amount—to Marcus Smith's bid to build a Major League Soccer venue at the Memorial Stadium site. But Dwyer said she has a sick feeling at the pit of her stomach that taxpayers will end up handing over some combination of millions for a stadium that would mainly benefit one of the region's richest families. If that happens, she said, Charlotte to her will become "just geography. Congratulations, we're just like anywhere else. We're done."
BofA's Hugh McColl, First Union's Ed Crutchfield, and the rest of The Group—the semi-legendary crew of civic-minded business giants who once effectively ran the city—needn't be canonized. But there's value in business leaders who care about the communities they do business in, who hold priorities more dear than pleasing the shareholders at the next quarterly meeting.
"We've gotten to this place where we gave up something that was working," Dwyer told me. "I fell in love with Charlotte because it was the only city I'd lived in where the two biggest voices in the business community wanted to be here, so they wanted to make the city better. But it went deeper than that—they also knew that the people they were going to be responsible for employing needed these basic things. Now they've retired and given the keys to absentee landlords."
Soccer worked its way into another City Council matter this week, one for which council members have taken some deserved heat—their rejection of an idea from Republican council member Ed Driggs that, on its face, makes a lot of sense. At issue was $18.5 million to pay for a structure to link Bojangles' Coliseum and Ovens Auditorium, an upgrade to east side infrastructure funded through the city's capital improvement program.
Driggs suggested that the city pay for it instead with hospitality and tourism tax money; Bojangles' and Ovens are, after all, tourism-related venues. That would free up money under the capital program for affordable housing and other needs the council identified as priorities after the Keith Scott protests in the fall. Driggs mentioned a political benefit as well, especially for an election year: At a time when citizens are turning a jaded eye toward the city considering public funding for a new soccer stadium, switching the funding source would demonstrate the council's commitment to its own stated goals.
The council declined by a 5-4 vote; the yes votes came from Republicans Driggs and Kenny Smith, a candidate for mayor, and Democrats LaWana Mayfield and Julie Eiselt. (The no votes all came from Democrats: Mayor Pro Tem and mayoral candidate Vi Lyles, Patsy Kinsey, James Mitchell, Greg Phipps, and Dimple Ajmera.) Then council members approved the original funding plan by a vote of 6-3.
Kinsey and Mitchell suggested during the meeting, and Lyles later said outright, that Driggs' motion was a matter of "political positioning." It probably was. Who cares? The idea had practical merit. It at least warranted further discussion, and answers from staff about how shifting the funding source might affect the project and the tourism tax fund. That was the substance of what council members ultimately voted down.
It was, in short, a blown opportunity. On Thursday, Mayor Jennifer Roberts—who could have vetoed the second council vote, though it would have delayed construction on the Bojangles'-Ovens link—made what amounts to a tacit admission that she knows it. Roberts ordered a discussion of more funding for affordable housing to be placed on the council's August 28 agenda.
I need to say something about healthcare: Thank God, thank God, thank God.
Passage of the bill that the U.S. Senate barely rejected Friday morning would have threatened the health insurance of more than half a million North Carolinians, especially devastated Charlotte, and screwed me right to the floor. That people even had to stay up way past midnight, frantically checking Twitter to learn whether they were headed toward a premature death or personal bankruptcy—not saying that's what I was doing at, oh, 1:15 a.m. on Friday—is a Third World obscenity. So I'm not in the mood to offer too many thanks to Collins, Murkowski, and McCain, as appreciated as their no votes are. A shred of human decency is worth acknowledging, not cheering.
There's something else to note here, and it hasn't been discussed anywhere near enough for me: the GOP's apparent ideological opposition to the foundational idea behind insurance, any kind of insurance. Through all the floated health-care bills, one plank was consistent—elimination of the individual mandate, the requirement under the Affordable Care Act that people buy health insurance or pay a fine. The principle guiding Republicans' opposition is the idea that the federal government shouldn't have the power to force people to buy a product. That choice should be left to the individual. Fine, as long as you live in the luxury tower of economic theory.
The problem—the thing that made the individual mandate necessary—is that without young, healthy people buying health insurance, thereby including themselves in the larger risk pool, the cost of care would be spread among higher-risk consumers. Those include older, sicker people with illnesses and conditions that drive up the cost of coverage.
Common sense tells you that young, healthy people without children wouldn't buy insurance until they needed it, too—the point at which an illness or injury would mean expensive medical treatment and insurance to cover it, assuming insurance companies would even be willing to sell to them. That would defeat the entire purpose of affordable health insurance. There would be no such thing without, on some level, healthy people helping pay the bills for sicker ones. That's what pooled risk—the basis of insurance itself—means. This is not that hard to understand. The American Medical Association does. So does Blue Cross Blue Shield, for heaven's sake.
But not the national Republican Party, which sees shared risk as tantamount to socialism and the ability to opt out of the insurance market as a precious cornerstone of liberty. "If you're not going to force people to buy something they don't want, then they won't buy it," House Speaker Paul Ryan has said. "So it's not that people are getting pushed off a plan. It's that people will choose not to buy something they don't like or want."
Or can afford. Or can see the need for until something catastrophic happens, and then they need it or they'll die. We're not talking about buying furniture, or even car insurance, a state-mandated socialistic scheme that somehow slipped by unnoticed. We're talking about people's lives. The GOP, time and again, keeps bashing its head against the stone wall of this reality, and reality's not budging.
Another slice of good news at the end of a long and troubling week: My friend and former colleague Tonya Jameson, who faced the barrel end of an off-duty cop's gun in Tennessee in May, took her case this week to Knoxville's citizen advisory board on police matters. The board declined to affirm the Knoxville chief's determination that the officer, Matthew Janish, had acted properly when he held Jameson at gunpoint while she switched out the license plate on an SUV she had just bought. Jameson is black. Janish is white.
Like most citizens' advisory boards, including Charlotte's, the Knoxville Police Advisory and Review Committee can only recommend actions to the department; in this case, those might include additional training and a note placed in Janish's personnel file. But it's exceedingly rare for a citizens' board not to endorse a chief's ruling in any police use-of-force case that's drawn a complaint. (Since its establishment 20 years ago, Charlotte's board has reviewed 90 such cases and ruled in favor of Charlotte-Mecklenburg police every time.) It's an encouraging sign—and you have to wonder how the board might have ruled if Tonya, a former journalist with a strong social media presence, hadn't pushed her own case into the public eye.