Roundup: City Council Dodges the Cameras
Also: CMPD content marketing, a BCBS rate hike, more on urban-rural split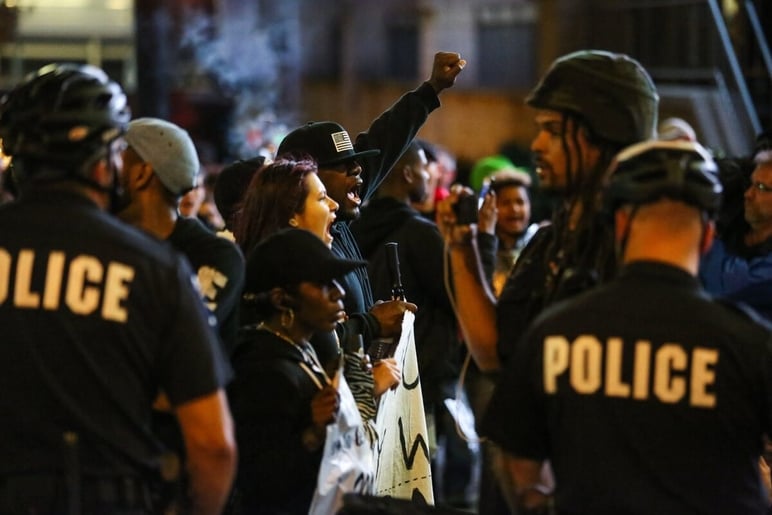 No law requires the Charlotte City Council to televise any part of its meetings. It's reasonable for its members and city administrators to want meetings to meet a certain basic level of orderliness.
Those things said, the council's recent decision not to televise citizens' forums for fear that they're encouraging speakers to grandstand for the cameras seems like an overreaction, and the wrong message to send to a populace already worried that the city is keeping too much to itself.
Three times in the last eight months—after the Keith Scott shooting in September, federal immigration raids in February, and battle over parking in front of an abortion clinic in March—the forums have devolved into one-way shouting matches, with speaker after speaker howling insults and curses at the mayor and council. They were ugly scenes that at times threatened to erupt into violence.
"There's a time and a place. I'll talk to anybody, anywhere, on any issue. But it's got to be civil discourse and it can't involve yelling and cussing," Republican council member and mayoral candidate Kenny Smith said after the immigrants' protest. Smith is chairman of the council's governance and accountability committee, which recommended the change last month. "If you give in to every group who comes down and yells at you, you're setting a precedent. I don't think it's good for the rest of the citizens."
Yet if unruly forums are the problem, you have to wonder how much good simply not televising them will do; there's always the option of doing away with the forums altogether, but imagine the public backlash to that. Smith makes a good point when he argues that one-on-one or small-group discussions with citizens are usually more productive. But that fact shouldn't exclude citizens from the opportunity to openly address the full council and have their comments made public in the same way as any other piece of council business. (It's also, let's be honest, a little rich for any elected official to complain about citizens playing to the cameras after nearly four decades of C-SPAN.)
The mayor and 11 council members chose to run for office to represent the public. Having to endure a televised "f*ck you" on occasion is, unfortunately, a line item on the piper's invoice these days. If you want to listen to the voice of the people, you can't always expect it to say "please" and "thank you."
The televised-forums issue also touches something every organization worries about: message control. Here's where media, shaken after Greg Gianforte's assault of Ben Jacobs last week in Montana, have something extra to worry about. Public and private agencies that used to depend on them as conduits for information no longer do.
As with the City Council's decision not to televise the citizens' forum, there's nothing wrong with the Charlotte-Mecklenburg Police Department's new effort to tell stories about the men and women in uniform through a blog on Medium. (It's produced by Melissa Manware Treadaway, a former colleague of mine at the Observer who spent years covering crime as a beat before she began working for the department.) Private entities have embraced the so-called "brand journalism" approach to content marketing for years, and I'm honestly surprised more public agencies haven't done the same thing.
And yet. "Would you trust a blog written by the Charlotte-Mecklenburg Police Department … about the Charlotte-Mecklenburg Police Department?," asks Qcitymetro, run by another Observer veteran, Glenn Burkins. Maybe, maybe not. The question is almost beside the point. There's no attempt to hide the fact that "Behind the Badge" is a production of CMPD, so any reader will understand that from the outset. Whether you "trust" it is up to you. And if anyone's already inclined to reflexively believe or disbelieve information from the department, a few blog posts about officers' community engagement probably won't change their minds.
The urban-rural divide, the subject of this magazine's most recent #discussCLT event, garnered a more data-driven treatment in the Wall Street Journal last week. Everyone knows the broad strokes by now—the economic and cultural split between prosperous cities and decaying rural communities, and how that affected the 2016 Presidential election—but the Journal takes a hard look at the numbers and reaches an equally hard conclusion:
Starting in the 1980s, the nation's basket cases were its urban areas—where a toxic stew of crime, drugs and suburban flight conspired to make large cities the slowest-growing and most troubled places.
Today, however, a Wall Street Journal analysis shows that by many key measures of socioeconomic well-being, those charts have flipped. In terms of poverty, college attainment, teenage births, divorce, death rates from heart disease and cancer, reliance on federal disability insurance and male labor-force participation, rural counties now rank the worst among the four major U.S. population groupings (the others are big cities, suburbs and medium or small metro areas).
In fact, the total rural population—accounting for births, deaths and migration—has declined for five straight years.
In the months since the election, we've seen various studies, articles, and think pieces try to suss out whether Trump's election was the product of racial animus or economic anxiety, as if it was an either-or proposition. It's actually a both-and. Economic prosperity doesn't make a bigot a non-bigot. But it can pour oil on the perception that, say, brown immigrants of another religion are stealing your birthright.
The president and CEO of Blue Cross Blue Shield of North Carolina told The Washington Post last week that the company expects to raise health insurance premiums by 23 percent next year because it's unclear whether the Trump Administration will ask for, and Congress will approve, subsidies for poor people who buy insurance from individual markets.
"The failure of the administration and the House to bring certainty and clarity by funding CSRs (cost-sharing reductions, or subsidies) has caused our company to file a 22.9 percent premium increase, rather than one that is materially lower," Brad Wilson said. "That will impact hundreds of thousands of North Carolinians." Half a million, according to the company. I'm one of them. And let us not forget that North Carolina's refusal to expand Medicaid under the Affordable Care Act forced all carriers but BCBS out of the markets.
As a failure of public policy, it doesn't get clearer or more dire than this. Republicans in North Carolina refused to work within the parameters of Obamacare, guaranteeing the marketplaces' eventual failure, which members of the General Assembly and Congress have been quick to celebrate but which will cause direct and immediate harm to hundreds of thousands of people in the state.
In a functioning approximation of democracy, this is not supposed to happen. It is not supposed to even be possible. It also should not be possible to pass a law that flagrantly rigs election results on racial grounds, have the law declared unconstitutional by the nation's highest court, and promise to take it back into the shop, make a few tweaks, and try again without fear of consequence. But here we are. If effectively blocking access to medical care isn't enough to make people rethink their allegiances, what is?