Running Away to Home
I came to Charlotte to outrun my old life, but it caught up with me. And I'm so glad it did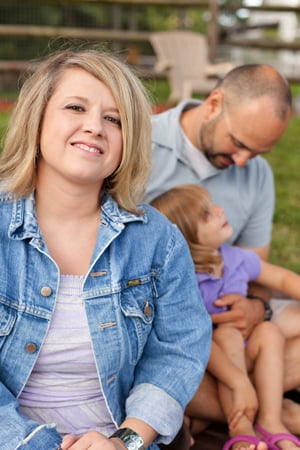 There was not a speck of Carolina blue in the sky the day Charlotte truly became my home, eight years and one month after moving here from West Virginia. It was not the type of weather that drives people south. No, June 17, 2009, was dreary, muggy, and overcast.
It was the day my daughter, Conley, was born. She was born at CMC-Pineville, three weeks early, and by C-section because, in a trait that she comes by naturally, she stubbornly refused to abandon her breech position.
That day, my husband, Tony, and I met at my gynecologist's office for what had become weekly pregnancy check-ups. My blood pressure suddenly spiked and my doctor sent me to the hospital.
CMC-Pineville is less than ten minutes from my doctor's office, and it is off the same exit as our house. I was calm. However, my husband was in a complete lather. His nervous energy and protective manner were charming and endearing, but I was very thankful that we had driven separately and I had a few minutes alone in the car. As I pulled into the maternity parking area, despite the noise from the hospital expansion construction, an almost palpable feeling of home washed over me.
I arrived in Charlotte in May 2001—as a runaway. I had run away from West Virginia and the shame that had been the foundation of my life there. I wanted to go where no one knew my story. I wanted to blend in.
With an impossible-to-pronounce maiden name, Yokosuk, coupled with a first name that requires constant explanation in my distinctive Appalachian accent—"Oh, it's not Sasha, it's Sosha, like 'so what'"—it was difficult to be like everyone else. When your name alone prompts intrigue, blending in is not exactly easy.
Who I was is as complicated and as difficult as my maiden name, which was also my mother's maiden name. My mother, Starr, was a beautiful, blond teenager when she became pregnant with me. My biological father, Steve, was a cocky, long-haired juvenile delinquent.
In an attempt to provide a better life for me, Starr claimed that I belonged to her "cover" boyfriend, a young man from a respectable family. They were married shortly after I was born.
She would divorce him within three years, marry and divorce a Hell's Angel the following year, and finally, she and Steve married at the courthouse when I was seven. Upon learning of the nuptials, my grandfather yelled, "I should have had him shot like a mangy dog years ago."
My grandfather, Mike "Skomie" Yokosuk, owned a small, dingy bar on the main street of the once-bustling coal town of Welch, West Virginia. The bar was a front for his real business: He was a bookie. My grandmother, Wanda Conley Yokosuk, was one of thirteen children born to a hard-drinking Irish immigrant and a loving, nurturing farm girl. She was strikingly beautiful and very fashion-forward. I thought that she lived on coffee, toast, and Lucky Strikes.
The bar's windows were always covered in a thick layer of dirt. I once asked, "Granddad, why are the windows always so dirty? I can't see outside."
My grandfather replied, "Sosha, what happens in our bar is not for everyone to know."
Between marriages my mom and I always lived with my grandparents. The dirty-window rule carried over to our home life, too.
Our kitchen table often contained large brown paper bags full of cash, payment from my granddad's clients. The bags of cash were never to be talked about outside of our apartment. I aspired to please everyone, followed the rules, and I kept my mouth shut.
For the most part, Steve and Starr did not hold normal jobs. They collected welfare and scammed doctors out of prescription painkillers. They often took me with them on their "doc runs." My mouth stayed firmly shut during the many hours I spent flipping through tattered Highlights magazines and sitting in the uncomfortable chairs of doctors' waiting rooms.
Once they filled the "scripts," they would crush and snort a few of the pills, pocket a few more for later, and then we were off on the "money run." My teachers never knew that I often completed my homework in the backseat of our beat-up Chevy Nova, waiting on them as they hustled pills in desolate hollows and the HUD-funded apartment complexes that dotted southern West Virginia.
Over seven years my parents' addiction to prescription pills escalated until the day DEA agents busted into my grandmother's apartment, a quarter of a mile from my high school, with their guns drawn. They arrested my mother as she held my two-year-old brother, Zack, who was clothed only in a diaper, on her hip. My sister, Angie, just home from kindergarten, screamed and sobbed as she watched agents handcuff our mother and speed away with her in an unmarked patrol car.
Both of my parents were sent to federal prison for buying large quantities of the powerful painkiller Dilaudid, "drugstore heroin," from a confidential informant. To buy the drugs, they used money from a settlement that Steve received after his right hand was mangled and rendered useless when he was a deckhand on a commercial fishing boat—a rare attempt at a legitimate job.
After the arrests, the federal government seized the rest of the money, more than $500,000. My grandmother adopted my sister, brother, and me. Our grandfather had died a couple of years earlier.
Gran became involved in a strict, fringe religion, and she insisted that we adhere to stringent rules, some of which included not celebrating holidays, attending services three times a week, and knocking on stranger's doors on Saturday mornings to share God's word. Rather than going to college, we were encouraged to dedicate our lives after high school to spreading the message of God.
Not only were my parents in prison, ours was the only house in the neighborhood without Christmas decorations. It was as if my family couldn't find enough ways to stand out—in the worst possible ways. I have tremendous respect for Gran and her beliefs, but they weren't for me. I just wanted to be normal.
So I embarked on the most wholesome rebellion in the history of rebellions. I got an after-school job at a pizza place to keep from going to the services and studied hard. I got a scholarship to West Virginia University. Gran would have preferred that I not go, but she did not stop me.
During my freshman year at WVU, I met Tony, well, actually I met Tony again. We had been friends in elementary school. In college, we fell in love and dated. After graduating and working some entry-level jobs around Morgantown, we decided to move. We wanted more opportunities and less snow.
We wanted an up-and-coming city with plenty of job opportunities and southern manners. We had visited Charlotte a couple of times during college, and we both liked it. We did little research on the city. We just went with our guts.
We signed a lease for an apartment off of Park Road, packed up our townhouse, and moved 400 miles south. We had a whopping $3,000 in savings and no jobs. We were too young and too stupid to know any better. Fortunately, our instincts paid off.
We found jobs that we loved, and we took advantage of all that our bustling, vibrant new city had to offer. We held hands as we walked around Freedom Park; we ordered chicken and tater tots from Price's Chicken Coop; we went to bars, concerts, and Checkers' games. We picked our favorite NASCAR drivers. We cheered for the Panthers.
We loved Charlotte, but it was as if we were on an extended vacation. We appreciated our surroundings and enjoyed all of the fun activities, but we didn't have the connections for it to feel like home. For years, when asked where we were from, we said West Virginia. I still didn't belong anywhere.
My first job in Charlotte was for a major wire distribution company. My shift started at 6:30 a.m. That is a lonely part of the day.
I don't like silence. As soon as I got to work, I always turned on the ancient office radio. I found The Bob & Sheri Show on 107.9 FM The Link. I developed an instant girl-crush on Sheri and her lightning wit. Her humor was tinted with sarcasm, but it never crossed over to being mean.
I realized that Sheri, through sharing her story, was also telling my story. She was once poor white trash; her father was a felonious drug addict. She told of DEA raids, of living with her grandmother. Sheri not only told her story, she owned her story. She did not live in fear, silence, or shame.
My fear that revealing my past would cause my new Charlotte friends to think less of me made me completely unauthentic. I lied—a lot.
I didn't want them to know that my parents were pill heads or that they had been sent to prison. Even after I had run away, Starr tracked me down at work and begged me for money, claiming it was to pay the electric bill. It was for drugs—always drugs. It was my secret to keep that after I refused to send her the money, she put my little brother on the phone to tell me through his sobs that if I didn't send the money she would pawn his bike. No one knew that I skipped lunch outings to wire money to her so that my brother could keep his bike.
When I was growing up, my mom's constant refrain was, "Sosh, I love you, but you're not wired right." She said this because I was a quirky nerd that was most comfortable with a book. Still am. My parents moved from house to house, dined on fast food, listened to country music, and told off-color jokes. I am a homebody that makes a mean BBQ meatloaf, loves hip-hop, and has a dry sense of humor.
I had always been as responsible as my parents had been irresponsible. I had cared for others all of my life and claimed that I never wanted kids. After six years as an editor, I left the newsroom for an exciting job as an event planner for a commercial real estate firm. I did not need a baby complicating my new life filled with fun travel, huge parties, and getting paid to drink expensive wine.
Of course, this is the exact time that I was stricken with an almost-primal desire to have a baby. I developed a plan: I would get pregnant right away, have a beautiful radiant pregnancy, deliver a wonderful tiny person, and go back to my fabulous job. I followed through on one of those: I delivered a wonderful tiny person. When I felt her special brand of magic for the first time, I could feel myself letting go of the fears that ruled my life.
As a stream of friends flowed into my hospital room and surrounded my little family with love and support, I finally knew that I belonged. Charlotte was Conley's birthplace. I had my connection.
Then, in a move that shocked everyone—me included—I quit my jet-setting job to stay home with my daughter. This decision healed me in unimaginable ways.
I was totally enamored with my daughter. She taught me patience and kindness. I relished the quiet times that we spent together each day. I wasn't scared of silence when I was with her. During these quiet times my thoughts often turned to my mom. She died of an overdose before I had had the chance to tell her that she'd be a grandmother. We hadn't spoken in six months when she died. She was high the last time that I saw her.
Ten months after her death, I wrote her a letter. In it were all the wonderful things in my life that she missed out on: my house in Charlotte, my wonderful husband, my amazing daughter, me, and even her. With great trepidation I shared this letter on Facebook.
I got messages thanking me for being brave enough to share my story. These messages emboldened me and I thought about writing more. But I was still scared.
It took more than two years and the death of my little brother to spark another blog post. My mom and brother both died in November. I am not superstitious, but a black cloud seems to hang over the eleventh month. Rather than mope around, bracing myself for another devastating event, I decided to channel my negative energy into something positive.
I wrote a piece entitled "Thanks" and posted it on my long-neglected blog. It was my thank you note to the universe.
The support I received from that post gave me the courage to share my story—the gritty and the hilarious. I was overwhelmed when my blog gained the support of my first Charlotte "friend," Sheri Lynch. Her message that it's better to be an honest and authentic white-trash-made-good woman than some manufactured creation had always been an inspiration.
During my eleven years in Charlotte I have learned of true love, gained loyal friends, and endured devastating heartbreak. Just as Sheri did for me, I know that my purpose is to use my words to let all the others that are still hiding in silence know that they are not alone.
I am the white-trash kid of pill heads. I grew up in shame and hid behind silence. I am out of hiding, and I don't plan on being quiet ever again.