Running of the Bulls Bar Crawl, Bar Olympics, North Carolina Brewers Celebration, CLTure Music Fest and More, June 25 to June 28
The heat wave has been no joke, Queen City. With these hot weekend events, you certainly won't be cooling down.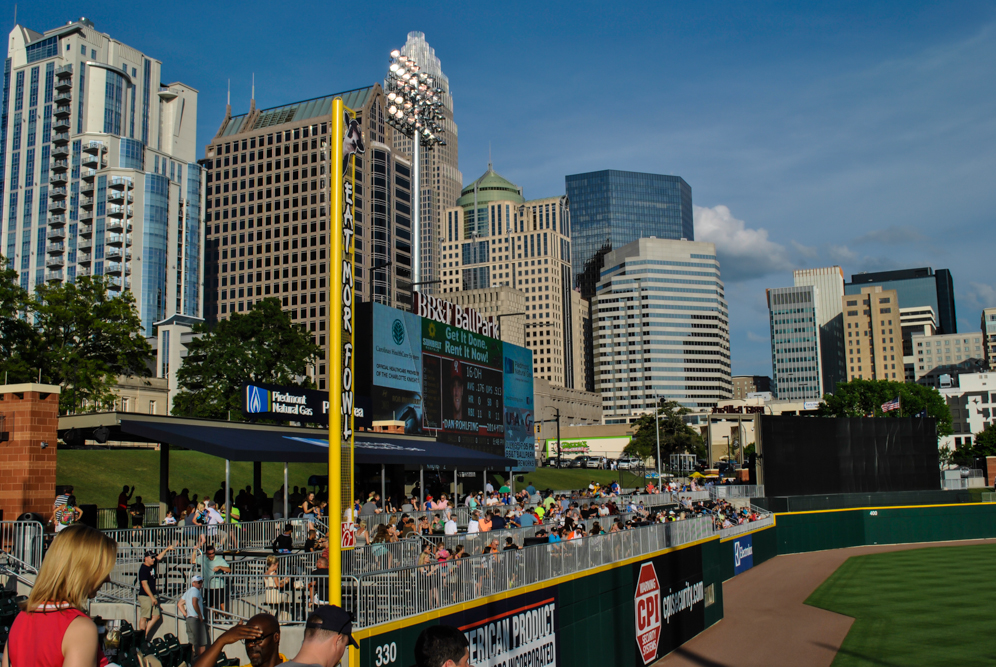 Has this Charlotte heat wave melted you yet? This mercury-rising stretch of weeks has been no joke, Queen City, and these weekend events are going to sure keep things hot. Looks like another great one, Charlotte. See y'all out there.
Thursday, June 25
Business After Hours
Join the Charlotte Chamber of Commerce for food, drinks and networking at the NASCAR Hall of Fame tonight. Along with all that, the event also features tours, racecar-driving simulators and pit crew challenge activities. The night begins at 5:30 p.m. at 400 E. Martin Luther King, Jr. Blvd. For more information and to register, visit here.
Friday, June 26
An Evening in Barcelona
Viva España tonight with a meal that has the flavor and fight that Barcelona has to offer. The night begins with a full meal of Catalonian cuisine, including garlic shrimp, gazpacho and mar y muntanya, a traditional mix of seafood and red meat. From there, Miami DJ JHONV, who has performed at many rooftop parties in Barcelona, will provide the music. Reception begins at 7:30 p.m. and the dinner begins at 8 p.m. Tickets to the evening in Barcelona are $45. Blue Restaurant is at 206 N. College St. Call 704-927-2583 for reservations.
Running of the Bulls Bar Crawl
So you made the smart choice and avoided the actual Running of the Bulls in Pamplona, right? Charlotte's got you covered with its first Running of the Bulls bar crawl where the first 200 crawlers get their choice of a free pair of bull horns or a red bandana to wear as you run from the bulls. (How fast you run really depends on how much you've had to drink.) A ticket to the bar crawl costs $5 and includes cover into the bars that evening. Registration is at Tilt on Trade at 7 p.m. Buy tickets here.
Bar Olympics
For the second year, Awesome Random Adventures is hoping to crown one team the Bar Champions of Charlotte. Winning the gold will mean you'll have to succeed in games like Flip Cup, Beer Pong and a whole lot more. Registration starts at 7 p.m. at The Local, 105 E. Fifth St. Tickets are $10 at the event.
Saturday, June 27
North Carolina Brewers Celebration
There are so many North Carolina breweries on tap today that this event had to be at a ballpark. Sample brews from some of the Tar Heel State's oldest, newest, smallest and largest breweries at this all-you-can-drink celebration. The tastings are from 1 p.m. until 5 p.m. at BB&T Ballpark, 324 S. Mint St. Tickets are $45. Buy them here.
13th Annual Maya Angelou Women Who Lead Luncheon
This elegant affair benefits the United Negro College Fund, and it's so fancy that it features a hat competition. Tickets are $175 for the luncheon, auction and mimosa bar. The afternoon begins at noon at the Westin, 601 S. College St. To buy tickets, visit here. Don't forget that hat.
Connolly Cup
Get ready for some premier Gaelic football, whatever that is! Apparently, Charlotte has the reigning national women's team! Go us! Teams will compete from as far away as Philadelphia to take the crown from Charlotte's ladies. The men's team will also compete against teams from across the Southeast. Following the tournament, Connolly's hosts the after party with the band 120 Minutes, a U2 cover/90's band. The tournament is at the Rugby Athletic Center, 3722 S. Tryon St., starting at 10 a.m.
CLTure Music Fest
The Chop Shop knows how to showcase local, independent talent, and today is no different. More than a dozen bands will take the stage today, and there will also be food trucks, local vendors, a mini arcade and raffles. A pass for the music fest that starts at 4 p.m. costs $20. The Chop Shop is at 399 E. 35th St. Buy your ticket here.
Alpha Phi Alpha Luau
Join the men of Alpha Phi Alpha as they raise money for its scholarship fund. This BYOB event features heavy appetizers, music and contests for the best dressed, best hula and limbo. The Hawaiian party begins at 7 p.m. at the American Legion, 4235 W. Tyvola Road. Tickets are $35 in advance or $40 at the door. Buy them here.
Second Annual ZERO K
On your mark, get set, go. OK, stop. That's the gist with this "ZERO K" event. The Charlotte Hounds lacrosse team, in partnership with the Woody & Wilcox show from 106.5 FM and NoDa Brewing Company, host this event that also features live music, raffles and a match against the Denver Outlaws. Tickets, which also include two drink tickets, are $30. The "running" starts and ends at 3 p.m. at the American Legion Memorial Stadium, 310 N. Kings Drive. Buy your tickets here.
Sunday, June 28
Roller Derby Bout
Come watch some of Charlotte's hardest-hitting ladies battle it out in the rink today. The Charlotte Roller Girls take to the rink at 4 p.m., but tailgating is open in the parking lot much before that. Tickets are $12 in advance for adults and $7 for children. The roller derby is at the Grady Cole Center, 310 N. Kings Drive. Buy your tickets here.
Verify dates, times, prices, and other info at the web addresses listed for each event.
Be sure to bookmark www.charlottemagazine.com/Blogs/Dusk-Till-Dawn to stay plugged into Charlotte's nightlife and social scene. Click here to sign up to receive the weekly Dusk Till Dawn e-newsletter.
Want your event featured in Dusk Till Dawn? Follow me on Twitter @Jared_misner and let me know about your event, or send me an email at dusktilldawnblog@gmail.com.