Rye Barcott Is a Doer
The author, former Marine, social entrepreneur, and adviser to Duke Energy CEO Jim Rogers thinks we can all do better. And he's living proof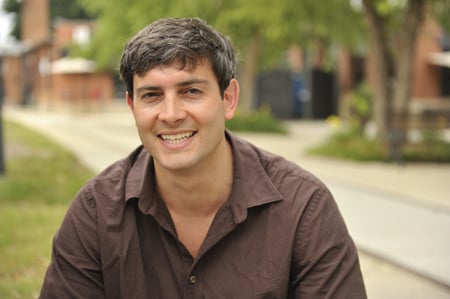 Tucked in the middle of one of Charlotte's oldest shopping centers, Park Road Books is not a large place. On this late spring Saturday afternoon, more than seventy-five people are crowded into the back of one of Charlotte's only remaining indie bookstores. Myers Park High School students lean on one row of bookshelves. A Marine and his two young sons stand across the way. Three generations of women from one family have managed to nab some of the few available seats.
They have all come to see a man with a charming smile and great head of hair—so good-looking he could be mistaken for a movie star. Rye Barcott, thirty-three, is celebrating the softcover launch of his book, It Happened on the Way to War. It is his account of the creation of Carolina for Kibera (CFK), the charity he cofounded as a twenty-one-year-old in one far-off land while serving as a Marine in another. A celebrated humanitarian (Bono and President Obama are fans), Barcott is now focusing his efforts on local youth. He wants them to believe that they really can change the world for the better.
"I thought I'd start off with a quick reading here," he says. "This is one of my favorite excerpts," he says, opening the book. Lowering his voice, he reads, "My lips worked in a quick sly smile and I slid into the booth …" His voice trails off, and he breaks into a laugh. "Oh wait, we have all ages here." He shows the crowd the book he's been reading from, the popular erotic novel Fifty Shades of Grey.
Barcott knows how to get people's attention. He works full time as an executive on the staff of Duke Energy CEO Jim Rogers, and he is still heavily involved in CFK's work. He helped found the organization eleven years ago. The original concept used sports to bring people together, establishing a soccer league made up of teams of kids from five ethnic groups in Kibera (a slum in Nairobi, Kenya) often involved in violent conflict with each other. That idea evolved into what Barcott calls "participatory development"—get resources to the people who need them and teach them how to improve their own lives. Already, the group has achieved impressive results. The Tabitha Medical Clinic serves 40,000 patients a year.
A group called Daughters United empowers young women to deal with issues such as pregnancy and childbirth and education. CFK has a Kenyan staff of sixty, a $700,000 annual operating budget, and close ties to the Bill and Melinda Gates Foundation and the Bill Clinton Global Initiative.
Barcott started the nonprofit after spending five weeks in Kibera during his junior year at UNC Chapel Hill. He was at school on an ROTC scholarship and assumed that after graduation he would be on a peacekeeping mission in a part of the world riddled with ethnic violence. Born in Rhode Island and the son of a sociologist, he wanted to get a first-hand preview of that type of infighting before he lived within it. A Chapel Hill adviser and anthropology teacher suggested Kibera.
He rented a ten-by-ten shack and quickly formed a bond with two locals, nurse Tabitha Festo and a young community activist, Salim Mohamed. Together, they came up with the idea for CFK. "The goal was really simple. We wanted to get the resources into the hands of the local leaders on the ground. We wanted to connect talent with opportunity."
With a promise to get CFK up and running, Barcott left to go back to school. Just before leaving he gave Festo, a thirty-four-year-old mother of three, a small donation. "I hadn't made a habit of giving out money, but she had this idea to sell vegetables to neighboring villages and she had a conviction in her voice." He gave her $26. She hoped to make enough money to start a small health care practice.
Barcott finished his senior year and, with a three-month leave from the Marines, returned to Kibera to get the nonprofit up and running. It was not something he'd even thought about when he first visited Kenya. "But while I was there … you just realize that by the luck of birth what many of us are blessed to have, and that shook me up at a time when I was still formulating my views on the world."
He was amazed to see what Festo had done with the money he'd given her. "She had converted this ten-by-ten into a twenty-four-hour medical clinic." It was September 2001 and Barcott planned to stay in constant contact with Festo and Mohamed as they worked to build CFK. But instead of the peacekeeping missions he assumed would define his Marine duties, Barcott ended up communicating with his Kibera partners while on the battlefield in places like Bosnia and Iraq. "It was difficult to mentally wrap my head around. I was simultaneously working to prevent violence in Kibera and be a constructive force while I was serving with the military, which can often be seen as a destructive force. What I realized is that some skills are easily transferable. At the end of the day they are both about service."
Barcott hopes the story of his service will spur others in the back of Park Road Books to want to make change. NC State has selected It Happened on the Way to War as summer reading for all incoming freshmen. Myers Park High students will also spend some of their time off learning Barcott's story. "Kibera is just a metaphor. This story is just a metaphor," he says. "My hope is that young people will take this story and apply it to the things they care about and make an impact and be doers."
Barcott recently launched a new initiative called Power of 26 (powerof26.org). The website asks readers to "take the challenge … to act differently and think differently." Subscribers sign up to get an email a day for twenty-six days with tasks meant to mimic life in Kibera. You're asked to go a day using only a bucket of water. Day six: turn off electricity. Day nineteen: go a day without putting anything in a trash can. At the end you get a virtual fist bump and—Barcott hopes—some inspiration. Ten thousand people across the country have signed up.
"He definitely inspired me," says Sona Kumar at the reading. A rising senior at Myers Park, Kumar says she'd heard about the book but hadn't been dying to read it. "I was skeptical. I didn't know if it would be overly moralizing. But now that I've come here I want to read it right away." Barcott will talk to her class in the fall and encourage all the students to try to live a different life for twenty-six days.
This past year, a senior at a Chapel Hill–area high school managed to get 400 of her classmates to take an abridged version of the challenge. "For a week she had kids not using the Internet and not wearing shoes," says Matt Cone, the social studies teacher who encouraged her to read the book.
Barcott hopes Myers Park students will do something similar. He asks them, "Does anyone get the symbolism of twenty-six?" A rising senior raises his hand and thrills Barcott when he nails it. "It's because of the $26 you gave to start the clinic, right?"
Alex Miles works with Barcott on a Charlotte environmental initiative. He brought his daughter, who just graduated from Charlotte Latin, to the bookstore, and worked to get as many young people there as he could. "I sent emails to colleagues and friends and encouraged those with college-age kids to bring them."
"I agree with Rye that we're a community of impulse … we have trouble committing to a task and seeing it through. It's so important to hear stories of long-term commitment and sustained focus."
At the reading, Barcott describes the United States as "a nation of impulse," saying it can be tough for the "need it now" generation to stick to something long term. "At a core point you've gotta believe," he tells the kids. "If you don't have that belief, it's really difficult to stick with something for more than a few months. But real change, real impact—social change—often takes years. And that's what we found in Kibera."
"To use his term, Rye is a doer," Miles says. "Starting early on he had a vision for wanting to contribute and do something … He's inspirational."
After his stint in the Marines, Barcott headed to Harvard, where he earned two master's degrees and studied social entrepreneurship. But he and his wife wanted to get back to North Carolina, and Barcott was interested in working in the private sector. "I was looking at what's new in energy to create a cleaner and more efficient way of consuming energy around the world. And I was especially impressed by Jim Rogers." It was a mutual admiration. Rogers even promised him a job after Barcott finished his book.
He was amazed to see what Festo had done with the money he'd given her. "She had converted this ten-by-ten into a twenty-four-hour medical clinic."
While his focus is on young people, Barcott seems to motivate everyone around him. Even the guy he likes to grab a beer with says he can't help but be inspired by his friend. "Every day he makes me want to do something more for my community," says David Callaway. An ER doctor at Carolinas Medical Center, Callaway serves on the board of CFK and is a part of a small group Barcott recently formed in Charlotte to make change closer to home. There is a banker, a management consultant, and a technology entrepreneur, but Barcott says, "it has nothing to do with our day jobs. It's about social entrepreneurship in Charlotte and how we as a group can help people who want to make change." They meet every Friday morning to brainstorm.
"I consider Rye a peer mentor," Callaway says. "He's a few years younger than me but he's a mentor in how you want to lead your life. He makes me realize it's not OK to be satisfied with the status quo … and you should always be looking for ways to improve your own situation and the community."
The paperback version of Barcott's book features a study guide for young people. There are, of course, twenty-six questions, meant to get kids talking, thinking, and doing.
"What I want to do with the book is let people know there's going to always be resistance," Barcott says. "Whatever you do in life, whether trying to lead Marines into combat, working on a school project, you are going to come up against resistance. The question is, how do you maneuver through it, around it, over it?"