Safe Haven: The Respite
A young widow opens a center to help grieving women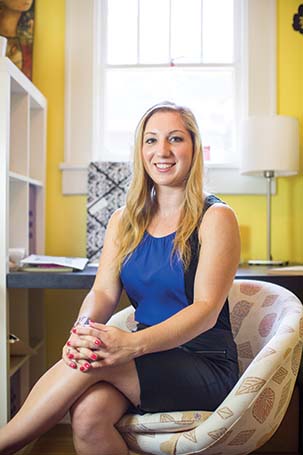 The Respite is a small stone cottage that looks lifted from a fairy tale. Tucked between a realty office and a store selling windows on Monroe Road, it's a shelter from everyday life—which is what its clients need, says Elizabeth Berrien.
Berrien helps run The Respite now, but when she first moved to Charlotte, she could barely function. "I wasn't even willing to go to the grocery store," she says, seated in the vivid green welcoming room of the grief-counseling center. "I couldn't be any place where there might be couples."
When Berrien lost her husband, a Special Forces soldier, to a gunfight in Afghanistan in 2009, she also lost her sense of place in the world. "It's very scary," she says. "You feel like you're in a different universe because the shock and the trauma are so intense." It was the second dose of grief the 27-year-old had been recently handed. A year earlier, her son died during childbirth. "Up until then, I had led an easy life," she says. "So it was all earth-shattering. I had to figure out who I was."
She quickly discovered she couldn't do that alone or rely entirely on the help of her sister. Berrien had moved to Charlotte to be with her sister after her husband died, but found that family wasn't enough. She needed to talk to someone who understood exactly how she felt.
So Berrien joined a support group for widows and quickly formed a bond with another young woman. "She's the only one who could get me out doing things again," Berrien says, "and it made me immediately want to help others."
Seven months after her husband died, Berrien founded her own group, Soul Widows, and later received a certification in grief coaching. She met counselor Mandy Eppley, and the two decided to expand their efforts together. They rented the old stone place on Monroe, painted the rooms in bright colors, and adorned the walls with butterflies and angels.
They called their project The Respite and turned it into a nonprofit offering a long list of services, from support groups and therapy to massage, yoga, and art classes. "It's what I wish I had during the early stages," Berrien says. "It's hard to know where to go, but this is it. This is the answer. We'll take care of you, mind, body, and soul, and you will start living life again."
Clients pay on an income-based sliding scale. "We won't turn anyone away," Berrien says.
She knows her words of comfort sound sincere only when they come from someone who has battled grief firsthand. "There is still life ahead of you," she says, "even if it's one moment at a time. If you keep moving through your grief, you will find gifts in it. You'll come out stronger and wiser. There will be joy again."