Salted Caramel Brownies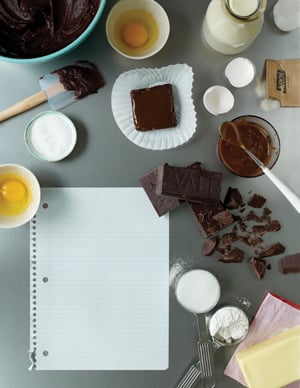 We have assistant pastry chef Erin Stanton to thank for the combination of sweet-salty caramel and sophisticated dark chocolate that made this brownie a top seller at year-old Amelie's French Bakery in NoDa (2424 N. Davidson St., 704-376-1781, ameliesfrenchbakery.com). Amelie's bakes the treat 400 at a time; you'll understand why after you polish off your own two dozen.
Yields 24 brownies
6 ounces unsweetened chocolate, chopped
3/4 cup unsalted butter, cubed
2 cups granulatedsugar
3 large eggs
1 cup unbleached all-purpose flour
1 3/4 cup salted caramel glaze (see below; prepare glaze when brownies are cool)
Heat oven to 325 degrees F. Grease a 9-by-13-inch pan with butter or cooking spray.
In the top of a double boiler over medium heat, melt chocolate and butter, being sure the water in the bottom of the double boiler does not touch the top pan. Stir chocolate and butter until completely melted. Then stir in sugar. Blend well. Remove from heat.
In a separate bowl, lightly whisk eggs. Stir eggs into chocolate mixture. Then add flour, stirring until completely blended. Spread batter into prepared pan and bake for 30 minutes.
Completely cool brownies in pan. Pour caramel glaze over brownies and cool until caramel sets. Slice into bars, about 2 inches square.
Salted Caramel Glaze
1/2 cup heavy cream
2 cups granulated sugar
1/2 cup water
1/4 cup unsalted butter, cubed
2 teaspoons fine sea salt
2 tablespoons powdered gelatin,
combined with 1/4 cup cold water
In a small saucepan over low heat, warm heavy cream until hot, but not boiling. In a separate tall saucepan, combine sugar and water. Place over medium-high heat. Do not stir as sugar dissolves and mixture reaches a dark amber stage. Add cream, butter, and salt. Stir gently until mixture is smooth and well combined. Remove from heat and add gelatin, stirring to combine. Use immediately.