Salud Adds Food
The NoDa beer shop rolls out an assortment of dishes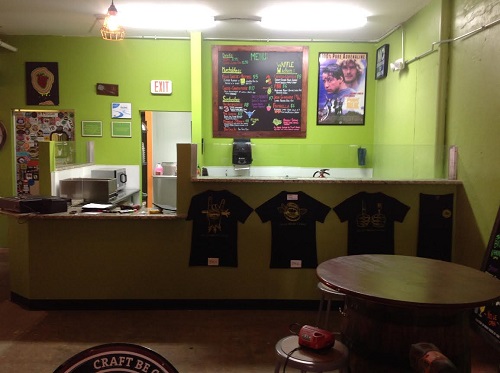 After inspections for health, fire, and building codes wrapped up this week, Salud Beer Shop in NoDa will open its kitchen and begin dishing out sandwiches, snacks, and sweet treats starting tomorrow, Friday, April 24, at 1pm.
Food Guy, Jeff McElwee (he says being called a chef is too "constricting" for his taste) says the shop will have a limited menu as part of its soft opening this week before a "bigger and better" menu is rolled out as part of the grand opening on Friday, May 1.
Via Instagram, the team at Salud's hinted at a daily special board which told tales of a brie and marscapone waffle with sweet and spicy marinated pineapple, ham, bacon, and diced jalapenos. It is dubbed the "Big Kahuna." A homemade "nanner pudding" is also on the board, flanked by a caricature of Samuel L. Jackson a la Pulp Fiction.
On the regular menu, there's clearly some flair for crazy awesome combos. Waffle-wiches (which are exactly what you'd think) like the Jason G-ham-brie features lambric peaches, brie, and ham cozy between two Belgian waffles while the Chicken and Waffles features creamy chicken salad, candied walnuts, bacon, and maple syrup between two Belgian waffles.
There are also more traditional sandwiches, including the Michelle O'banhmi with avocado, carrots, onion, tomato, jalapeno, cilantro, and marinated tofu. Diners can also make their own combinations.
Sign us up for awesome beer and a waffle-wich!