Salud Beer Shop introduces Crowlers to Charlotte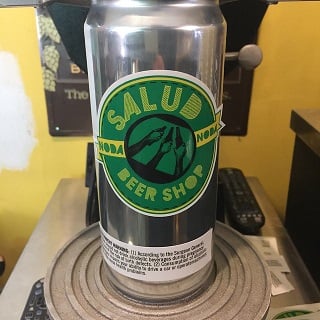 First there was the growler, now here comes the Crowler.
Since the growler fill law passed in North Carolina, everyone has been able to get beer on tap filled in a glass growler to take home and enjoy. What many didn't know is that same law also allowed the use of Crowlers, which is a smaller and more portable take-home option.
Crowlers are 32-ounce aluminum cans that work the same as any 12-ounce or 16-ounce can that you currently buy in stores. A Crowler machine is used to seam the cans, and Salud Beer Shop in NoDa is the first establishment in Charlotte to fill and sell Crowlers.
Salud owner Jason Glunt said when the growler fill law passed in October 2013; he was excited as anyone else. But he encountered some issues, including not knowing whether growlers brought in by others were truly sanitized, along with losing product from foam overspill.
He had heard about a Crowler machine but thought, "That's just some crazy machine that Oskar Blues has and made on their own," referring to the Colorado brewery which built a second location in Brevard, N.C. in 2013.
However, Glunt started seeing more and more articles about Crowlers, including DryHop, a brewery in Chicago, and Cigar City in Florida. So he talked to his Oskar Blues rep and found out that the brewery actually manufactures the machines. Through some quick email work, Glunt had his Crowler machine within 10 days.
He then ordered a pallet of cans and now has temporary labels (Salud's official labels should arrive in the next few days); meaning Crowlers are officially for sale in Charlotte.
"You fill it like a growler but the Crowlers are less wasteful," Glunt says. "I think it fills perfectly. With the glass growlers sometimes we were wasting beer."
When you order a Crowler at Salud, you'll see a sanitized can with no top first purged with CO2 and then filled with your favorite beer. Then it goes to the Crowler machine, which seams the can in three different spots. After the label is put on, the name/type of the beer and ABV percentage is written on the can with a marker, and you then have a take-home beer.
"To me, 32 ounces is a perfect size and easy to take around," Glunt says. "You can take it to the pool, the beach, a tailgate … really anywhere. You don't have to worry about glass growlers, which are bigger and can break. I also think it keeps the quality of beer better because no light gets in."
The total price of a Crowler at Salud will depend on the beer. In essence, it will be the same cost as two pints, plus a $1 Crowler fee (Crowlers have a one-time use and can then be recycled just like any other can). You can find Salud's up-to-date taplist on the shop's website.
"This is something unique and different, and we're excited to be the first in Charlotte," Glunt says.