Salud Beer Shop plans expansion, nanobrewery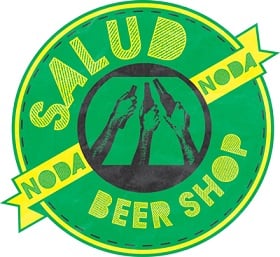 If you've been in NoDa recently, you know it's experiencing an extreme amount of construction as the neighborhood continues to grow. That includes condos, new stores and, most recently, the start of the Lynx Blue Line that is shutting down 36th Street for the next two years.
So Salud Beer Shop owner Jason Glunt figured he might as well get in the action, too.
A few weeks ago, Glunt acquired the adjacent building next to his bottle shop, where he plans to put in a nanobrewery as well as add space to his current location.
"We needed a bigger bar anyway," he says. "I've been thinking about this for a while so when the space opened up, it made perfect sense."
The building he purchased was a music venue that nearby Boudreaux's was using, known as "Roux." Now part of Salud, it will allow Glunt to knock down a wall in order to adjoin the two places and provide extra space.
Scheduled to open sometime this fall, the new building will also house Salud's one-barrel electric brewing system, which will be used by a core group of the Carolina Brewmasters, recent winners of the Radegast award, given to the top U.S. homebrewing club of the year. Also look for several area head brewers such as Jason Alexander from Free Range Brewing and Todd Boera from Fonta Flora to come in and guest brew.
"It's almost going to be like an incubator – that's the best way to put it," Glunt says. "Let different people come in and try things out. We've got some talented local homebrewers and when they brew their beers, they'll get to name it and get credit for it. And if there's a brewer from out of town who wants to come in, hang out and brew beer, they're more than welcome."
A one-barrel system also allows for more nontraditional beer styles. Anyone who's been to Salud knows Glunt is a huge champion of sours (side note: he confirmed that Salud's annual sour festival, Release the Funk 2: Electric Funkaloo, will take place this year Nov. 15), so expect a number of "wild and funky beers," he says.
"We're going to do a lot of Brett stuff, obviously, lambics … stuff like that," he adds. "We'll also get into crazy experimental IPAs, especially with all of these new hops coming out. It's going to be different. We want to be really innovative."
The new building will also have beer garden-style seating with long picnic tables. As Salud recently doubled its tapline to 12, once the nanobrewery is up and running, at least two taps will feature beers brewed in-house. Eventually, Salud will bottle some of its beers but on a small scale, in which they'll only be sold at the bottle shop.
Glunt says he's excited to get started on the construction and eager for everyone to experience this new endeavor.
"I'm not trying to open up a big production brewery or anything; I just thought this would be something cool and different," he says. "With Free Range going in and already having NoDa, Birdsong and Heist, this is already a great brewery area. And with the light rail expanding, it's going to allow someone to hop on and hit all of (NoDa's breweries). So that'll do nothing but bring more people here."